July 19, 2019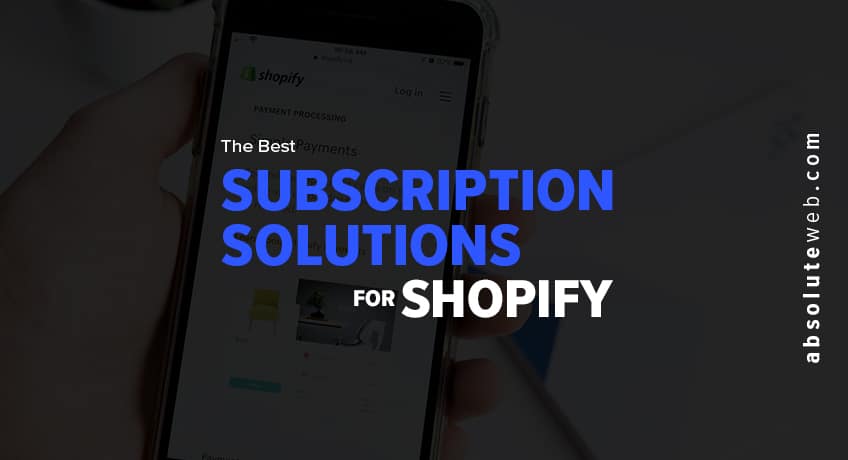 The Best Subscription Solutions for Shopify
Shopify is one of the most popular E-commerce platforms in the industry today and more and more people turn to Shopify to sell online. Another rising trend in e-commerce is the subscription model, which allows customers to keep their payment information on file for recurring shipments without having to go into their account to reorder each month.
Currently, Shopify does not have a built-in functionality for subscriptions. As a result, users are turned to third-party apps to add the feature to their stores, which brings up a great question: what is the best app in Shopify to use for subscriptions? We have found two that stand out against the rest, Subscriptions by Recharge, and Bold Subscriptions.
Subscriptions by Recharge:
Starting at $39.99 monthly with 60 day trial
App Rating: 4.9 based on 1,463 reviews
Subscriptions by Recharge tops all in terms of ratings from the users themselves. Upon investigating the app, it offers a quick an easy integration with Shopify's checkout, order flow, customer accounts, and many third-party party apps. It provides a robust APO, webhooks, and other enterprise-level features allow you to scale your subscriptions business. There are a number of other Shopify apps you can integrate such as Klayvio for email marketing, Smile.io for customer loyalty, Refersion: Affiliate Marketing, Google Analytics, and many more.
Bold Subscriptions:
Starting at $29.99 Monthly with a 60 day trial
App Rating: 4.7 based on 1,212 reviews
While their overall reviews are not as strong as Recharge, it appears that Bold Subscriptions offer more customization on the subscriptions themselves. For example, they claim to be the only app to offer subscriptions on individual products, a mixed cart ( gives customers the ability to purchase one time products and subscriptions), or subscriptions on an entire cart. They also provide integrations with other apps although their list is not as long as Recharge.
The App Providers
Each of these solutions is provided by a third-party development company through the Shopify App Store. Recharge features only one App on Shopify which is their subscriptions application. Bold Subscriptions is created by Bold Commerce, a large software development company that offers several apps for both Shopify and Bigcommerce platforms. This may also give some insight into the review differences because Recharge offers only one app that they constantly look to improve and may provide more timely updates and support compared with Bold, which offers many different apps providing different functionality.
What is the best solution?
Both of these apps are great options for your Shopify Store, so it depends on what you are looking to accomplish. If you are looking for a straightforward solution with minimal customization and the ability to connect with other apps, Recharge would be the best way to go. However, if you are looking for more customizations that give your customers more selection over how they build their personal subscriptions, Bold Subscriptions will be the choice. You may also wonder if Shopify is appropriate for what you are trying to do, check out our article Is Shopify The Right Platform For Me? and please feel free to contact us for Ecommerce Solutions for your store!