November 20, 2023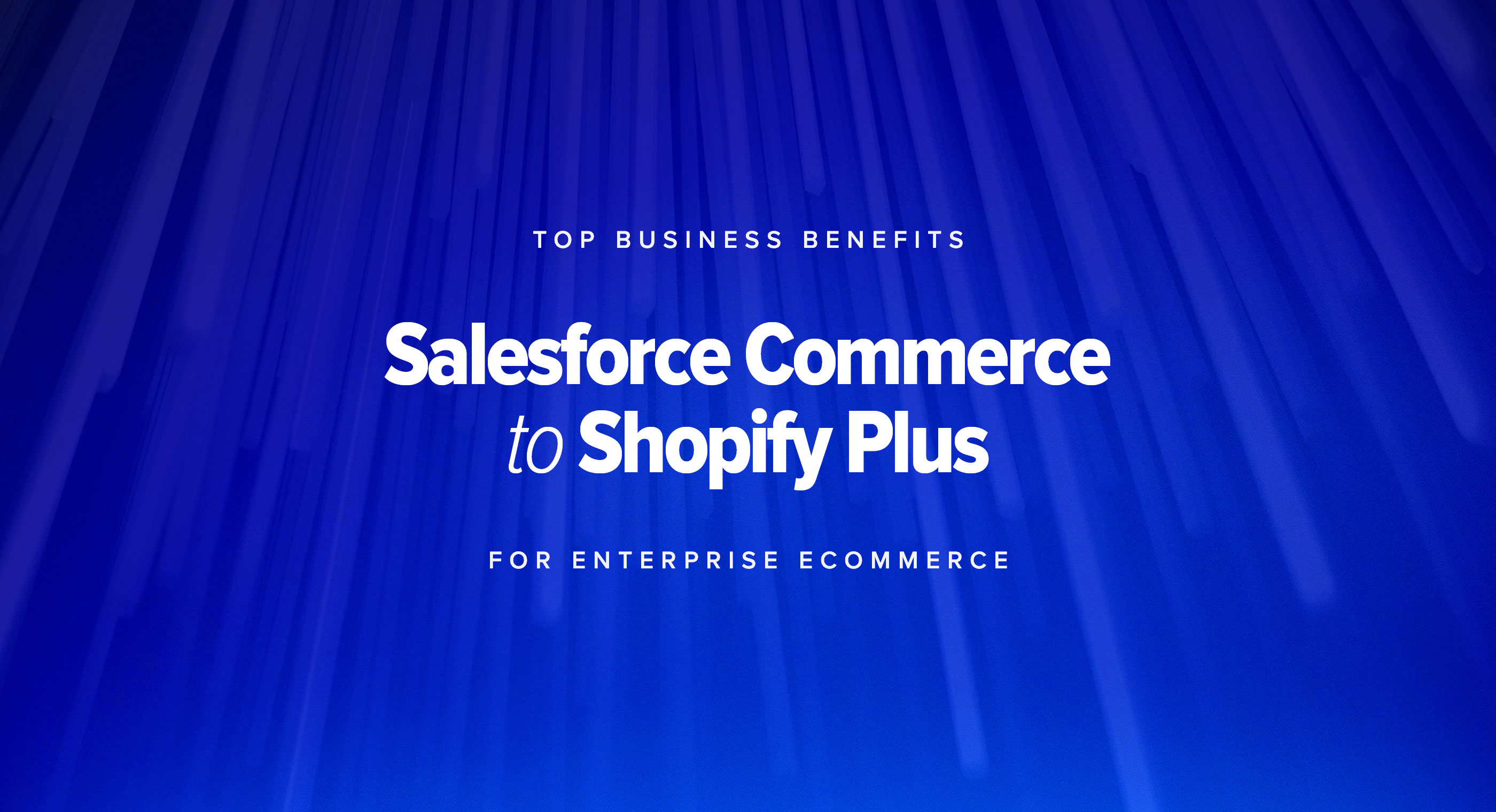 Enterprise Ecommerce: Benefits of Migrating from Salesforce Commerce Cloud to Shopify Plus
In the fast-evolving landscape of e-commerce, selecting the right platform is critical, especially for enterprise businesses. The transition from Salesforce Commerce Cloud (SFCC) to Shopify Plus offers distinct advantages for larger, more complex operations. In our experience, here are the top business benefits for the ecommerce business.
1. Accelerated Revenue Growth and Reduced Costs
Ecommerce businesses on Shopify Plus see faster revenue growth and significant cost reductions compared to those on SFCC. This is particularly beneficial for large-scale operations where cost efficiency and rapid growth are paramount. Shopify's robust platform enables enterprises to concentrate on enhancing the site experience and integrating powerful features without incurring excessive costs.
2. Specialized Commerce Platform with Higher Conversion
Shopify Plus is tailored specifically for commerce, offering continuous innovation and higher conversion rates, a crucial metric for enterprise-level businesses. This specialized focus ensures that large businesses are equipped with advanced tools and features designed to optimize their online sales and marketing strategies.
3. Agile and Developer-Friendly Environment
For enterprises and smaller retailers, the ability to quickly adapt to market trends is vital. Shopify Plus provides an agile, developer-friendly platform, allowing rapid modifications and integrations without extensive coding. This agility is essential for large businesses needing to stay ahead in the dynamic ecommerce market.
4. Reduced Total Cost of Ownership and Technical Overheads
Shopify Plus offers a significantly lower Total Cost of Ownership compared to SFCC, an important consideration for enterprises looking to streamline their expenses. The reduced need for heavy customizations and development work, typical in SFCC, translates into lower long-term costs and reduced technical overheads for enterprise businesses.
5. Extensive Ecosystem and Third-Party Integration
Enterprises benefit from Shopify Plus's vast ecosystem of third-party integrations and development partners. This extensive network allows large businesses to add best-in-class features quickly and efficiently, enhancing their ecommerce platforms without heavy custom development work.
6. High Scalability for Peak Performance
Shopify Plus's hosting infrastructure is designed to support high-volume retailers, providing scalability essential for large enterprises. This ensures that enterprise-level businesses can accommodate growth in traffic and order volume without scalability concerns.
7. Favorable Pricing for Large-scale Operations
Shopify Plus's pricing model is particularly attractive for enterprises. While the platform offers a starting price of $2,000 per month for smaller retailers, its cost structure scales with Gross Merchandise Volume, making it a cost-effective solution for large-scale operations.
8. Enhanced Customer Experience and Brand Loyalty
Enterprises on Shopify Plus can leverage its robust feature set, including advanced marketplaces and social integrations, to create a superior customer experience. This leads to increased brand loyalty and customer retention, key factors for the long-term success of large businesses.
9. Optimized Checkout for Enhanced Conversion
Shopify Checkout offers an unparalleled combination of high conversion rates, a globally recognized buyer experience, and the robust reliability of Shopify's infrastructure. Its design focuses on speed and performance enhancements, ensuring that you can maximize sales efficiently. The platform's out-of-the-box checkout is engineered for rapid transactions and a smooth customer journey, minimizing any friction during the purchasing process. Additionally, businesses can leverage the power of one-click checkout through Shop Pay, which is already a preferred digital wallet for over 100 million buyers signed into the Shopify network. This integration streamlines the checkout process, making it faster and more convenient for a vast audience, ultimately driving higher conversion rates for your business.
10. B2B Features That Drive Growth
Shopify is continuously enhancing its platform with features designed to simplify ordering for wholesale buyers and streamline the process for businesses selling directly to consumers (DTC) and business-to-business (B2B) from the same storefront. A popular B2B feature is volume pricing, which allows businesses to set quantity price breaks, encouraging business customers to purchase in larger quantities. This strategy not only boosts sales volumes but also fosters long-term customer relationships. Another innovative feature is store personalization, enabling the creation of web pages tailored specifically for business customers. This approach surfaces relevant content in a single store, making the shopping experience more efficient and user-friendly, all without requiring any coding skills. Additionally, Shopify includes features like quick order lists that display product variants in a clear, concise manner. This feature enables customers to effortlessly order different sizes, colors, and other variants from a single section of the product pages, further simplifying the ordering process and enhancing the overall customer experience.
Conclusion
Migrating from Salesforce Commerce Cloud to Shopify Plus presents numerous advantages for enterprise ecommerce businesses. These include accelerated revenue growth, cost efficiency, a commerce-focused platform, agility, reduced technical overheads, a broad ecosystem for integrations, scalable infrastructure, attractive pricing, and an enhanced customer experience. These benefits position Shopify Plus as an ideal choice for enterprises aiming to optimize their ecommerce operations for maximum efficiency and growth.
Choosing the Right Shopify Plus Agency: Key to Successful Migration and Ongoing Ecommerce Success
In embarking on a migration project from Salesforce Commerce Cloud to Shopify Plus, finding the right agency for a successful transition and ongoing support is crucial. Absolute Web, a renowned Shopify Plus agency, offers expertise and a proven track record in facilitating smooth migrations and providing continued support post-migration. By partnering with Absolute Web, enterprises can ensure a seamless transition to Shopify Plus and leverage the platform's full potential for their ecommerce success. Contact Absolute Web today to learn more about how they can assist in optimizing your e-commerce journey.