February 20, 2017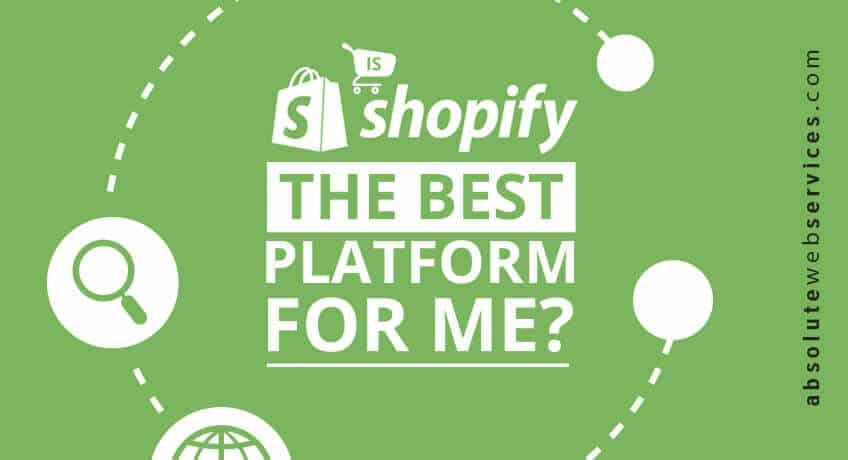 Is Shopify The Right Platform For Me?
The number one question we get from folks…
What e-commerce platform should I use?
To answer that question, at Absolute Web Services, we typically start with a blank canvas meeting to understand your needs. However, for the purpose of this article, we are going to review Shopify, pros and cons. Additionally, we will review WooCommerce and Magento in the upcoming weeks, concluding with a comparison article.
We are hoping this let's you decide which platform coincides best with your objectives.
So here is a little secret, Shopify is the little commerce engine that could, and should be able to offer all the functionality your store may need, it just depends on what your store is.
If you fall into any of the following, definitely keep reading:
Start-Up

Not-quite-sure what to expect

Not very technical, easy to use

New business

Want to start selling… Like yesterday!
It's true… Shopify is easy, fast, and convenient to use! It offers quite a few bells and whistles, is hosted, and allows you to buy a domain all within the Shopify walled garden.
If that's all, you need to know, cool!
Need more information? Keep reading!
Shopify is an enticing out of the box solution. Unlike, WooCommerce or Magento, it does not require your hosting environment, development, or even designing skills to start. The Shopify platform also allows for some customization, and should be considered far superior to WIX and Weebly, where any growth would mean migrating away from those platforms above, Shopify is scalable – to some extent.
Let's break it down:
Storefront
Let's first list the good.
It's super easy to start, and you have over 100+ themes to choose from. Although convenient and get you started quickly, your store will walk into the party and see another store with the same dress on. Big no, no? No sweat, you can work with a Shopify Expert, like Absolute Web Services, to customize your Shopify store.
Does your product convert at a higher rate when the story and the support lifestyle are illustrated? No problem here! Shopify comes with a full blogging platform. Also, don't worry about high mobile bounce rates, Shopify comes 100% mobile commerce ready.
Additional storefront features:
Your own domain name
Web-based website builder
HTML and CSS Editor
Brand and customize your online store with relative ease
So what's our storefront grade for Shopify? 9/10. Because of the following:
Out-of-the-box ease of use
Over 100 templates to choose from
Ability to work with Shopify experts, like Absolute Web Services.
Looks are important, but hey! We want to SELL! Let's talk about a vital component here…
Shopping Cart
Let's get right to it
Shopify offers a free SSL certificate
Ability to accept credit cards with Shopify
Over 70 external payment gateways integrated (Yes, PayPal AND bitcoin are on the list)
Pre-set ability to control shipping costs, including free shipping + complete carrier shipping rate integration with leading carriers like UPS, USPS, and FedEx
Besoin de plus de languages? Perfecto! Shopify supports over 50+ languages
Abandoned checkout recover for reminding those almost-clients they left something behind
Automatic taxes (fine, maybe this is an Uncle Sam feature, but it's nice to have it calculated automatically).
Now here is our main qualm! The check-out process, you know where you ask for the swipe, is not entirely customizable. This has long-plagued Shopify for much larger or growing stores. Expert ecommers want to control the buying process from A to Z, not from A to X. Again, for new store owners, or first-time ecommers X is good enough, but until this is corrected, we can't grade Shopify any higher than 6/10.
So your store is beautiful, and you're converting visitors to customers. The key question is how do you manage orders, customers, fulfillment, shipping, and all other components of your growing store! Well, let's see how Shopify handles
Store Management
Now, again, Shopify makes everything easy and straightforward to find and follow. Customer profiles/accounts are created to show order and browsing history. This allows you, as the store owner, to encourage repeat shopping with savvy promotions. This is perfect for first-time store owners, but for advanced marketers, user behaviors reporting will never match the depth provided by Google Analytics. More so, you will continue to use external tools for touch point management, like email promotions and automation.
When it comes to order fulfillment, has pre-set plugs for Amazon, Rakuten, Super Logistics, and Shipwire. Custom fulfillment solutions are possible, but we firmly suggest working with a Shopify Expert, like Absolute Web Services, for custom fulfillment integrations. Similarly, Shopify offers out of the box integration with apps like Ordoro, Inventory Source, and eCommHub for drop shipping. Once again, Shopify, models it solution for direct out-of-the-box selling, but for advance stores or brick & mortars with warehouses and fulfillment teams, Shopify still leaves them with the need for custom development.
Additional store management features:
Order fulfillment. Set up a chain of communication from thank you emails, tracking information, to your package has been delivered
Management on the go. The Shopify mobile app allows you to manage your store on the go. It is important to note: Mobile Application management should be limited to dire or simple tasks. It is significantly easier to manage your store on the desktop version
Email Templates/Emailing. Half-way decent, but if you're used to mail chimp, you will not trade the ease of automation for Shopify native emailing.
So what's the verdict when it comes to Store Management? Well, we say 7/10 there are some pretty nifty features, and new store owners will certainly appreciate them, but advanced store owners/marketers will not trade their current tools.
Speaking of marketers, you created a store; you must be wondering how people will find it!?
Marketing & SEO
Once again, Shopify offers some pretty cool features. Let's get some pretty basic things out of the way.
Shopify will provide you with a Sitemap.xml. Not excited? Well, with limited file uploading access, this Google-technical-SEO item is checked off.
Other than a technical details, Shopify supports the following SEO best practices:
Customizable H1
Title
Meta Tags
Shopify also allows you to offer discount codes and a coupon to support promotional efforts & campaigns. Want to offer gift cards? Shopify has you covered! Have a large following on your social media platforms, such as Pinterest, Instagram, Facebook, Twitter, and Tumblr? Perfect, you can automatically integrate with your store.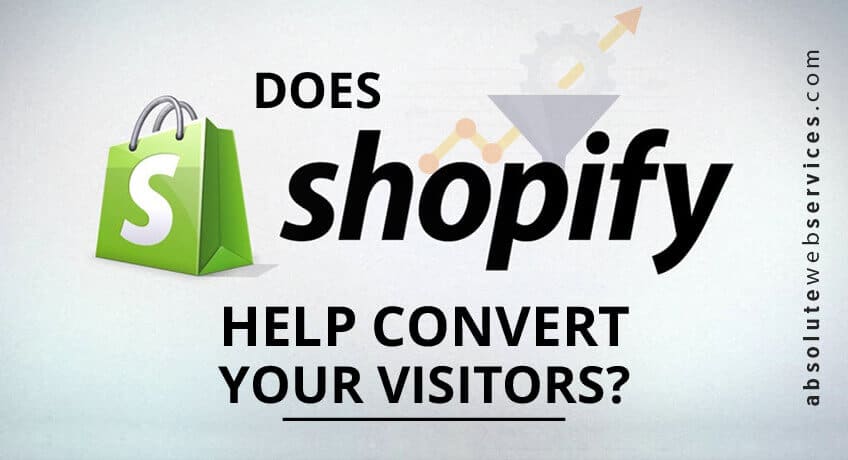 Shopify will also provide you the following features
Product reviews. Yes, your customers will be able to leave you reviews, encouraging future visitors to buy based on a previous customer experience
Email Marketing, allows you to email your entire base of new products, you can also integrate your MailChimp account with the email marketing app
Sell on Facebook allows Facebook fans to buy on Facebook without leaving the platform
Like many things about Shopify, this is GREAT for new store owners, but more advanced stores understand the discipline required to creating a steady stream of online demand generation. These marketing tools are nice-to-haves but will prove to be a bit superficial for consistent store growth. Lastly, the customizing limitations well leave most marketers/developers frustrated when it comes to an On-Site, in-depth optimization. As far as marketing goes, Shopify provides great beginner features but will underwhelm advanced store owners. 5/10
I want to discuss are intangibles. These are features that drive the Shopify story, and outside of principal components, are note-worth unique value propositions.
Web Hosting. Shopify hosts your store for you. Shopify features unlimited bandwidth, daily backups, email forwarding, SSL certificate, instant upgrades, 99.99% uptime and 24/7 monitoring. Shopify does have solid hosting, and is quite scalable for larger stores, at an upgrading cost
24/7 support. You will have a dedicated support, 24 hours a day, 7 days a week, by email, live chat, and phone. This is quite a benefit. When it comes to technical matters, things will break, and it's nice to know someone will be there to help
Knowledgebase! Shopify has a kind of cool discussion forum, support center, and great experts, like Absolute Web Services, that can assist you with the more advanced customizations and designing
Ecommerce University. You will find ebooks, video series, and webinars about how to sell online and increase your sales.
The truth is, Shopify provides a great list of intangibles, although some would argue being a hosted offering is limiting, some welcome the turn-key nature of Shopify. Outside of web hosting, Shopify features 24/7 support, a growing community, Shopify Experts like Absolute Web Services, and an Ecommerce University. Shopify does try to invest in your store's success because your growth equals their growth. Intangibles 8/10
How so?
Pricing:
First off, Shopify offers a FREE 14day trial. Ready to start now? Click here.
Shopify lists three plans, with the secret plan (get to that in a minute).
At $29 Basic Shopify features the following:
2 Staff accounts
Unlimited products and file storage
+$49.00 a month for Retail Support (switch your POS system to Shopify)
24/7 support, fraud analysis, manual order creation, discount codes, website + blog, Free SSL certificate included.
This offering will prove to be very limiting. You will miss the additional shipping label discounts, abandoned cart features, gift cards, and shipping/carrier shipping integration.
Need more? Perfect. Upgrade to:
Shopify at $79.
You will get everything above, including the ability to sell Gift Cards, an additional three staff accounts (5) but you will not receive real-time carrier shipping rate/integration.
For this feature you must upgrade to:
Advanced Shopify at $299 a month.
Yes, you are paying over $200 a month more for real-time carrier shipping rate/integration.
Need more enterprise features, noticeably, a complete custom check out experience? Shopify Plus is built for larger stores and can start at $1,500.00 + a month. If you are interested in Shopify Plus, please contact a Shopify Expert, like Absolute Web Services, for a free needs assessment.
So what do we think about Shopify pricing? Well, again, for some stores it might be saving, if you truly use all the features, for others, it becomes pretty expensive web hosting + the Return of Investment never materializes. 7/10
***This article is comparing e-commerce platforms, not credit card processing companies. Shopify does offer credit card processing and may be our next series of articles, but for the sake of this series, we are excluding these rates from the overall pricing.
So here's the deal:
We give Shopify a 35/50 that = 70%. We DO WANT TO MAKE SOMETHING clear:
If you are a new store owner, want a complete turn-key solution, are perfectly okay with potential customization limitations, and do no mind your monthly subscription fee increasing as your store needs evolve, then Shopify is a 50/50 for you!
This review was written with all store types in mind.
Here is how we get our score:
Store Front:
9/10
This high-score was driven by over 100 templates to open your store with, custom HTML/CSS for custom web design, and the ability to work with a Shopify Expert, like Absolute Web Services, to brand and create the look for your store.
Store Management:
7/10
This score was driven by many available management tools, including a Mobile Application for managing your store on the go. Con's include real-time carrier integrations are available with Advanced Shopify, some features are superficial at best and not suited for advanced stores, and the final stage of the check-out process is not customizable.
Marketing/SEO:
5/10
Great for new store owners that need launch-point help. However, like many Shopify features, advanced stores and marketers will not trade their current marketing tools for the one's offered natively by Shopify.
Intangibles:
8/10
Shopify is a hosted-solution and is backed by a 99.99%, scale/upgrade anytime hosting. Additionally, 24×7 monitoring and live support give store owners' peace of mind. Similarly, daily back-ups, help-desks, and knowledge base allow you to play around your Shopify store management, take risks, and know you can always revert to a saved backup. Lastly, a growing community and Shopify experts, like Absolute Web Services, allow for enjoyable store ownership. Shopify was not rated 10/10 in this category because like other categories if you are an established store with a secure hosting environment, and similar network, these feature's are redundant and not drivers for you.
Pricing:
8/10
Shopify is the only one of the major commerce platforms that are offered at a monthly rate. This turn-key-solution is a major plus for new store owners but could be an on-going cost for larger stores that will require either an upgrade to Shopify Plus or potentially migrate to another platform for greater control and platform leverage.
All in all, Shopify is a GREAT starter platform. It offers advanced features and does enable you to start selling from day one. Advanced and growing stores may find the platform/hosted solution to be limiting and quickly find themselves upgrading through plans for the customizations/access their store requires.
We highly recommend Shopify for all new store owners and would welcome a blank-canvas discussion with established store owners considering a move to Shopify.