August 2, 2020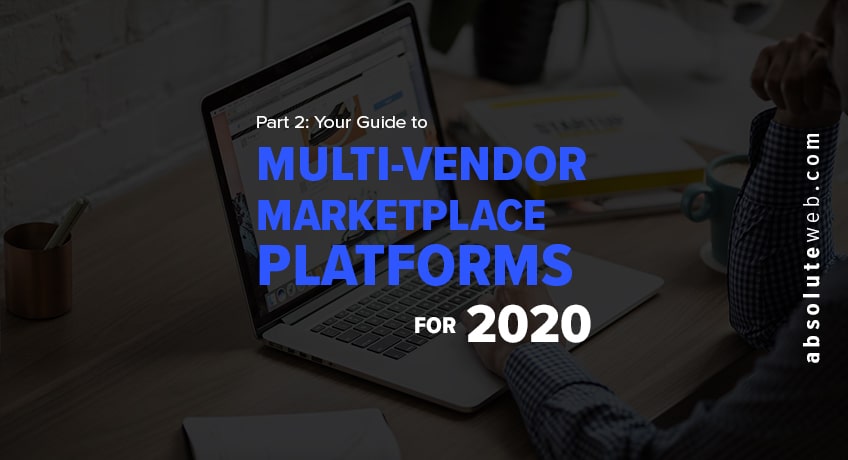 Part 2: Your Guide to Multi-Vendor Marketplace Platforms for 2020
One of the first and most important steps when building a multi-vendor marketplace is deciding which platform to use. Although the process can seem overwhelming due to the abundance of options, we've curated a list to simplify the process.
Magento
Magento is a popular platform among the e-commerce world as it holds amazing features and add-ons. Their extension, Marketplace, can help you create a successful multi-vendor marketplace, allowing vendors to register their products on your site in a breeze (once approved) and offers a complete dashboard for easy management. Magento Marketplace also offers a flexible commission system, allowing you to charge different commissions to vendors depending on their products and sales.
Shopify
Shopify is another well-known and popular e-commerce platform. They utilize a similar application as Magento Marketplace, to convert online stores into a marketplace. Their Multi-Vendor Marketplace platform includes ready-made themes and designs and is simple to navigate when developing. Their marketplace platform also allows for unlimited vendors and products as well as opts for multiple commissions structures for vendors. Overall, Shopify's marketplace software is super flexible and is favored for its easy set-up.
CS-Cart
CS-Cart is an open-source platform, which gives developers the flexibility to build custom functionalities to fit the needs and requirements of their merchants. Another great feature of CS-Cart is the fact that it doesn't require any extensions to run, which means you'll get all the features they offer right out of the gate. Everything CS-Cart Multi-Vendor offers is simple, including the commission systems and vendor dashboards. Included in their platform is a powerful vendor-specific search feature, which allows customers to find what they're looking for instantly.
WooCommerce
WooCommerce is one of the leaders when it comes to multi-vendor marketplaces. Their platform offers a WordPress plug-in, essentially using all the flexible features of WordPress to create a highly successful website. They provide pre-designed themes, offer vendors with easy management tools, and give marketplace owners the opportunity to set up a flexible commission structure for their vendors. WC Vendors makes building and creating a marketplace
BigCommcerce
BigCommerce is also an excellent platform when building an e-commerce marketplace. It comes with a Multi-Vendor Marketplace application, so you can easily convert your existing e-commerce store into a fully functional multi-vendor marketplace. Vendors can sign up to sell in your marketplace, or you have the option of adding in sellers yourself. BigCommerce has a different commission structure than other platforms– it offers membership plans, or a subscription, for vendors to purchase as they sell products in your marketplace. You also have the option of charging a commission on every sale based on the membership plan of vendors. The sky is the limit when it comes to BigCommerce.
Sharetribe
Lastly, we have Sharetribe. Sharetribe and their eCommerce platform are different than the other five platforms previously mentioned. Their approach is creating a peer-to-peer marketplace platform, for vendors to sell not only products but also services and rentals. They put their focus more on individual vendors and their clientele. The registration process for vendors is simple, and upon registration, vendors can add their listings and location on their dashboard. Customers can easily file through the products and services and find what exactly they're looking for swiftly. Like the other platforms, their commission structure is simple: vendors are charged a fixed fee or a percentage of every sale, it's all based on what the marketplace owner chooses.
These platforms, along with custom design and development functionalities are essential to building a successful multi-vendor marketplace. As a digital commerce agency, we have utilized and are currently building marketplaces with CS-Cart because it's open-source system enables us to develop highly custom functionalities to meet the needs of our clients. Above all, the platforms listed gives developers the ability to create and extend customizations for clients.
You know how Chipotle tells their customers, "the guac is extra?" Well, when it comes to additional customization, it typically means more development costs. It's important to find a platform, similar to the ones above, that have a lot of out-of-the-box features, especially for a low development budget.
Multi-vendor marketplaces are tailored e-commerce solutions, which is why they need functional features to operate. By learning about all the marketplace platform options, you'll find more and more features you might want to include in your e-commerce store.
Ready to build your own? Read how in Part 3 of our multi-vendor marketplace series.