July 10, 2017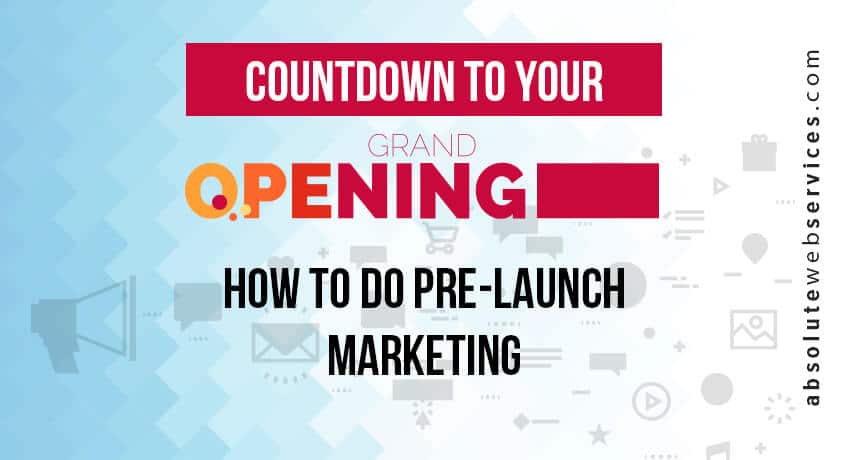 How to do Pre-Launch Marketing
Congratulations, you have decided to launch your own online business! You are working every day to launch, have secured products (or built them), have invested in development, and have even budgeted for marketing.
My sole purpose here is to help you out with some pre-launch marketing ideas that can help set you in the right path towards online success!
1. Score of 10/10 is impossible.
I meet a ton of entrepreneurs, online retailers, software owners, etc, etc, all to varying "smart" degrees. One of the most dangerous attributes, and one of the ones I have seen lead to more failures is trying to be a perfectionist.
The cost of waiting is greater than launching and receiving feedback.
So my first suggestion is, launch! Get your product, website, blog, invention, whatever it is to the masses! Now, if it has glaring, safety, or production issues that are major, of course you're not ready… but if the details are as small as where the home button should go or the color of the laces… Launch!
The internet has provided us with so much access and access has us flooded with data. That is what you want to do, race to get data. Data will allow you to optimize your product or services with REAL users in mind.
2. Grow your following!
Building an email list combines two winning factors. One of the best marketing strategies is the illusion of exclusivity and in the world of CTA's subscribe now is one of the least committal ones.
Depending on your product/service, doing trickle down/countdown campaigning on social media with a concise message and captivating imagery is a great way to building your email list.
This email list will be crucial when launching your product. Having the ability to speak with people directly with no cost per click will help you maximize your marketing dollars.
Building your product is important, but building your following will prove to be as important as launch approaches.
3. Execute your plan.
Doing a thorough market research should have been part of your business strategy and executing as launch approaches is important. We find that when launch approaches most new online business owners ditch their plan and go with the flow. Big mistake!
There is nothing more expensive than going with the flow!
Having a competitive intelligence and understanding the players in the market you are entering will help you have needle moving tactics.
TIP:
There are plenty of affordable resources that you can rely on to conduct a comprehensive market research. The most convenient and free resource to analyze the trends and understand customer behaviors is Consumer Barometer by Google.
4. Content is king.
You want to keep an elevated engagement rate because as a start-up/just launching you will be paying close attention to your cost per acquisition (CPA) and there is no better way to take your visitor and make him a repeat one than with content.
Invest time and effort in content. Prior to launching try to draw parallels to your product/service offering and your consumers' lives.
I always use Dos Equis as an example:
When we drink alcohol (fair or not) we take the imaginative role of the world's most interesting men/women.
Dos Equis increase market share by not selling beer… but pairing our subconscious with their product through vivid suggestive selling.
Now, not all of us sell beer, but all of us can talk to our consumer rather than talk ABOUT our products.
When going through your pre-launch list add writing content or taking photography of your products that talk TO your consumers, it will help significantly in creating a following.
Here's one last tip.
Enjoy the process! Not everyone gets to open their own business – project your passion and the market will respond!
Good luck and we hope you find these pre-launch marketing tips valuable.