November 20, 2020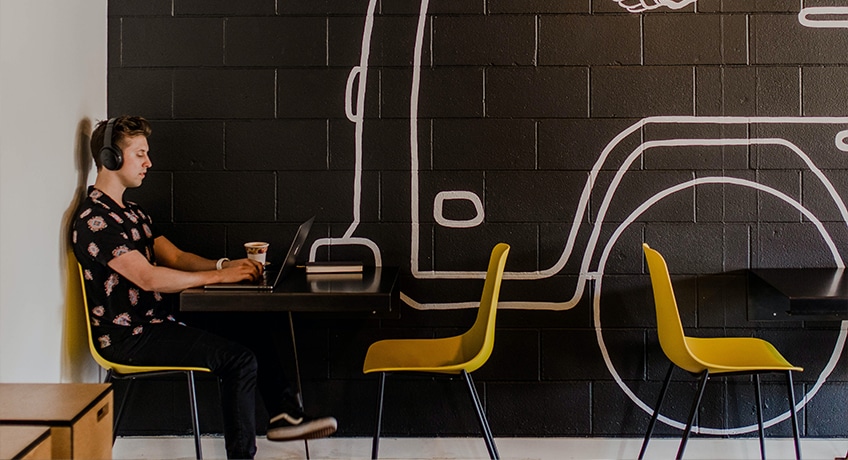 Customer Experience for the Modern D2C Customer
The rise in direct-to-consumer brands has sparked the modern evolution of customer service, where customers, now more than ever, are at the center of the brand experience. With direct ownership of the customer relationship, D2C brands have the unique ability to offer a more engaging online experience, ones that make their customers feel heard.
With endless opportunities to innovate, here are some things D2C brands can do for their customers, and we have to say, we enjoy them ourselves (hint, hint: honesty is key!).
Transparency
When it comes to product information, ingredients, and cost, modern D2C customers expect transparency. The best part about it? Customers can make an informed decision within minutes, and feel good about their purchase. Being transparent can also minimize customer service tickets, since hosting information about your product will keep your customers informed and knowledgeable about what you're selling.
Transparency in Product Information
Being clear about what your product is, and what it's made of, is something your customer will truly appreciate. Have a variety of products to choose from? Consider letting customers do a side-by-side comparison to see which they'd like best.
We love how bedding brand Casper does this. They're also clear about what exactly their mattresses are made of, how to choose the best size for you, and what's needed to go with it. This lets the customer do their research before buying, a step many modern customers are keen on.
Transparency in Ingredients
When it comes to being transparent with the ingredients used in a product, little room is left for misinterpretation. We admire how skincare and makeup brand Glo Skin Beauty incorporates this into their product pages, offering a thorough breakdown of ingredients, benefits, and how to use them.
To take things a step further, on your product pages, launching a page specific Gorgias chat campaign, where the chat bot is branded as an "ingredient expert" is a nice way for your customer to feel like you're not only available for standard customer service questions, but for product knowledge as well.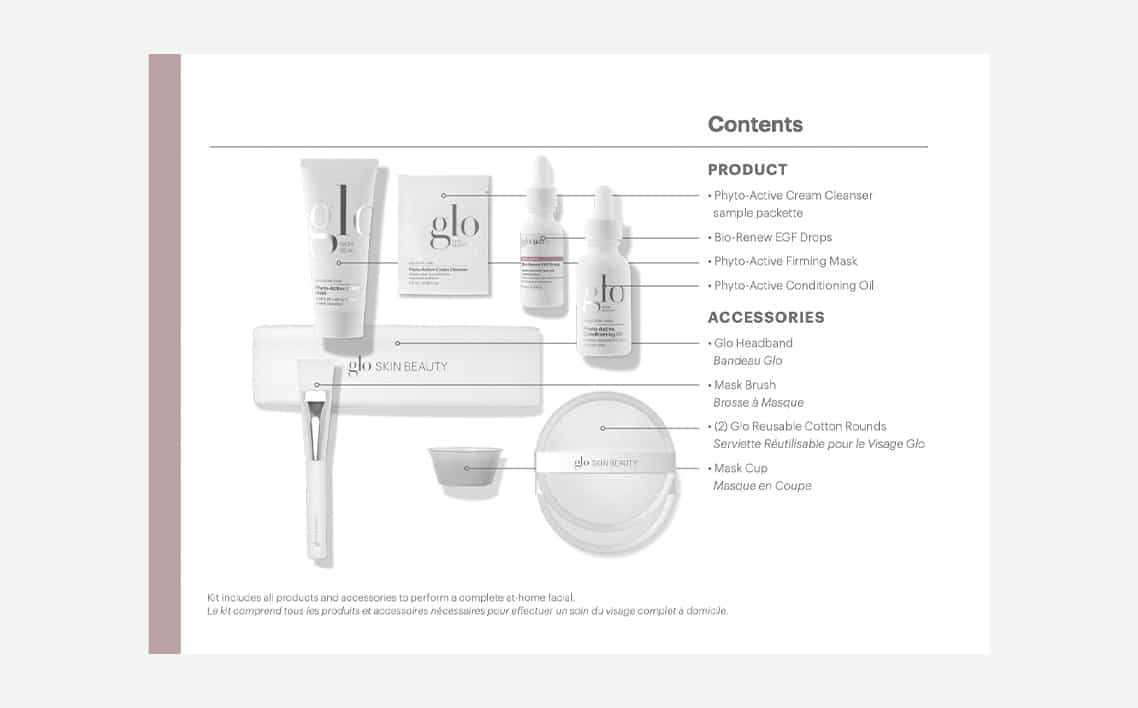 Transparency in Cost
Breaking down the cost of production – from material, to labor, to the cost of transport, is something we're seeing more of lately. The advantage? It opens up an honest line of communication between you and your consumer.
Have a product you'd like to break down the cost for, especially one that's priced lower than a traditional retailer? Consider including the production cost, materials used, and the cost of transport. Retail brand Everlane showcases a comparison of what their garment costs compared to that of a traditional retailer, making an even stronger case to shop their lower-priced, sustainably sourced clothing.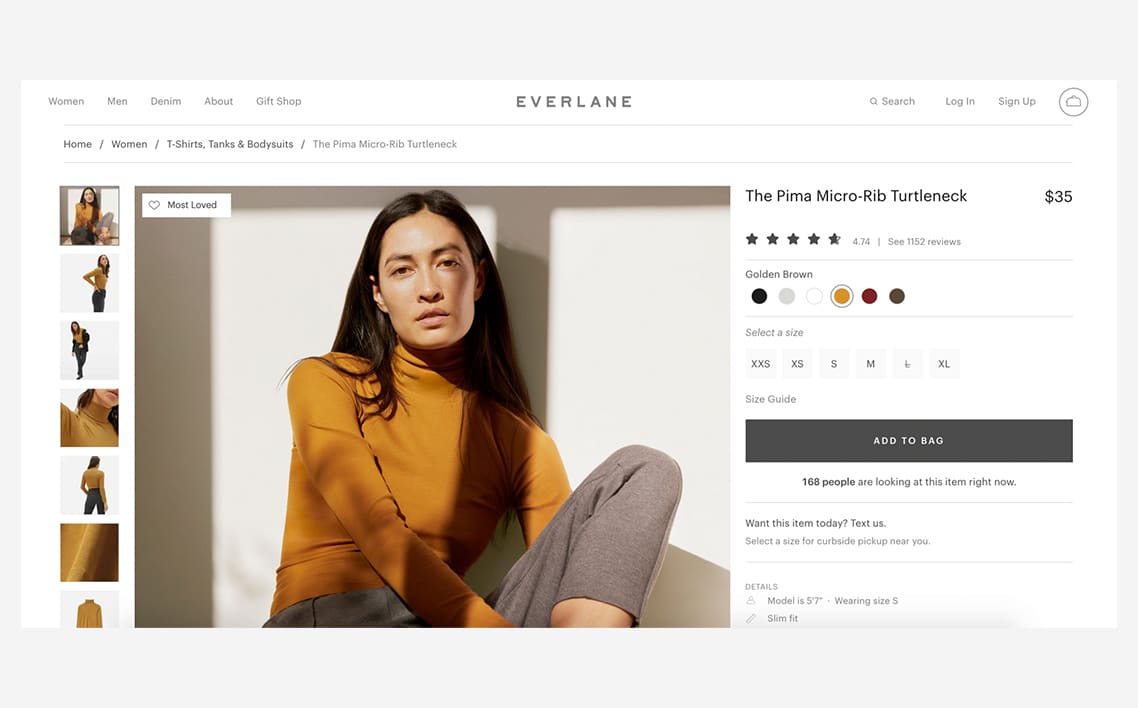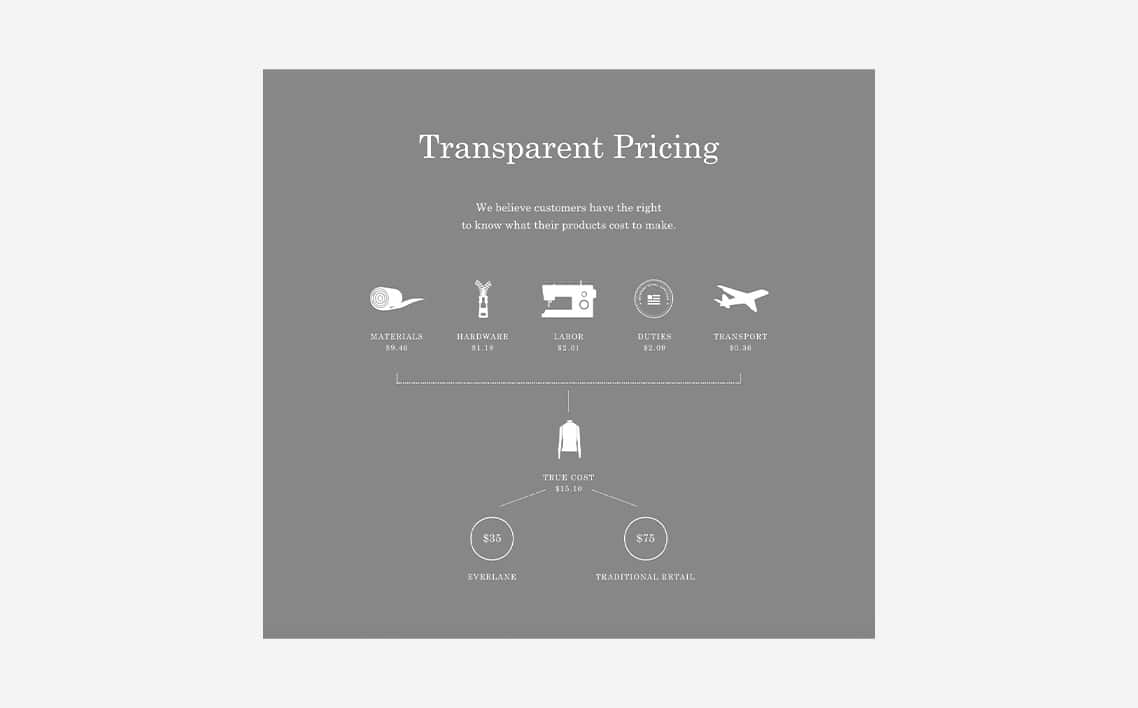 Including a Reviews Section
Reviews are becoming an essential part of the customer experience, and can be an effective tool in building brand loyalty – because knowing exactly what you're getting when you purchase something is a must for the modern customer.
Worried about getting a dissatisfied review for all to see? Ideally, you'll receive glowing five star reviews all day, but on the off chance you have an unhappy customer, hearing from them directly allows you to respond personally, and quickly, to mend the situation. This gives you the chance to leave them feeling satisfied with their purchase, and ultimately with your brand.
Responding to a review with a solution-oriented response also shows potential buyers that if something were to go wrong, they'd be in good hands.
Text Opt-Ins & Personalized Support
Texting has become a convenient way for brands to interact with their customers, from sharing new product launches to giving updates on an order status. With text notifications, you can easily communicate with on-the-go customers when you have an announcement to make.
Use this to share information about a new product launch, an upcoming sale, or a virtual event you're hosting (ie. an instagram live). As a treat for those who opt-in for text messaging, consider offering a discount on their next purchase. You can also use this to offer personalized customer support, and through Gorgias, you can track sales generated by support agents over text messages.
To promote text opt-ins, consider adding a pop-up to your website encouraging customers to sign up for email and texts. Swimwear brand Salty K does this, enrolling sign ups into their rewards program, giving them points for signing up.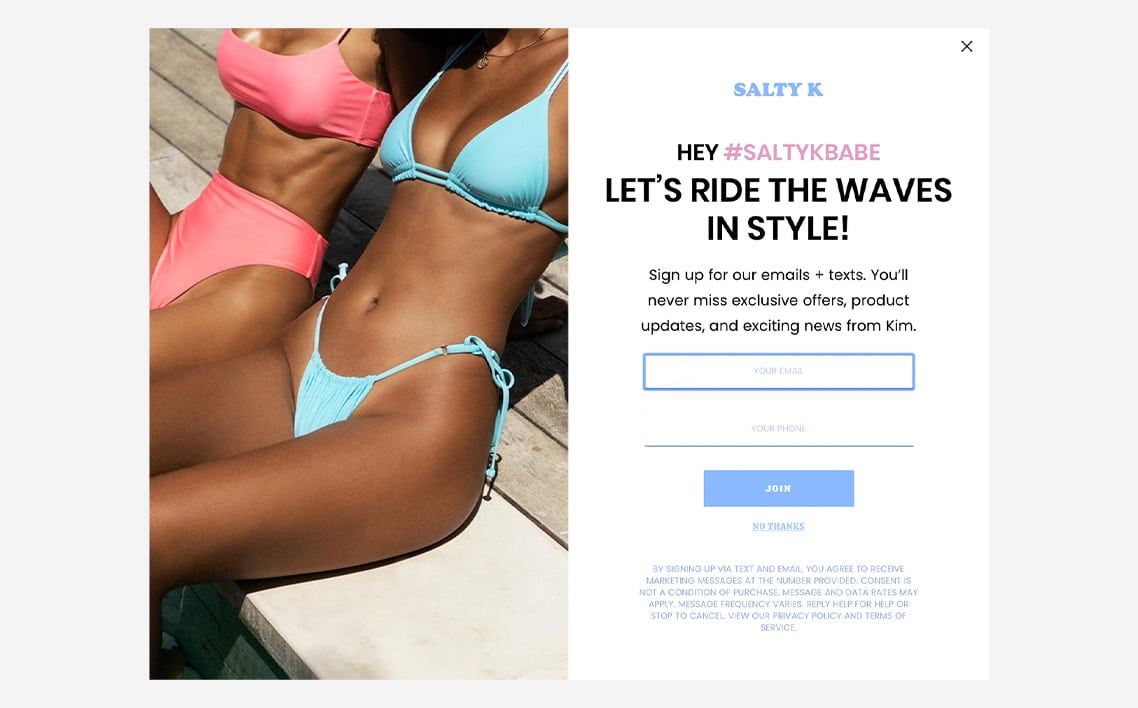 Virtual Try-Ons
Allowing customers to test out a product to know if it's a good fit for them, or their space, definitely has its perks. First, it gives them a personalized experience where they feel like they truly matter, and second, it can lead to happier customer satisfaction. Since they've already tested out what they're buying (virtually), they're more likely to be pleased with the actual product once it arrives.
Applying these strategies is a great starting point to strengthen your customer service, enabling you to create a more engaged experience with your customers. They're also a great way to reduce time spent responding to customer service tickets, since you'll be communicating with them through every step of the buying process.