November 24, 2020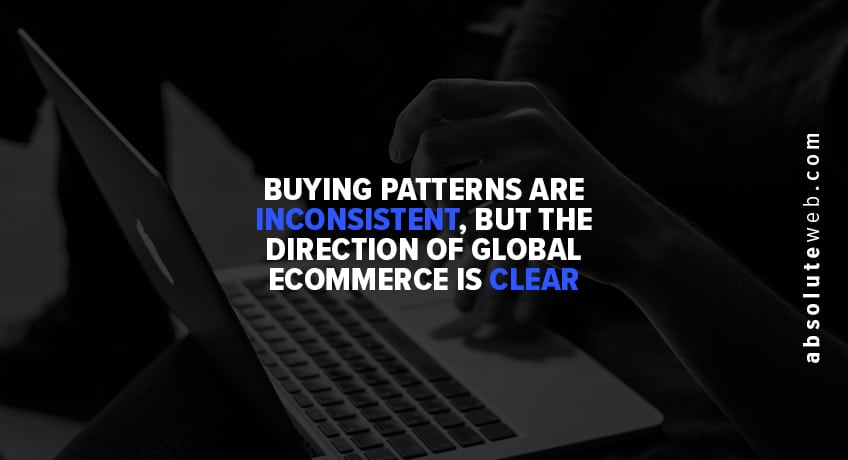 Buying Patterns are Inconsistent, but the Direction of Global eCommerce Is Clear
By Mike Cassidy, Signifyd lead storyteller
A winter wave of the coronavirus is rolling across Europe and through the United States, leading to new lockdowns and restrictions just as the busy holiday shopping season begins.
The six- to eight-week period means the difference between a profitable or an unprofitable year for many retailers — at least in a typical year. Of course, 2020 has been anything but typical. Shopping patterns in Europe and the United States were upended by the virus, which stormed into the public consciousness in March.
Government-ordered lock downs and store closings shifted shopping from brick-and-mortar to online almost overnight. Ecommerce sales in some verticals increased by triple-digit percentages, creating holiday-like ecommerce orders in the spring.
The increase in online shopping eased somewhat as the year wore on, but it still has not returned to pre-pandemic levels — and most analysts doubt it ever will. That is not to say that buying patterns have been uniform month-to-month or region-by-region.
In the lead-up to the holiday shopping season, ecommerce spending in the United States and Europe broadly followed similar patterns, but it appeared that online sellers in Europe this fall were not prospering to the same extent as those in the U.S.
Shift in ecommerce sales varies across the globe
For instance, while ecommerce spending in the United States was up 17% in September over September 2019, in Europe, spending actually dropped 2% year-over-year, according to Signifyd's Ecommerce Pulse data. In October the gap narrowed somewhat, with the U.S. registering sales 8% higher than in October 2019, while online spending in Europe was 4% above its 2019 level.
The somewhat anemic numbers in October came as a bit of a surprise as many analysts expected the Christmas shopping season to launch earlier than it traditionally has. Retailers planned to offer promotions to encourage early buying to avoid stressing fulfillment channels with historic order spikes in November and December. And merchants and brands were also seeking to avoid holiday shipping surcharges on those who shipped especially high volumes.
The difference in online spending growth in the U.S. and Europe can no doubt be attributed to a number of factors — big and small — which makes comparing the trends hardly an exact science. Even viewing either the United States or Europe as a monolithic market is to ignore the regions' incredible diversity and the variance in COVID-19 spread in any one place at any given time.
As with the original spread of the coronavirus, the second wave appeared to break over Europe first, with countries locking down and taking other protective measures. In the United States, which by mid-November was beginning to see more stringent restrictions, including on retail activity, rules varied from state-by-state and even county-by-county. All those factors make pinpointing coronavirus-cause and ecommerce-effect difficult to pin down.
Micro- and macro-factors figure into consumers' buying behavior
Moreover, buying decisions are never about just one thing. It's possible that with the pandemic dragging into its eighth month, consumers' concerns about the economy and their personal finances are outweighing any outside factors — whether those be the daily coronavirus case numbers or the discounts and promotions offered by retailers seeking holiday business.
Signifyd's own polling showed that a substantial segment of consumers are worried about their incomes and intend to cut back on holiday spending as a result. In a September poll of 1,500 UK consumers, 54% said their incomes had been adversely affected by the coronavirus. In the U.S., 56% said their incomes had been harmed during the pandemic, in our poll of 1,500 U.S. consumers.
More troubling, more than 84% of U.S. consumers said they were at least mildly concerned about losing some or all of their income in the coming year — with nearly 60% of those describing themselves as "concerned" or "very concerned." In the UK, 85% of consumers said they were worried about losing some or all of their income in the coming year, with more than 55% saying they were "concerned" or "very concerned."
What is interesting — and potentially helpful to retailers as they execute their holiday marketing plans — is the different ways European and U.S. consumers react to these worries and economic conditions, a story told in Signifyd's Ecommerce Pulse Data.
Again, while the broad trend lines concerning ecommerce spending in Europe and the United States were similar, significant differences can be found by digging into some of the retail verticals that the Pulse data covers.
For instance, faced with economic uncertainty, European consumers in September and October cut back on buying products in the Alcohol, Tobacco & Cannabis vertical. Sales were down 43% year over year in October and down 50% year over year in September. Conversely, in the U.S., Alcohol, Tobacco & Cannabis sales rose — up 41% year over year in October and up 43% in September.
Other patterns, concerning buying preferences in the two regions did hold in both September and October. U.S. shoppers for interest showed a greater hunger for Electronics & Computers than did their European counterparts. In the U.S., sales in the vertical were up 98% year over year in September and 73% year over year in October.
U.S shoppers turn to precious metals; European consumers crave automotive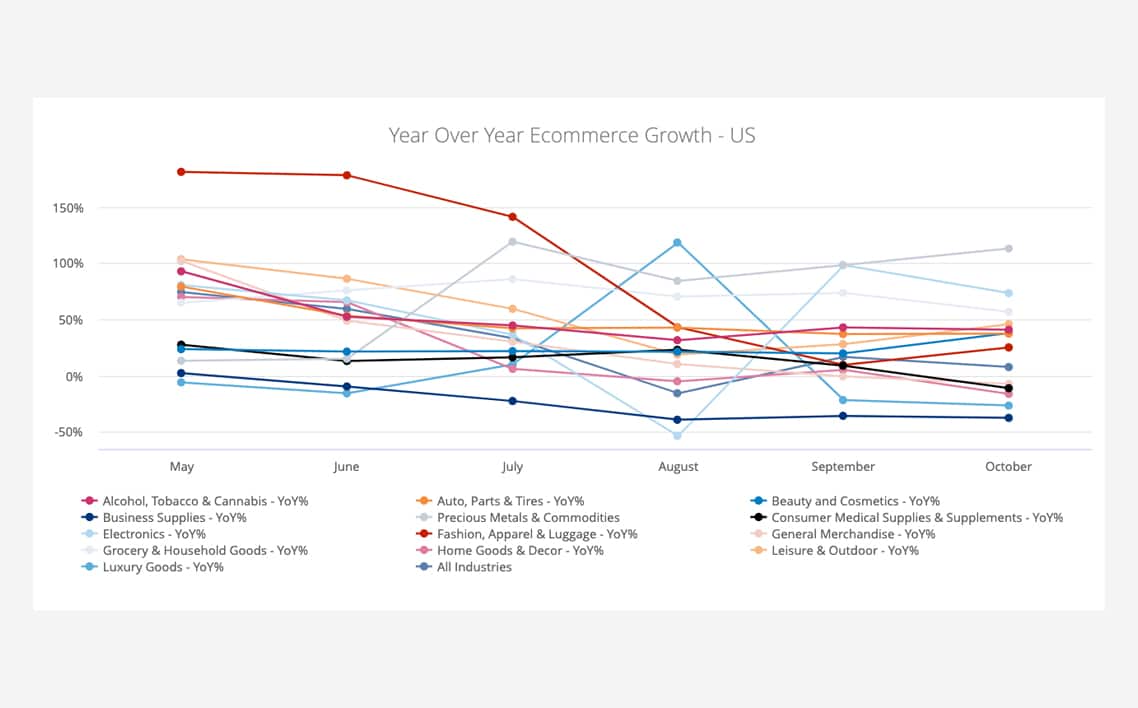 U.S. shoppers also showed a greater appetite for Precious Metals & Commodities, a category that includes gold bars, an item that some turn to as a safe haven in times of uncertainty. Consumers in the states increased spending in the vertical by 113% and 98% year over year in September and October respectively. The increase in Europe those same months was 57% and 42%.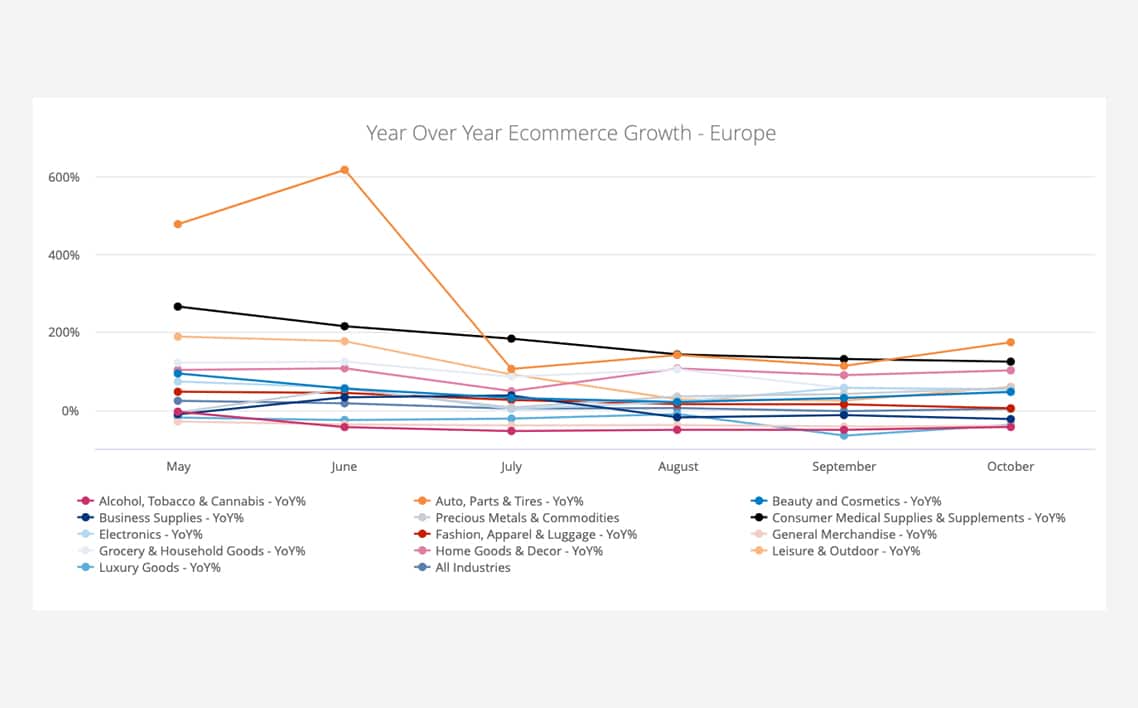 Europeans, on the other hand, showed a heightened interest in the Auto, Parts & Tires vertical in the two recent months we studied. Year-over-year spending in the category was up 174% in September and 114% in October in Europe. Spending in the auto and parts category in the U.S. was up 37% in both September and October.
Consumer Medical Supplies & Supplements and Home Goods & Decor were two additional categories that performed better in Europe than in the United States in the months leading up to the holiday shopping season.
While sales of medical supplies in Europe were up 131% in September, they rose only 9% in the U.S. In October, the difference was even more stark. Sales increased 125% in Europe in October, while falling 11% year over year in the United States.
Meanwhile, home improvement remained a serious focus for Europeans forced to spend weeks on end in their houses and apartments. The British Retail Consortium called the desire for household goods in the UK "insatiable," and the European numbers bore that out. Sales were up 90% year over year in September and 102% in October.
U.S. consumers, who spent freely on Home Goods & Decor early in the pandemic did, in fact, appear to be sated. In September spending on home improvement items was up only 5% in the U.S. In October, sales in the vertical fell by 16%.
One category — Luxury Goods — experienced universal pain, no matter the month, no matter the geography. Year-over-year spending on Luxury Goods in September was down 65% in Europe and 22% in the U.S. In October, sales fell in the category by 37% in Europe and 27% in the United States. Perhaps the category will bounce back during the holiday season.
As others have noted, the world is in the midst of a transformation accelerated by the COVID-19 pandemic. Retail is part of that change. As with any disruption, the signs of change may be inconsistent in the early going. But the general trajectory is clear: More people are buying more things online — no matter where in the world they are.