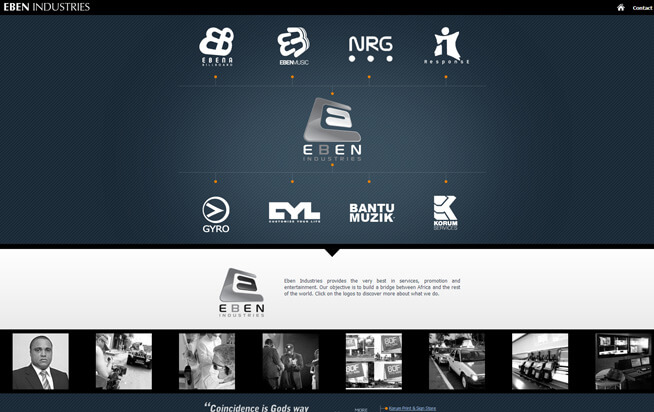 Eben Industries
Eben Industries is a leader in promotion and entertainment services that strives to bridge the gap between Africa and the rest of the world. The arms of the company range from Eben Music (an award-winning African based record label), to CYL (Customize Your Life), and even Korum Services (one of Africa's largest printing companies). If you see something stunning, hear something beautiful, or buy some custom attire from Africa, it is likely Eben Industries had a hand in its creation.
Absolute Web Services worked closely with Eben Industries to create a unique website that met their needs. With so many branches and businesses, creating an overall hub for the different business under the umbrella of Eben Industries was no easy task. Our web design team brainstormed, outlined, and story-boarded until a solution was found. The new Eben Industries website features each arm of the company from the homepage of the site without the need to navigate through a clunky navigation scheme.
At Absolute Web Services, we strive to create unique website solutions for any and every need.
Project Summary
Custom Web Design
Custom Blog Design
Social Media Integration
Mobile Friendly Optimization
Search Engine Friendly URL Architecture
Google Analytics Integration
Programming of the Inquiry Form