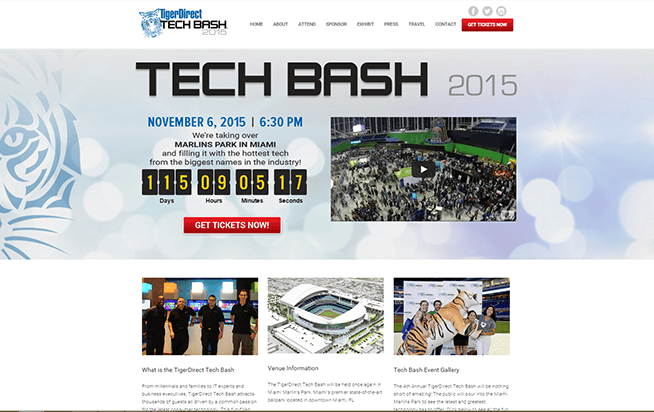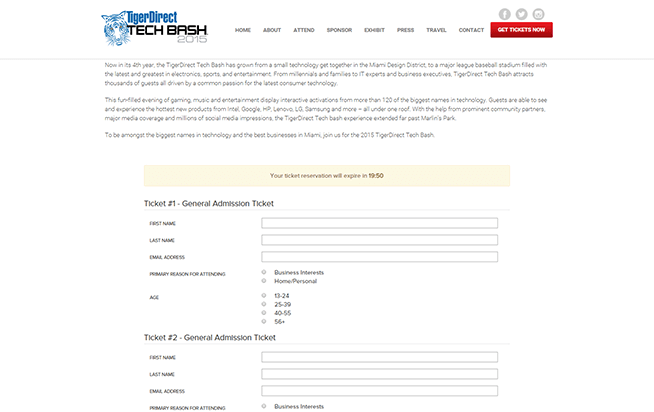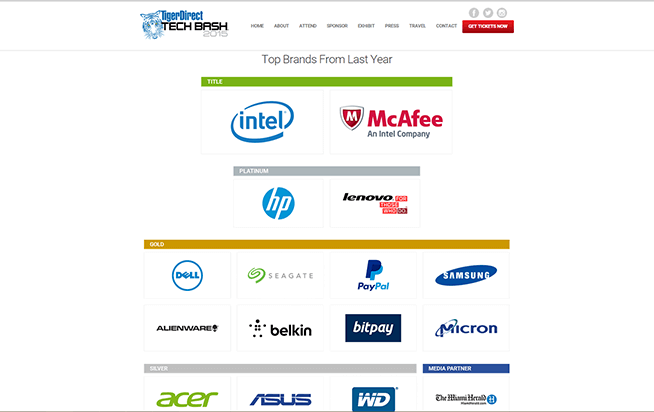 Tiger Direct – Miami Tech Bash 2015
How Absolute Web and Tiger Direct Are Taking over Miami with biggest tech names from the world.
The Concept
Here at Absolute Web, we're in love with Tiger Direct Products –   their array of brand name computers and vast inventory of emerging technologies help keep us running as the top creative web design agency in Miami. So when Tiger Direct came to us saying they needed a website  for the countdown of their historic tech bash held in Miami, we put all our efforts into creating the an innovative and  informative site experience to get sponsors, exhibitors, and attendees hyped for the 2015 event.
Why this is BIG: Tech Bash History
Tiger Direct's Tech Bash has found enormous and exponential growth in their attendance in the past four years. Their last event attracted over 18,000 guests and interactive activation with the hottest new products from Google, HP, LG, Samsung and more.It is a must-attend for IT leaders. Building upon the enormous success of the Tech Bash's previous annual events, TigerDirect predicts over 20,000 attendees and has designed this upcoming 2015 event to meet the exclusive needs of the B2B sector, including IT-focused breakout sessions, interactive demonstrations and on-site purchasing.
The Goal
Our goal was to show case their success of the past events and create a fully functional customized WordPress website for the excitement and countdown.
Why WordPress
Our focus was to choose a content management system with an open source option  with a large developer community building both the core platform and plug-ins.  This would allow us to tap into a large reservoir of talent and give us freedom when we launch new features as the event comes closer.  WordPress was a great option for us due to the great number of media and social properties built on it.  With WordPress we were able to add plug ins, such as a fully integrated checkout process to allow visitors to buy tickets for expo and not leaving the site to a third party vendor. The WordPress design we strived for was a  simple design with voltaic elements   of the TigerDirect.com brand, then refined and extended it to carry through a clean, sophisticated visual experience.
Project Summary
Custom Web Design
Web Development
Social Media Integration
Mobile Friendly Optimization
Search Engine Friendly URL Architecture
Google Analytics Integration
Programming of the Inquiry Form