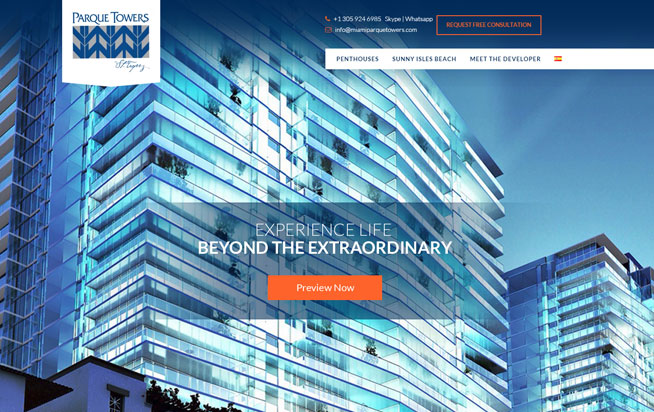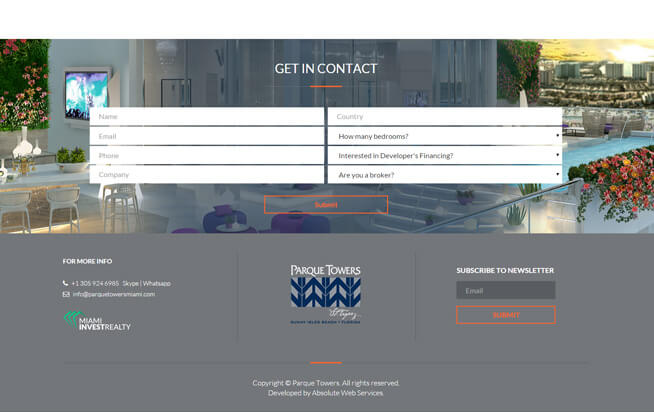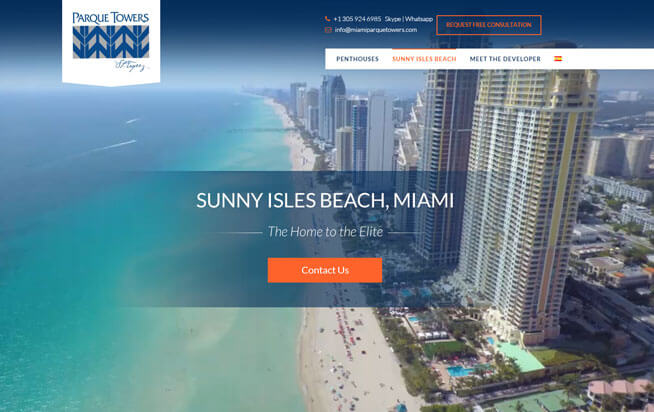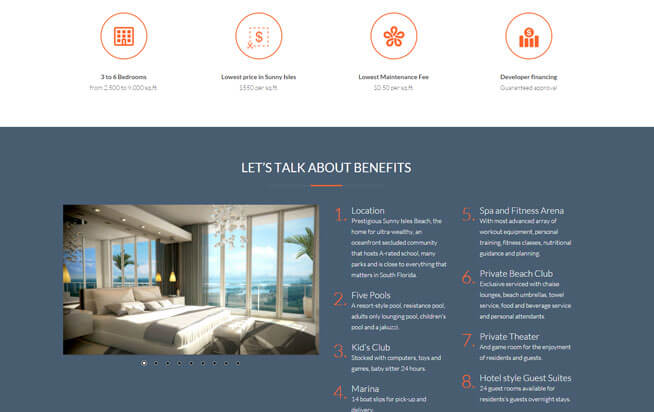 Miami Parque Towers
Wake up every day to the fun-in-the-sun atmosphere that defines Sunny Isles Beach, Florida! In Parque Towers, you'll experience a lifestyle unparalleled to that of any other community in the South Florida area. This prestigious community is star-studded and full of notable citizens. This wealthy community is secluded yet easily within reach of all the best of South Florida, including top-notch schools, high-class shopping and fine dining. With a private beach club, private theater, kids club and five-star quality fitness and spa areas, you'll never have a humdrum day at home again!
The Goal
Create a Modern and Sleek Website That Reflects the Ethos of Parque Towers
The goal was to create a customized website experience for the top-rated real estate company that manages the luxury living experience at Parque Towers. A fully integrated, multimedia experience immerses potential residents in the magnificent ambiance that Parque Towers offers to its notable clients. Whether accessed from a computer, tablet or smartphone, Absolute Web Services has considered every detail for convenience and ease of navigation.
We pride ourselves upon utilizing cutting edge technology to accurately portray the elite image of Parque Towers. Utilizing video tours, interactive web-form submissions and a page designs that showcases the true beauty of the property, our web designers have created a landing page that tells the story of the brand while beckoning the customer to discover more.
As with any real estate web design project, the specialists at Absolute Web Services realize how important aesthetics are to this field. By creating an interactive floor-plan map menu, potential customers are able to fully explore their options. High quality photo galleries complete the visual portfolio, offering an expansive and varied view of Parque Towers' beauty and ultra-luxurious exclusivity.
An easily updated website format allows administrators to change availability as needed and update the ever changing financial picture of short-term real estate investment and development. Easy to use with streamlined navigation, the owners of Parque Towers expect their website to be a framework for years of future growth.
Project Summary
Custom Web Development
Multi Language
Custom Blog
Social Media Integration
Mobile Friendly Optimization
Search Engine Friendly URL Architecture
Google Analytics Integration
Custom Contact Form