May 21, 2015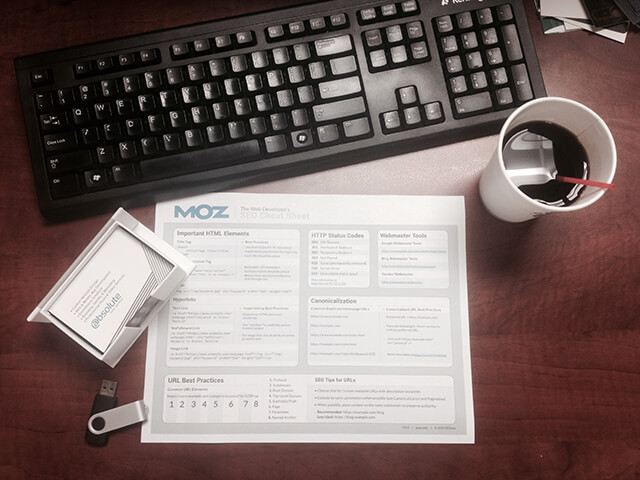 Your Guide To The SEO Chart Every Web Developer Needs
Search Engine Optimization, or SEO, is a huge component of any online presence. Without it, even the best web sites with gorgeous designs and captivating images, would be missed. SEO is a must-have if you want a successful Web site.
While the world of SEO can be complicated and ever-evolving, there are certain tools available in order to make the journey far simpler. Here's where one of our favorite cheat sheets comes in, courtesy of MOZ, a marketing analytics and software company.
Many moons ago (2008 to be exact), an SEO roadmap was created to help web developers get a leg up on optimizing their online content. The simple sheet breaks down great tactics for on-page SEO, or the parts of your web site that affect search engine rankings. This is the SEO component you can control yourself, including content, headings, URL structure, coding, etc.
Whether you are ready to launch a new website or perform an SEO audit on an existing one, these tactics will help you stay on your A-game with less effort and continuous results. Unlike off-page SEO, which are the tactics used to promote your content outside of your web site, on-page SEO is more in your control because you have homecourt advantage. Both are vital for your web presence, but generally speaking, we recommend focusing on optimizing your web site first.
Before downloading this FREE resource
Take a look at our recommendations for navigating through the document. As experts in the industry and all things SEO, we've got you covered on how to apply these tactics in the best way possible:
These tips are ideal for intermediate to advanced users
You should back up your web site's code before applying these tricks
Keep in mind when using any of the SEO tips that 3 years ago Google released an over-optimization penalty, so don't overdo it.
If your web site is built on a WordPress platform, consider yourself lucky: there are a lot of free SEO plugins coming with this platform, the best one is SEO by Yoast. It offers everything you need to optimize your site.
Here's a rundown of what you'll find in the SEO cheat sheet:
Best practices for writing title tags and meta descriptions
SEO tips for crafting URLs
Canonicalization
HTTP status codes important for SEO
Links to webmaster tools for Google, Bing, and Yandex
Best practices for hyperlinking
Robot control syntax
Important user-agents
Sitemap syntax
Best practices in pagination for SEO
Code snippets for Facebook Open Graph, Twitter Cards, and Google+
Establishing Google+ Authorship
Using Google+ Publisher markup
Tips on targeting multiple languages (URL structure, hreflang tags, etc.)
Mobile web development SEO cheat sheet (responsive web design, dynamic serving with HTTP headers, etc.)
Download your free copy of The SEO Cheat Sheet from Moz. We recommend printing it out and pinning it on your wall!