October 14, 2014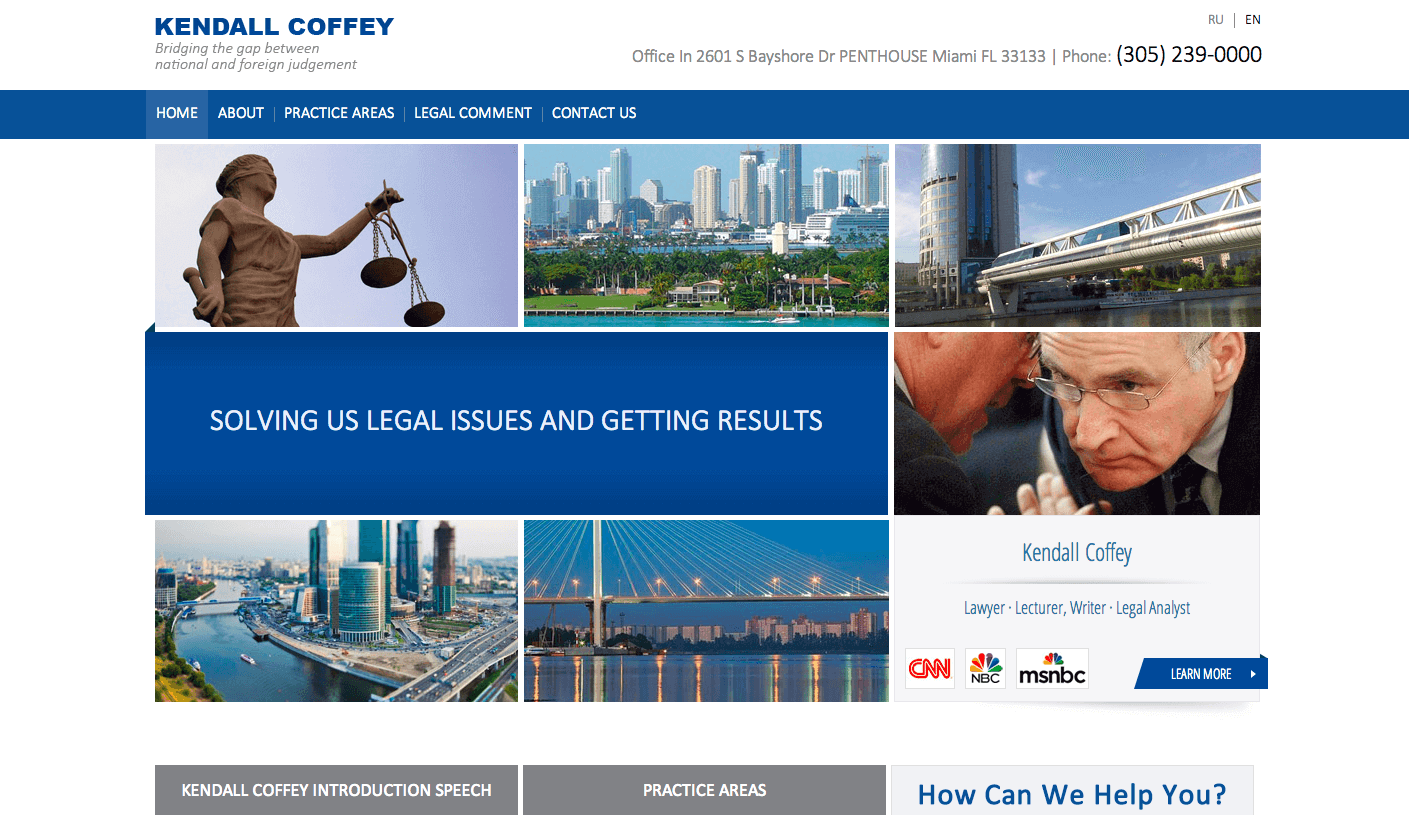 Working with the Expert: Design and Video Creation with Former U.S. Attorney Kendall Coffey
Truth be told, sometimes we get a little star struck. Former U.S. Attorney for the Southern District of Florida from 1993-1996 and most recently Chair, Southern District Conference, Florida Federal Judicial Nominating Commission from April 2009 to today, Kendall Coffey is one of the leading voices on legal matters.
His expertise in arbitration both internationally and domestically has put him at the forefront of many of today's hottest topics. We were excited when we found out that we were his choice to create a new website and feature video targeting Russian businessmen and corporate entities. With his experience and our incredibly skilled web and video designers, we created a website that meets his unique needs.
English and Russian Website Design for Kendall Coffey
Kendall Coffey is has recently been invited to participate in the two largest legal conferences in Russia. His influence and client base is growing rapidly in the Russian-American business sectors. With an increasingly shifting legal landscape, large corporations and business entities need legal representation that understand the complexities of the times. Our challenge was to create a site that could capture Kendall Coffey's message and deliver it to a unique client base.
We first created an English language website with complete content and graphics from our web development team. The site, built on WordPress, was designed to capture the eyes of potential clients. After the client approved the English site, we set about creating a comprehensive, complete Russian language site with a .ru designation for increased visibility and affectiveness in the Russian market.
Video Production and Creation
Kendall Coffey has appeared on everything from The Today Show, Larry King Live, and Good Morning America to Anderson Cooper 360, CNN International and FOX. We knew that creating an intro video to capture his expertise and deliver it to the Russian business elite wouldn't be an easy task. Our video production team crafted graphics, shot HD video, and edited for countless hours to create a video that Kendall Coffey could truly be proud of.
After shooting the video with him actually speaking Russian to his potential clients, we decided to create a unique YouTube channel for him completely in the Russian language. The channel (designed for Russian-speakers) showcases his new video and some of his many appearances.
Do you have a specific audience that requires attention to detail and a professional touch to capture? Interested in video production or web design from an expert team? Contact us today.