January 2, 2017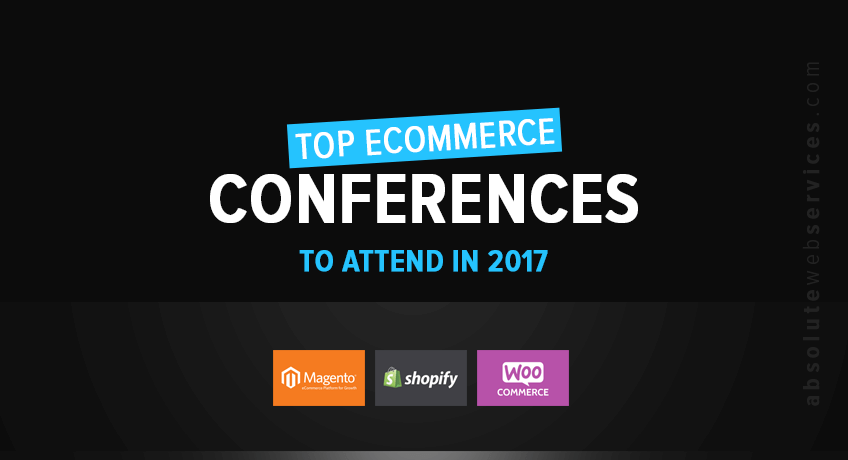 Top Ecommerce Conferences To Attend In 2017
Absolute Web Services is a full-service development agency specializing in business, commerce and informational websites and applications. At AWS, we understand that digital impressions matter more than ever. In this spirit, we have compiled the top ecommerce conferences to attend in 2017!
These top ECOMMERCE Conferences will provide you with beneficial insight on how to grow your business or increase your corporate contribution in the new year!
Absolute Web Services recommended ecommerce conferences to attend are ideal for:
Content Marketers
Affiliate Marketers
eCommerce Directors/VP
Digital Marketing Directors/VP
Chief Marketing Officers
Digital Marketing Managers
Search Engine Optimization (SEO) professionals
Search Engine Marketing (PPC) professionals
Social Media Marketers
We list shows that focus on generating demand, increasing conversions, and new technology trends. We suggest you pick the most geographically-friendly and industry aligning shows to attend!
It will certainly be beneficial for you and your team.
HERE IS THE TOP 10 ECOMMERCE CONFERENCES TO ATTEND IN 2017!
---
National Retail Federation – Retail's Big Show
When: January 15 – 17, 2017
Location: New York
The BIG Show is where the entire retail community comes together. Think of it as the "Oscars" of e-commerce events, where the who's who of retail come together to network. Register here.
Marketing Sherpa Summit
When: Feb 13 – 17, 2017
Location: Las Vegas, NV
The Marketing Sherpa Summit 2017 will be hosted at the ARIA Resort & Casino in Las Vegas during February 13-16. Over the course of four days, attendees will be offered valuable insights and information to help them achieve digital marketing success. The 2017 event will include six featured speakers, roundtable sessions, coaching clinics, certification workshops, and networking parties.
Bazaarvoice Summit
When: March 9
Location: Austin, TX
The Bazaarvoice Summit 2017 will be coming to the AT&T Executive Education and Conference Center in Austin, TX on March 9 (with a pre-conference workshop also being held on March 8). This social commerce event aims to help brands and retailers develop connections, build relationships. Bazzarvoice is an excellent show for exhibitors and vendors to find new e-Commerce leads!
MRC Vegas
When: March 13-16
Location: Las Vegas, NV
Hosted by the Merchant Risk Council, MRC Vegas is once again making its way to the Las Vegas Strip from March 13-16 to cover all of the latest information about e-Commerce payments and financial services. This conference focuses on bringing together e-Commerce retailers and industry professionals to educate everyone about the latest in fraud and payments.
Topics usually covered are fraud trends, mobile payment fraud, creating a successful fraud program, the future of e-Commerce payments, The conference serves as a great opportunity to connect with potential e-Commerce leads, while becoming more educated on the payments and fraud industry.
While the 2017 speakers have not yet been announced, 2016 featured a pretty impressive lineup. Attendees got to hear from professionals like Peter Martin from Google, Jigar Mody from Microsoft, Bryan Whitney from Urban Outfitters, and Troy Leach from the PCI Security Standards Council.
ShopTalk
When: Mar 19 – 22, 2017
Location: Las Vegas, NV
Shoptalk is the new blockbuster retail and ecommerce event. It covers the rapid evolution of how consumers discover, shop and buy from new technologies and business models to changes in consumer preferences and expectations.
Magento Imagine
When: April 3 – 5, 2017
Location: Las Vegas, NV
We attended Magento Imagine in 2016, and it was such a great experience we have already committed for the 2017 show! The Magento Imagine Conference brings the Magento World-Wide Community together to discuss technical advancements, development initiatives, growing-needs, and an opportunity to actively discuss the direction of the worlds-leading ECOMMERCE PLATFORM with the Magento Team in a united way.
eTail Canada 2017
When: May 16 – 18, 2017
Where: Toronto, ON
This even welcomes everyone from startups to big brands in the industry. Topics and content span from: online marketing, digital engagement, customer acquisition and retention strategies, analytics, mobile, social, email, search, usability, design and more. The ultimate goal of the eTail East event is to inspire and educate retailers on ways that they can transform and update the ways in which they conduct business. Register here
IRCE
When: June 6 – 9, 2017
Where: Chicago, IL
The Internet Retailer Conference and Exhibition brings together retailers to form one of the largest eCommerce events in the world. The IRCE appeals to industry professionals across industries and functional areas, from companies of all sizes.
Mobile Shopping Conference
Typical Month: October
Typical Location: Rancho Mirage, CA
Mobile Shopping Conference is usually regarded as the must go to conference for digital executives looking to refine their business' mobile strategy. This conference brings together America's most successful companies and some of the brightest minds in mobile commerce for networking opportunities and in-depth research support to help grow your brand.
Last year's conference brought in 400+ attendees and its largest group of expert mobile speakers to date. And included key speakers from:
Amazon – Peter Heinrich, Developer Evangelist, Games
Zappos – Aki Iida, Head of Mobile
Target – Rob Anderson, Director, Guest Experience – Target.com and Mobile Product
Dell –Harsh Acharya, Head of Product Management, Dell.com
EVINE – Bob Rosenblatt, CEO
Walmart eCommerce – Kunal Banerjee, Director, Digital Store Operations
Sephora – Jheel Jawharkar, Senior Product Manager for Mobile Web and Checkout
Pacific Sunwear – Nathan Liu VP, eCommerce
Touch of Modern – John Nguyen, Director, Marketing
Knowledge drives

growth

.
Attending these shows could yield tremendous return on investment. Having face-time with ECOMMERCE experts will certainly help shape your digital growth strategy. Understandably, budget may already be allocated for other conferences, initiatives, or operational expenses. You can stay up-to-date with ECOMMERCE Development and Digital Marketing trends by subscribing to the Absolute Web Services Blog. We will provide recaps of all the shows we attend, and share any material made available to the public with you here!