September 18, 2017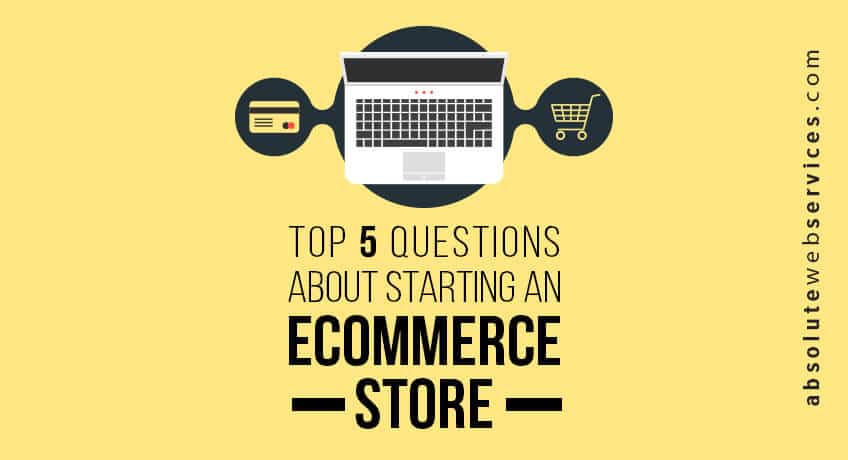 Top 5 Questions About Starting an Ecommerce Store
Do you have questions about launching your ecommerce store? You're not alone. Many people ask various questions before taking their business online. Keep reading to find out the top 5 FAQs about getting into ecommerce.
1. I already have my product and domain name. How do I start building my ecommerce store?
The first step is to choose your platform. Also known as the ecommerce cart, the platform manages your products, categories, checkout, and other aspects of an ecommerce website. There are many options available including but not limited to Shopify, Magento, and WooCommerce. With these, you can customize the look, feel, and functionality of your online store, upload product catalogs, set up shopping carts, accept payment, and more. Keep in mind, there will be little initial setup on your part, like choosing a template and uploading your logo, etc. If you already have a website, design your ecommerce store off of that; if not, design your store with backgrounds and colors that work well with your logo. Each aspect should compliment the others to make your ecommerce store come together. If you don't have any coding knowledge, don't worry – most platforms have templates that you can choose from as an alternative option. And most importantly, make sure you are comfortable with the platform you choose and choose one that has flexibility and the potential to grow alongside your growing business.

Shopify provides a variety of features, whether you are a beginner or expert, for everything you need to start an online store and sell online.
2. What different payment options can I choose from?
There are dozens of payment gateways available these days. PayPal, Stripe, and Authorize.net are a few of the popular ones. If a payment gateway already has a plugin for your platform, that might be your best bet. But regardless of which platform you chose, off the shelf plugins and extensions help you integrate with major payment gateways. Ask yourself the following questions:
Do I want customers to enter their payment details right on my site? This is usually the easiest and most hassle-free option, but the least secure, which means you will need to take extra security precautions. Other options include installing an iFrame within a page of your site or a redirect to send customers to a hosted payment page.
Do I want PayPal as an alternative payment option? Many platforms allow multiple payment options. You can pick one and offer PayPal as a another choice for your customer to choose from. This can make things easier on your customer if they have a PayPal account simply by logging in, as opposed to entering their credit card information on your website.
What are the fees and how long is the contract? Make sure you know what your chosen payment gateway fees are. Fees can include: monthly fees, transaction fees, etc. In addition, you should also know the contract lengths offered by your payment gateway. You don't want to be stuck with a provider that you have problems with and/or aren't happy with down the road.
Are the payment methods my customers will be using supported by the gateway I chose? It is important to have an idea about what payment methods your customers might be using. Consider niche payment methods in addition to well known ones, like Visa or MasterCard. Choose a gateway that will support those methods because if your website does not accept the customer's payment method, you will lose sales.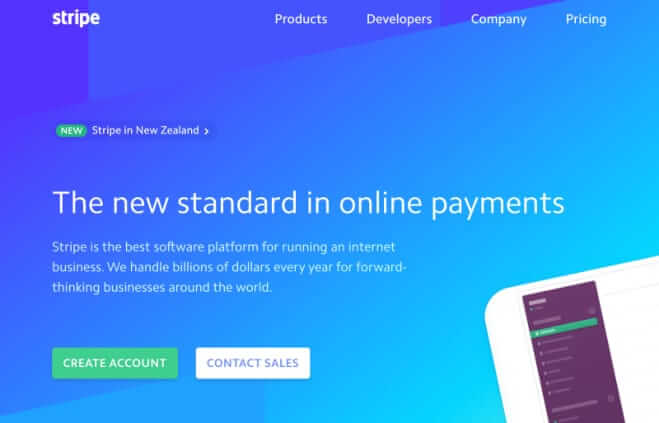 Create quick and effective ecommerce experiences with Stripe.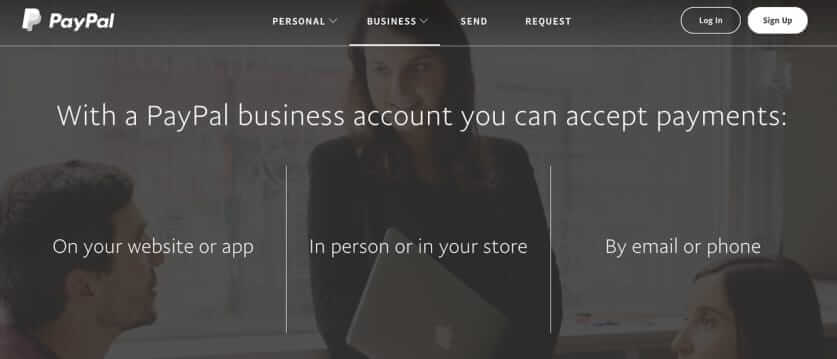 Build your online store with PayPal built in.
3. What is the best way to attract shoppers? How can I create the best product images and descriptions for attracting them?
Attract shoppers with a great website. It should be visually attractive to draw customers in and make them want to stay and look around. First impressions are important here. If a user doesn't like your website, chances of them buying something are low and they will leave your site soon after opening it. Your site should also be user friendly. If it is difficult to navigate and find things, the user probably won't stick around. You should also utilize social media. It is the perfect place to promote your store and products for free and you can always publish advertisements on social platforms, too. The key is to post relevant, meaningful content on a regular basis and engage shoppers as much as you can. You might also want to consider sending samples to influencers, bloggers, and press. Product images and descriptions play an important role in attracting shoppers as well. Because they do not get the in-store experience of seeing or touching the product, clear, crisp images are the next best thing. If you don't have the budget to hire a professional photographer, make sure you have decent equipment and lighting to take the photographs yourself. Accompany these photos with short but detailed product descriptions. Use language that will compel shoppers to add items to their cart and follow through with purchasing.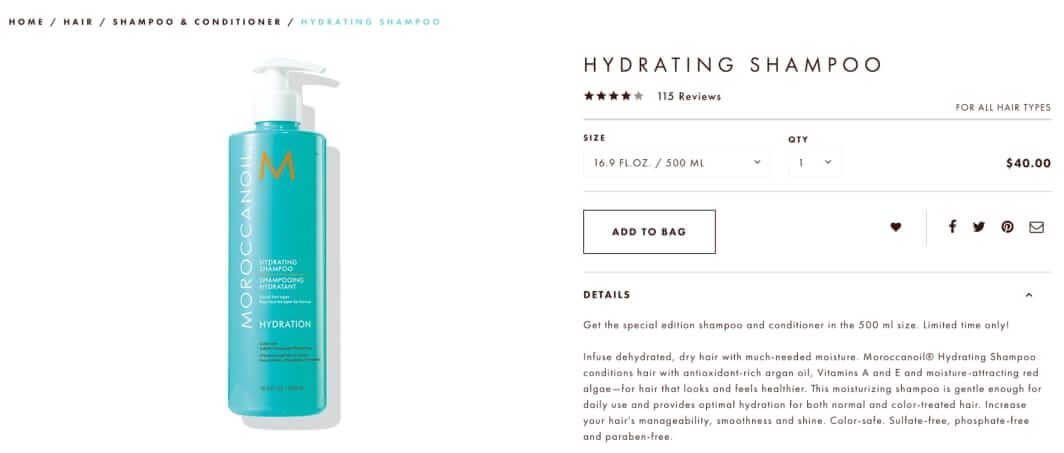 Moroccanoil Hydrating Shampoo product details/description.
4. How do I calculate shipping costs? How do I address returns?
There are a few options when it comes to determining what you need to charge for shipping. The first thing you can do is research different carriers and have them calculate the costs for you. These costs are integratable into the checkout process in most ecommerce platforms. You can also offer a flat rate. With this method, you will need to be prepared with knowing the average cost of shipping a package. This works well if you want to be sure that you are not drastically undercharging or overcharging your customer. If you are looking for more conversions, consider offering free shipping. Although it may cut into your profits, it is a great way to grab your customer's attention and can give you benefit over your competitors who charge a shipping fee. If you like the idea of free shipping but are on the fence, think about free shipping with a minimum order amount.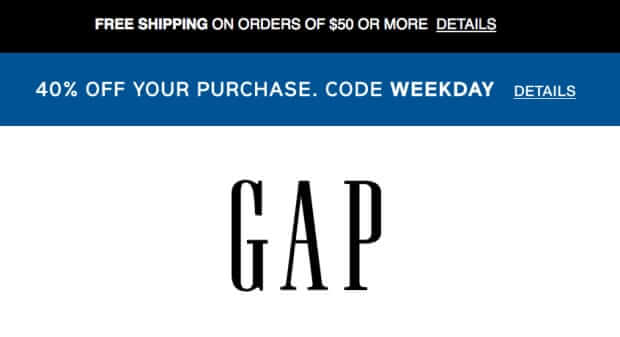 Gap promotes Free Shipping on the header of their website.
5. What is the best way to track my store's success?
There are many factors you can look at to track your store's success. Conversion rate is a basic measurement that tells you how many visitors converted into buyers. Look at advertising sources (if applicable), promotions, etc., to better understand what was the most effective in driving sales so you can build on it in the future, as well as improving what didn't work quite as well. If you engaged in email marketing, you can also see if your subscriber list grew. If not, research ways to grow your audience. You should also look at cart abandonment. This is a big reason for losing out on sales. Did a customer add items to their cart but not go through with the order? Reduce cart abandonment in the future by sending follow up emails to regain those customers. Don't forget that there are many more aspects to tracking your store's success; these are just a few examples of specifics to look at. When you choose your ecommerce platform, consider picking one that offers analytics and reporting tools. This will help you discover important information such as who is visiting your store, how they get to your store, and more.
Create a Google Analytics account to measure and track your website's success.