March 11, 2016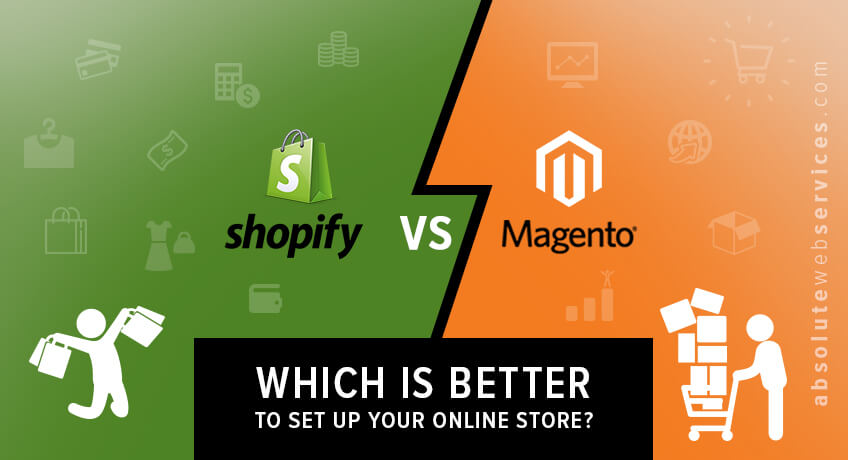 Shopify vs Magento: Which is Better to Set Up Your Online Store?
Electing the most suitable e-commerce platform for creating, managing and maintaining an e-commerce website is critically important, as it can be the factor responsible for either the success or failure of your business.
Shopify vs Magento
Two popular platforms for e-commerce hosting, Shopify and Magneto Community Edition offer small businesses a chance to sell goods online. Both products have different advantages that make them worthy of consideration. There are, however, some huge fundamental differences between these platforms that you should be well aware of before making a comparative evaluation of the two:
Shopify is a commercial product (that you need to pay for) while Magento Community is a free, open-source software
Shopify is a hosted solution (where your store is hosted by them) while Magento requires that you provide your own hosting, install, setup and configure everything before you can actually start creating your store – something requiring medium to high level of web development and programming skills.With these two important difference in mind, here is a head-to-head comparison between the two platforms:
Ease of Setup:
Both solutions provide basic functionality for an online store. Shopify requires less technical expertise, making it a favorite for small business owners with little or no e-commerce experience.
Inventory Size:
The Shopify starter plan only allows companies to have 25 items in their store. Companies must pay for a more expensive plan to sell from a larger inventory. Businesses with many different items to sell might not want to spend the extra money for Shopify, so they should consider Magneto Community Edition, which has no inventory constraints. The Open Source option might, however, slow with the addition of a lot of listings.
Shipping Charges
Shopify and Magneto Community Edition provide stores with flexibility for determining shipping charges. Administrative options allow businesses to define the charges that will apply.
Coupons and Discount Codes
The Shopify Starter Edition will not allow the use of coupons and discount codes. Companies that want to use coupons and discount codes should turn to either Magneto Community Edition or pay for a more expensive version of Shopify.
Payment Gateways
E-commerce sellers need to get paid. Shopify simplifies the process by providing more than 70 payment gateway options. Magneto Community Edition supports a small number of payment options, but third party add-ons can provide alternatives.
Customization
Shopify uses a simple menu oriented system that makes customization easy. The Open Source nature of Magneto Community Edition allows for extensive customization for those who can work well with source code, HTML, and CSS.
When comparing Shopify vs Magento, business owners must examine the tradeoffs between features and price. Although Shopify makes e-commerce configurations a breeze, the monthly cost to get needed capacity and features can push the limit for small businesses. The Open Source option, Magneto Community Edition has the right price and works best for store owners who have access to technical skills. Either way, these options offer businesses the framework they need to compete in the e-commerce world.