August 3, 2020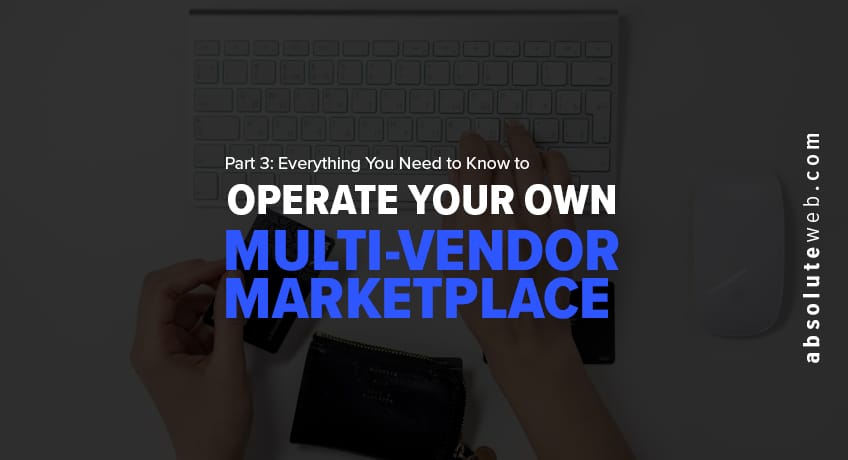 Part 3: Everything You Need to Know to Operate Your Own Multi-Vendor Marketplace
If you've made it this far, you're most likely ready to begin operating your own multi-vendor marketplace. Since we've uncovered the need for these marketplaces and the platforms you can build them within our previous blogs, we thought the best way to wrap up this series would be deep dive into the actual operation.
Operating a multi-vendor marketplace has its benefits, but it's not all that easy. Keep reading to learn what it takes to run a successful multi-vendor marketplace.
Running a Multi-Vendor Marketplace
There are many aspects you as a multi-vendor marketplace operator need to be aware of. Think of your marketplace as a puzzle. If even one small piece of the puzzle is missing, your store isn't complete.
As a marketplace owner, you're the operator putting all the pieces of the puzzle together. Your balancing admin tasks as well as supplier tasks. Going back to choosing a marketplace software, this means finding features that allow you to balance the two.
To simplify the process, we've listed out the entire process of operating your multi-vendor marketplace, from the moment you add products to paying your vendors.
Marketplace operators can upload vendors' products manually or allow vendors to upload their own products and update stock as needed. Operators can approve or disapprove products uploaded by vendors before they go live on the store; this adds value to the storefronts' visual appearance and quality.
Charging Seller Fees (as a whole)
Commission fees are put in place for marketplace owners to make money. When determining the right commission fee per vendor, a percentage can automatically be taken out of the vendors' sales.
Notifications can be sent to operators and vendors when an order is placed. Operators can organize orders by status to see which orders are done and which orders need to be finished.
Vendors have the inventory, so it's their job to make sure orders are shipped efficiently. Operators have the ability to authorize and offer different shipping methods.
Marketplace operators can use a payment schedule or automatic payment platform to pay their vendors. PayPal is an efficient way for operators to pay their vendors, as vendors just need a valid email address to receive payment.
These five aspects ensure the operation of a multi-vendor marketplace is effective as well as keeps the marketplace operators and vendors focused on what's important: revenue.
Benefits of Becoming a Multi-Vendor Marketplace Owner (and Operator)
More entrepreneurs are discovering that multi-vendor marketplaces are the best option for investing. Ecommerce marketplaces offer many benefits to the operators– such as minimal effort, simplified work, minimal inventory maintenance, cost-efficiency, and a wide array of products to attract buyers.
While these benefits all lead to one goal, generating sales, multi-vendor marketplaces provide their owners with a platform to simply do it all and make it happen.
Different Multi-Vendor Marketplace Business Models
There are different multi-vendor marketplace business models that can help make your marketplace profitable. The top five business models (or seller fees) that most e-commerce marketplaces follow to generate a steady revenue stream include:
Sign up fees:
a flat payment collected from sellers when they apply to sell through your marketplace platform.
Subscription business model:
a recurring fee sellers pay that generate a yearly revenue for marketplace owners.
Product listing or insertion fees:
a flat fee collected from the vendors when they list their products for sale.
Flat Selling fees:
a flat fee collected from the vendors when their products sell.
Transaction or payment processing fees:
a small share of ALL payments that happen on your marketplace.
When it comes to marketplace business models, there is really no "one size fits all" approach. While these business models vary, they all offer a form of revenue to the marketplace owner.
That sums up the basics of creating and owning a multi-vendor marketplace. To recap, here are some key takeaways you need to remember when creating your marketplace: select the software that best suits you and the needs of your marketplace, determine your market niche, carefully decide how vendors will operate within your marketplace, and lastly, the business model you will be following.
Overall, running a multi-vendor marketplace provides passive income to owners, while providing vendors with the opportunity to sell their goods. We see multi-vendor marketplaces as a win-win solution for all involved.