August 1, 2020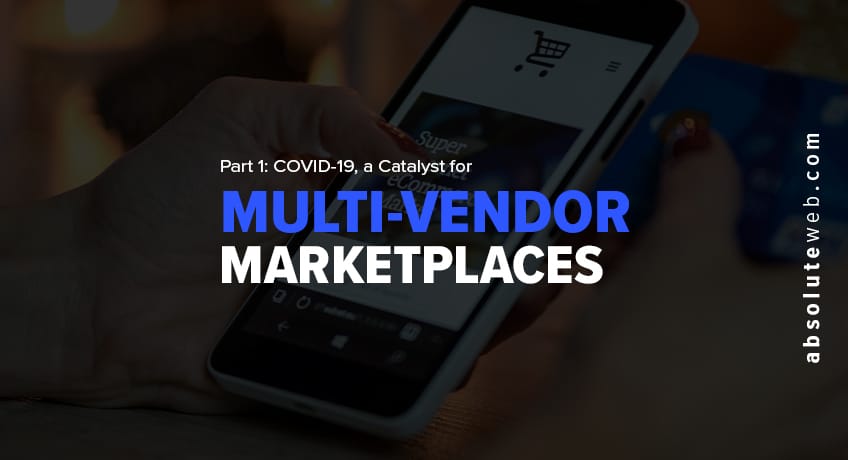 Part 1: Covid-19, a Catalyst for Multi-Vendor Marketplaces
There's no denying COVID-19 is changing the way we think, shop, and do. Consumer trends show more people buying products online, thus supporting the reported 14.5% increase in total U.S. e-commerce sales.
The rise in digital commerce is not a new concept. Companies have been observing this shift for quite a while, but what is new, is the rate at which this shift is occurring.
Due to the quarantine and social distancing measures put in place to limit the spread of COVID-19, business owners are feeling immediate pressure to adapt their strategies to account for new consumer expectations. This has lead traditional, in-person retailers to redefine their business models and develop a more dominant e-commerce presence.
Beyond the general transition from brick and mortar to online retail, entrepreneurs are recognizing an even greater and more powerful opportunity, multi-vendor marketplaces.
What are Multi-Vendor Marketplaces
Multi-vendor marketplaces allow entrepreneurs to invest in a niche market that enables multiple vendors to sell their products directly to consumers on one single platform. They are the so-called "middleman" connecting buyers and sellers. These marketplaces enable both the marketplace owners operators and sellers to become a leading voice in their individual category.
Let's take a look at the now virtual Made in Hawaii Festival. The annual festival thrived as an in-person event– in 2019, it brought in well over 50,000 shoppers. As the event shifts to an online experience, ergo marketplace, in late 2020, they hope to create a similar festival experience.
The digital festival is expected to feature 200+ vendors selling products like food, books, art, gifts, fashions, plants, crafts, and produce. More than that, while shopping the marketplace, attendees of the free event can enjoy virtual entertainment from award-winning musicians and local celebrity chefs.
Although the reason for the Made in Hawaii festival going virtual is unfortunate, there is a silver lining. Creating a multi-vendor marketplace gives them the flexibility to expand their reach as a festival and target a larger consumer demographic. This can lead to greater success for the festival as a whole as well as better sales for the local vendors.
Why is there a need for multi-vendor marketplaces?
The basic answer to this has evolved as a result of COVID-19. What was initially about customer convenience is now about fulfilling customer needs. Today's trend is building a 'one-stop-shop' marketplace. A multi-vendor marketplace provides the practicality of going to the mall, where all the products you need are under one roof, without having to leave your house. Beyond that, these marketplaces unite vendors within a niche industry providing better customer experience and an increase in overall audience reach.
These tailored marketplace solutions are also a great way to expand your current e-commerce business. Given the ability to have multiple vendors on a single platform, existing e-commerce businesses are able to expand their product offerings significantly. Marketplaces also enable improvements in terms of logistics, costs, and operations.
What market types exist?
There are a variety of categories that exist within e-commerce marketplaces including physical goods, digital goods, services, bookings and rentals, catalogs, and donation fundraisings.  Some notable examples include sites like Airbnb, Skillshare, and Kickstarter. These offer consumers with easy-to-manage services and exemplify some of the leading service-based multi-vendor market-places.
The categories can be further broken down by business model and include business to business (B2B), business to consumer (B2C), and consumer to consumer (C2C) marketplaces.
Now that you understand the basics of multi-vendor marketplaces, check out Part 2 of our multi-vendor marketplace series, where we discuss the more technical aspects of multi-vendor marketplaces and the variety of platforms available.