December 6, 2016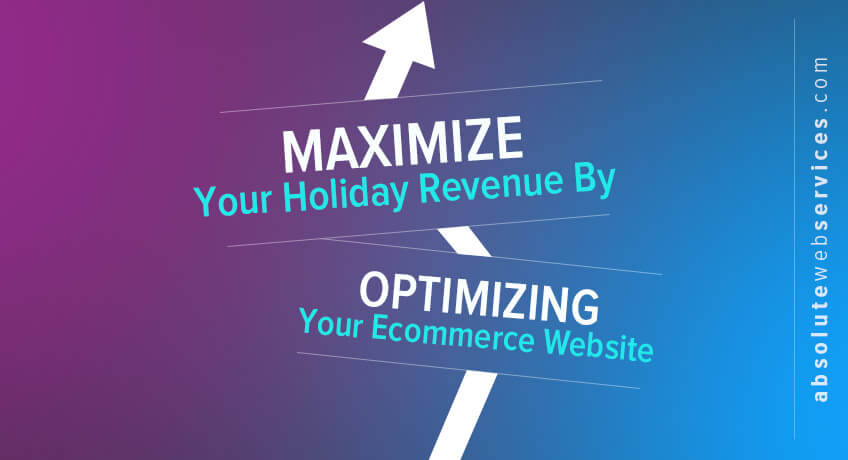 Maximize Your Holiday Revenue By Optimizing Your Ecommerce Website
The post-Thanksgiving rush is about to begin and retailers across are preparing to unveil their biggest promotions of the entire year. This is especially true of e-commerce businesses, which need to anticipate an influx of traffic during what's likely to be their biggest sales period of the year.
If you're an online retailer your website needs to be in optimal performance to keep up with your competitors and serve the influx of traffic. The following are a handful of tips to ensure your site is optimized for peak performance.
Highlight Your Promotions and Specials
We recommend to  revise your website content and adapt it with encouraging, upbeat content for the most important milestone dates: Black Friday, Cyber Monday, Christmas and New Year. Shoppers respond best to content that celebrates the products that tie into festivities and gives a sense of why the recipient will be delighted with them.
Make sure that your holiday offers are featured prominently on your home page, and update your website's images, keywords and search engine optimization to help shoppers find your business in search results. We also advice posting your special offers on all of your social media sites.
Website Speed
As a small online retailer, your website needs to be in tip-top shape for the season, to help you keep up with your competitors. If your site slows down, you have a lot to lose — 57 percent of consumers will abandon a site that fails to load after 4 seconds, according to Radware research.
The average time for a website to display is 3.9 seconds. If your visitors are waiting any longer than three seconds for your website to display, you could be losing some of them — especially on mobile.
There are multiple services that measure how fast your site loads.  You can use Web Page Test and Google's Page Speed Tools.
Google responds quickly to site speed improvements. An improvement in site speed now can result in more organic search traffic in just a few days.
"First byte time" shows how fast your server is in general how long it took for your website's server to respond when it was first contacted. This is important, as a slow web server can take longer for your site to load. Websites experience faster load times simply by moving to faster web servers. As a result, they received more traffic from Google's search results.
sing a content delivery network, such as Cloudflare, can speed up the performance of your website. During the busy holiday season, the last thing you want is a slow site, or one that is bogged down by hackers or bad bots.  Cloudflare will act as a "filter" for all of the traffic to your site. Its collective knowledge of millions of other websites will block the bad traffic and send you only humans. Cloudflare will also cache your pages, so that they load quicker and require fewer resources.
Also your ecommerce site has a lot of images or videos, consider moving them to a separate web server or CDN. This, too, will help your pages load times.
So, how should we ensure our website loads as quickly as possible? There are a few last-minute things we can all do to recover lost milliseconds, which add-up.
Compress and resize images
If you have any images make sure they are sized appropriately. For example, if you uploaded a high resolution image of one of your products, but it's only displaying as 500 x 500 on the page, the browser still has to load the entire original image.
If you don't have time to check through your entire site, we'd recommend at least going through your homepage and your top product pages to ensure they are optimized. For more tips and tools to help you reduce your images, check out this post on page weight from my colleague, Carly.
Reduce or remove unnecessary third-party snippets
Third-party snippets that display content from another service take up valuable time to load. If you have any scripts on your website from a service that you're no longer using, remove them. If you have any changes to make, talk about it with your IT team about ensuring these are no longer on your website.
While there are more complex, longer-term changes you can make to improve the speed of your website, the above changes should be relatively quick and help measurably improve the load time of your website for Black Friday and Cyber Monday.
Reinforce Trust & Security
Put Positive Reviews Front and Center
Trust seals and guarantees are great, but nothing boosts consumer confidence quite like a positive review. When a customer searches for a specific product, you want them to see your best reviews first-and-foremost. This is especially true on mobile platforms when customers are searching for a vote of confidence in-store before they decide to commit to a sale.
Many ecommerce websites display safe shopping badges, and as long as you have this guarantee and service, it's wise to display it. For example, Best Buy shows an e-trust icon for "safe shopping guarantee" at the bottom of every product page and also during the checkout process.

Ensure your return policy is clear and easy to find.
Some shoppers like the added peace of mind that they can return an item if it doesn't meet their needs. This can especially true with categories such as clothing home decor. To ease any concerns, make sure you have the return policy clearly stated on your website. For example, check out the return policy Pottery Barn includes on all of their product pages.
Optimize Product pages For Conversion
Add product review videos
According to Adobe Digital Insights, this Black Friday ecommerce stores will invest in the use of videos to increase conversion rates. Videos are especially effective at persuasion. YouTube videos are used by 25% of mobile shoppers in the US to help them decide what to buy.
Having the review, tutorial, how-to or unboxing videos embedded on your product pages will give online shoppers more persuasive argument to convert than just a reduced product price. In fact, product pages with videos see up to 80% more conversions. They also enjoy 340% more visitor engagement. Videos also make your product pages more memorable and stand out from the competition. This will give shoppers an incentive to return to your site in the future once the holiday craze is over.
Video is an important content medium for shoppers, and 70% of holiday gift guide videos are viewed by holiday shoppers on mobile phones.
Create a sense of urgency
When it comes to Black Friday and Cyber Monday deals, you want shoppers to act quickly and with a strong impulse to buy. Make sure your pages communicate the urgency to act fast to make the most out of the special deals. People tend to be more decisive when there's a limited amount of time or quantity of items available. Your product pages should include scarcity elements, such as how many items are left in stock and how many people are viewing the product at the same time. Some stores include timers with countdowns to the days and hours left to big sales days. However, his can be counter-productive if you want to convert visitors who visit your site before the holidays and might decide to wait to place an order at a reduced price.

Set up remarketing pixels
Many shoppers will start doing their research weeks before Black Friday and Cyber Monday. Now's the perfect time to get your retargeting campaigns in place. Re-market to people who have visited your product pages right before the holidays. Add a retargeting pixel to your site and set ads on Google and Facebook to remind shoppers of the products they've explored before. You want to get them to return to your product pages and convert. Pay special attention to the audience who has visited your site days before the holidays, as recency plays a big role in the likelihood to convert.
Conclusion
To stay ahead of the game, do an audit of your website and product pages ahead of time to spot any friction points that might negatively affect visitor's journey to convert. Pay attention not only to the depth and breadth of price reductions on your site but also to the overall experience on your product pages. Remember, holidays come and go, but you want to have customers who are returning over and over to shop on your ecommerce store. Invest into smart conversion optimization tools to help you ring in record sales this holiday season.