September 13, 2012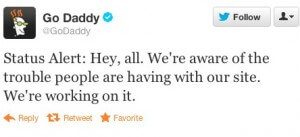 GoDaddy and Millions of Sites Went Down Monday – Was it Hacked?
GoDaddy, one of the largest domain registrar and web hosts in the world, was hacked a few days ago, leading millions of websites and GoDaddy-hosted emails to go down. Right before GoDaddy sites started going down, Anonymous-affiliated Twitter user AnonymousOwn3r claimed responsibility.
According to GoDaddy, hacking was not the problem for the outage and their nearly 5-hour-long service interruption was due to "internal network events." The company found no signs of external action in their analysis of the problem and, once service was restored, they claim to have taken measures to prevent it from occurring again in the future. Despite this, AnonymousOwn3r continued to claim responsibility for an attack.
This service interruption on Monday affected small businesses the most and many business owners went to social media sites to vent their frustration over losing their site for most of the day. Meanwhile, GoDaddy continued to provide updates on Twitter.
As GoDaddy is one of the biggest and most popular web hosts in the world right now, this nearly day-long outage really demonstrates how many websites really rely on a single company.
You may remember back in December when Anonymous used YouTube to send a message to GoDaddy warning them to end their support of SOPA, the Stop Online Piracy Act. The company announced they were pulling their SOPA support within a couple of weeks, stating they were changing their position on the matter. According to their press release, they did so because GoDaddy "remains steadfast in its promise to support the security and stability of the Internet."
Just a week ago another hacked who identified him/herself as part of the Anonymous group publicly posted information about millions of Apple device IDs supposedly stolen from an FBI laptop. The FBI denied the hack and BlueToad, a publishing company, came forward as the source of the information.