October 21, 2019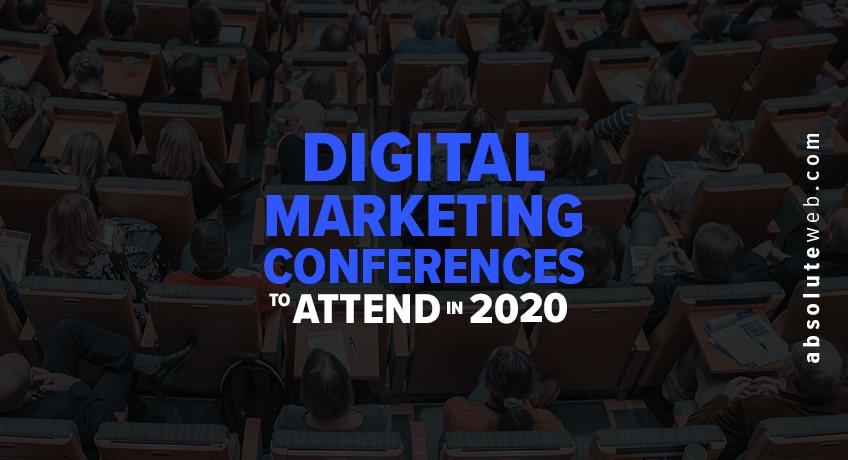 Digital Marketing Conferences to Attend in 2020
If you're looking to increase your industry knowledge and optimize your companies' digital marketing presence, it is crucial to stay up-to-date on the latest trends by regularly attending digital marketing conferences.
It's no surprise that conferences provide digital marketing professionals with the opportunity to gain valuable insights from SEO experts, executives, and industry insiders from across the globe. Conferences also give digital marketing professionals the ability to network with experts from various industries and make long-term connections.
Below you'll find a list of helpful digital marketing conferences and events that you should mark on your calendars for 2020. We update this blog post on a regular basis, so be sure to check back for the latest digital marketing conferences.
*Please note that due to ongoing health concerns about COVID-19, several digital marketing conferences have been either canceled or postponed. We have updated this post to reflect these updates. 
CANCELED EVENT | Austin, TX
Tickets starting at $430 and up

*Note from organizers: "The City of Austin has canceled the March dates for SXSW and SXSW EDU. SXSW will faithfully follow the City's directions. We are devastated to share this news with you. "The show must go on" is in our DNA, and this is the first time in 34 years that the March event will not take place.
We are now working through the ramifications of this unprecedented situation. As recently as Wednesday, Austin Public Health stated that "there's no evidence that closing SXSW or any other gatherings will make the community safer." However, this situation evolved rapidly, and we honor and respect the City of Austin's decision. We are committed to do our part to help protect our staff, attendees, and fellow Austinites.
We are exploring options to reschedule the event and are working to provide a virtual SXSW online experience as soon as possible for 2020 participants, starting with SXSW EDU. For our registrants, clients, and participants we will be in touch as soon as possible and will publish an FAQ.
We understand the gravity of the situation for all the creatives who utilize SXSW to accelerate their careers; for the global businesses; and for Austin and the hundreds of small businesses – venues, theatres, vendors, production companies, service industry staff, and other partners that rely so heavily on the increased business that SXSW attracts.
We will continue to work hard to bring you the unique events you love. Though it's true that our March 2020 event will no longer take place in the way that we intended, we continue to strive toward our purpose – helping creative people achieve their goals."
POSTPONED | Miami, FL

*Note from organizers: "Out of an abundance of concern and caution for our attendees, speakers, staff, and community, we are saddened to announce the postponement of Pubcon Florida. As recently as Tuesday we felt positive about hosting Pubcon. The situation deteriorated rapidly with the virus turning up in numerous parts of Florida. Florida and other places declared states of disaster or emergency.
Then about midweek, many tech firms began limiting employee travel. Google, Microsoft, and several others canceled all unnecessary travel. Losing that many keynote and spotlight speakers, would severely limit the quality of the conference we could have produced.
We know the gravity of this action as it affects all of our community. We are exploring dates and options with incredible events team at Kovens Conference Center. We are committed to producing a world class event, but we don't know yet when that will happen. We love South Florida and the last couple conferences down there have been some of the highest rated we have ever produced.
During this process, we will be transparent as possible. When we know something – you'll know it too. The best way to stay informed, is via the blog on Pubcon.com and our Facebook group. Anything important will be communicated directly to attendees via the email address on file when you registered for the conference. We thank you for your support."
POSTPONED | San Diego, CA
Tickets starting at $999.00 and up


*Note from organizers: "We have taken the difficult decision to postpone SearchLove San Diego, originally scheduled for March 26 & 27 due to the threat of coronavirus (COVID-19). We plan to reschedule, and will announce details here, on Twitter and via our email list."
Change the way you approach and execute your digital marketing strategies. Gain essential industry insights from informative digital marketing presentations that focus on analytics, optimization, content and paid promotions, and much more.
CANCELED LIVE EVENT | Las Vegas, NV
For refunded ticket information, click here.

*Note from organizers: "Each year, we look forward to hosting our customers, partners and employees from around the world at Adobe Summit and Magento Imagine to talk about the future of customer experience, unveil the latest product and platform innovations, and get inspired together as a community.
Over the past few weeks, we have been closely monitoring and evaluating the situation around COVID-19 to ensure we are taking the necessary measures to protect the health and wellbeing of Adobe Summit attendees. As a result, we have made the difficult but important decision to make Summit/Imagine 2020 an online event this year and cancel the live event in Las Vegas.
While we are disappointed that we will not be together in-person with our community this year, we are excited to host Adobe Summit as an online experience."
Attend the much-anticipated "digital experience conference." Meet top B2B marketers and gain valuable insight from industry leaders in more than 400 informative sessions and workshops. The conference will cover a variety of topics such as analytics, the customer journey, content and asset management, digital trends and innovation, B2B marketing, and account-based experiences. Some of the past speakers have included actress and producer Mindy Kaling, CEO Satya Nadella of Microsoft, and CEO Hubert Joly of Best Buy.
POSTPONED | San Diego, CA

*Note from organizers: "Over the last few days we've seen the coronavirus/COVID-19 situation escalate and the California Department of Public Health has recommended that all large gatherings should be postponed or canceled. It's with a heavy heart that we tell you that T&C 2020 will NOT be running on March 31 – April 2, 2020 in San Diego. T&C will be POSTPONED until later in the year when we feel like we can safely and responsibly run the event. We'll be giving you a full update, and announcing new dates for T&C 2020, as soon as possible."
Digital marketing is always evolving, which is why it's important to stay up-to-date with the latest digital marketing strategies and trends. Learn what's working and what's not working in digital marketing at this innovative summit. This conference is geared toward marketing professionals, agency owners, consultants, entrepreneurs, content marketers, digital advertisers, and more. Take your business to the next level and network with over 10,000 attendees from various industries. Speakers will include Ezra Firestone, co-founder and the CEO of BOOM! By Cindy Joseph, Mari Smith, CEO of Mari Smith International, Inc, and more.
RESCHEDULED to Sept. 9-11 | Los Angeles, CA
Tickets start at $245 and up

DigitalSummit is the definitive digital marketing gathering for 2020. Over two days, you'll have the opportunity to learn from leading experts and brands such as Marvel, Amazon, Nike, Google, Southwest, and many more. The content will include over 45 unique and "trend-forward" digital marketing workshops as well as panels that will help you stay on top of the latest industry trends. Past attendees have included national brands, agencies, service providers, B2B providers, nonprofits, startups, and many more. Over 20,000+ digital marketing professionals will be attending this conference, so don't miss out.
RESCHEDULED to Nov. 30-Dec. 2| Hartford, CT
Tickets starting at $799 and up

*Note from organizers: Due to the recent developments regarding the outbreak of Coronavirus (COVID-19), Digital Sales & Marketing World has officially been rescheduled. Digital Sales & Marketing World 2020 will now take place November 30 – December 2, 2020, at the Connecticut Convention Center in Hartford, Connecticut."
This conference provides great tools for sales, marketing, and leadership teams. Find new ways to generate and create content that resonates with core audiences and delivers exceptional results in real-time. You'll get the opportunity to network and engage in industry-specific summits during this conference. Takeaway key marketing tips with transformative keynotes and workshops through highly specialized and hands-on training for your industry and organization's needs.
POSTPONED | Austin, TX
Tickets starting at $1,999 and up.

Recognized as the "number one experimentation and optimization event," CXL Live brings together the best in online experimentation and experiences. This conference is geared toward those who are interested in driving growth through optimization and experimentation. Topics of discussion include everything from conversation optimization, online experimentation, and data.
CANCELED LIVE EVENT, ONLINE EVENT WILL COMMENCE | St. Louis, MO.

*Note from organizers: "A lot has changed in the past few days and will continue to change over the coming weeks. Our top priority has always been the health and safety of all participants at MDMC20, including attendees, exhibitors, staff, industry partners, and others involved in the Midwest Digital Marketing Conference. As a production of a public university, we are required to adhere to the recommendations of the state regarding events. As such, we will be converting the 2020 Midwest Digital Marketing Conference into an online event that will consist of 2 parts:
LIVE 2-day virtual summit Wednesday, May 20th and Thursday, May 21st
MDMC20 On-Demand Digital Experience where the sessions and panels that were going to take place in-person will be available on-demand online for 1-year."
The Midwest Digital Marketing Conference is known as the largest digital marketing conference in the Midwest. Rated by Forbes as the "Top Marketing Conference to check out in 2019," the event will feature over 100 speakers including Google, Linkedin, GoDaddy, Adobe, and more.
CANCELED LIVE EVENT; ONLINE EVENT Apr. 20-23, 2020 | San Jose, CA

*Note from organizers: "MarTech West 2020 is canceled. Join us online for free April 21-23 for Discover MarTech."
MarTech offers a robust conference curriculum on marketing technology management, also known as the "fabric of the future." Network with leading marketing technology vendors and peers. The sessions are geared and designed for senior-level marketers and other members of the industry.
POSTPONED to Fall 2020 | Dallas, TX
Tickets starting at $200 and up.

*Note from organizers: "IC Summits has been monitoring the COVID-19 public health crisis for some time, and based on the strong recommendations of local and state public health officials, and out of concern for the health and safety of all our Summit participants, we have decided to postpone all events scheduled through the end of May. We apologize for the inconvenience, and want to assure you that we are doing everything we can to make this unfortunate transition as seamless for all sponsors, speakers and guests as possible.  Our operations team is in close communication with each venue in order to confirm new event dates, and all speaking engagements, sponsorships and tickets will be credited to the new event dates as they are confirmed.  We expect to have a fully updated calendar available shortly, and will share new event dates as soon as they are available."
This innovative conference will feature 250+ Texas-based brands that are dedicated to sharing fresh ideas, solving problems, and making meaningful connections. The Texas Marketing Summit features marketing leaders, corporations, public agencies, and more.
RESCHEDULED to Aug. 10-12, 2020 | San Diego, CA
Tickets start at $1,099

*Note from organizers: "In light of corporate travel considerations continuing to escalate and after close consultation with partners and community members, we've made the difficult decision to reschedule ContentTECH Summit to August 10-12, 2020. We worked as quickly as possible to secure new dates so that you can adjust your plans accordingly. Having spent the past year preparing for the event with our speakers, exhibitors and event partners, we're genuinely disappointed not to be able to host you in April, but the experience and safety of our community and everyone involved in the event continues to be our top priority. Please see our FAQ page for more details."
Learn how your business can create better digital experiences by altering your technology and marketing strategies. The Content Tech Summit provides evolving content, technology, and strategy for enterprise marketers. Find out how to effectively use technology that will help manage, and scale enterprise content and marketing. This conference is often attended by VPs, senior directors, digital marketing professionals, marketing technology professionals, and more.
CANCELED LIVE EVENT, ONLINE EVENT WILL COMMENCE | Boston, MA

*Note from organizers: "Let's face it. The COVID -19 pandemic has us all bunkered down, erring on the side of caution with conferences. But hindering our quest for content marketing wisdom and stalling our tactical advancement is not acceptable. Period. That's why we're transforming CMC 2020 into a digital experience for 2020. And expanding their CMC 2020 ticket to CMC 2021 in Boston on April 27-29 at the Westin Waterfront in Boston– NO CHARGE!"
Learn how to humanize your brand or spruce up your digital marketing strategies to build trust and foster community building with audiences. CMC 2020 will help you learn how your brand can focus on providing more transparency and authenticity so consumers can have an overall better experience.
Apr. 22-24, 2020 | Napa Valley, CA
Tickets starting at $299 and up

Keep up with current digital marketing trends and learn to sharpen your skills at this innovative digital marketing conference. This conference is the go-to resource to learn what's trending and what's working right now. Advanced Search Summit is intended for digital marketing professionals, digital agencies, consultants, and other professionals looking to sharpen their skills and network.
May 11-12, 2020 | San Francisco, CA
Tickets starting at $1,995 and up

Learn about the future of digital marketing at this innovative two-day conference in San Francisco, CA. Programmatic I/O is a digital marketing conference that aims to educate marketers, publishers, and technologists on the latest and greatest data-driven marketing strategies. Expect to hear from over 65 professionals and industry leaders. Gain valuable networking and marketing insight from programmatic leaders. Last year's attendees included AARP, American Express, Disney, Ford, among numerous others.
CANCELED LIVE EVENT; VIRTUAL EVENT May 18–20, 2020 | Minneapolis, MN
Tickets starting at $895.00

*Note from organizers: "As you're well aware, our government has advised against large gatherings due to the dangers of COVID-19. So, for the first time since 2011, we will not be hosting Confab in Minneapolis this May. But … cancel? No way. With all the bad news and heartache in the world, we are hell-bent on making at least one good thing happen in 2020. And you're comin' with us! Right this minute, our small-but-mighty team is hard at work transforming Confab from the ground up to be the most stellar virtual conference you'll ever attend. That's right: Confab is happening online in May. We wanted to give you the good news ASAP, but there are still some moving pieces we're trying to pin down. You've been incredibly patient with us to date, and we're asking for just a bit more time to get things in place. Here's everything we know right now:‍ Confab 2020 will take place online May 18-20. We're working hard to transform the program so that you can still learn all the things, avoid screen fatigue, and have all kinds of real-time fun with Confab friends, old and new."
Learn how to make impactful and better user-friendly content for organizations. This conference focuses on several aspects of content marketing and strategy including analytics and performance, user experience design, content design, editorial assignments, and much more. Strategize and synergize with industry leaders and content strategists and marketing professionals. You'll have the opportunity to meet and network with content strategists, UX designers, content marketers, and more.
CANCELED LIVE EVENT; Rescheduled to May 17-18, 2021 | Columbus, OH

*Note from organizers: "The health and wellbeing of our attendees and community come first, so we have made the difficult decision to postpone the Interact Conference due to COVID-19. We'll miss the opportunity to learn with you this year, but feel that this is the responsible way to go. We are rescheduling the event for May 17-18, 2021 including our speaker lineup: Ann Handley, Will Leach, Douglas Burdett, Jessica Best, Chris Askew, Lianna Patch, AJ Wilcox, Brooke Sellas, Maggie Babuder and more."
Elevate your marketing game and stay up-to-date on the latest marketing technology at Interact20. This conference will help you sharpen your digital marketing skills with a series of workshops led by digital marketing professionals. Speakers include Wall Street Journal best-selling author Ann Handley, TriggerPoint founder Will Leach, and VP of data-driven marketing Jessica Best.
June 1-3, 2020 | Las Vegas, NV
Tickets starting at $275 and up

*Note from organizers: "We are monitoring the coronavirus situation closely. At the moment Digital Growth Unleashed is proceeding as planned, but should that change we will let you know straight away."
Unleash the power of your online business. This conference will teach you how to increase conversion rates, and align successful business models in tandem with the user experience, all while introducing you to the latest trends and developments in marketing technology. More than just a digital marketing conference, Digital Growth Unleashed focuses on how to create the most compelling customer experience by meeting your client's needs to unlock the full potential of your online business.
June 1-4, 2020 | Las Vegas, NV
Tickets starting at $150 and up.

Note from organizers: "We are monitoring the coronavirus situation closely. At the moment Marketing Analytics Summit is proceeding as planned, but should that change we will let you know straight away."
"Analytics is the heart of marketing," according to Jim Sterne, creator of the Marketing Analytics Summit. Gain and receive marketing analytics insight from digital analysts, marketing technologists, and growth architects at this transformative marketing event. Get a firm grasp of data and be more data-informed after attending this informative summit.
June 1-3, 2020 | San Diego, CA
Tickets starting at $3,500 and up.

Advance your strategic leadership skills and enhance your marketing vision. Learn how to focus on efficient marketing technologies to elevate the customer experience. This symposium will give you the opportunity to join and network with marketing executive peers and various leadership teams. Gain vital market insights and a range of other topics to help empower your marketing team.
June 4, 2020 | San Francisco, CA
Tickets starting at $499 and up.

Embrace growth hacking and learn how to tap into your business or startup potential. Learn about the future of growth and join an innovative and inspiring gathering of the world's largest community dedicated to business growth. The GrowthHackers is a full-day conference geared toward professionals and entrepreneurs who are looking to push the boundaries of growth innovation. Speakers from this event will help share their knowledge and expertise about their experience gained from growing today's fastest-growing companies.
July 6-8, 2020 | Seattle, WA
Tickets starting at $349 and up

*Note from organizers: "MozCon 2020 is proceeding as planned. We're taking the spread of COVID-19 seriously and keeping a close eye on the global health situation. If anything changes, we'll be sure to keep you updated both here and via email."
MozCon features a community of industry-leading experts in SEO, conversion optimization, local search, and more. You'll network and meet content marketers, agencies, and various marketing executives who specialize in SEO and can help your company scale up and incorporate techniques that provide results. This conference is great for anyone who's an SEO, marketer, or executive who would like to connect with other experts.
Aug. 18-21, 2020 | Boston, MA
Tickets starting at $99 and up.

Featuring over 250 speakers, nightly networking parties, and interactive sessions, Inbound 2020 features inspirational and informative sessions and workshops that provide creative marketers, start-up founders, product manager, and other industry professionals with the tools needed to stay empowered, think outside-of-the-box and move forward at work.
Sept. 2020 | Bend, OR
Tickets starting at $499.

This digital marketing conference explores today's trends in digital marketing, search, technology, and advertising from every angle of the swivel axis. The goal of this conference is to provide a comprehensive 360 view of some of the technologies and practices used today in digital marketing.
Oct. 5-8, 2020 | New York, NY
Tickets starting at $299 and up.

This conference is a global gathering of marketing, advertising, technology, and brand professionals. Advertising Week crosses the globe with events in New York, London, Tokyo, Mexico City, Sydney, and Johannesburg. Attendees who are in marketing, advertising, media, and technology should consider attending Advertising Week to gain new industry insight, network, and take advantage of valuable seminars and workshops that provide career-enhancing insights and actionable learning sessions to bring back to the office.
October 13-16, 2020 | Cleveland, OH
Tickets starting at $599 and up.

Join the content marketing community at an innovative four-day conference. You'll gain valuable industry knowledge to help you plan an effective content marketing strategy for your team and help grow your business. With over 125 sessions and workshops to choose from, you'll have the opportunity to network with leading brand marketers and experts from around the world.
Oct. 15, 2020 | Location TBA
Tickets TBA.

This conference is geared toward marketing professionals who are interested in sharing and learning insights and advice about data analytics, business intelligence, and digital marketing technology. The Data Over Instinct Conference was created by marketers, for marketers, and is intended to help marketing professionals make meaningful connections and learn from industry leaders.
Nov. 17-19, 2020 | Raleigh, NC
Tickets starting at $445 and up.

Attend this engaging summit and hear from hundreds of thought leaders and visionaries on trend-forward digital marketing sessions. This summit is known as "the definitive digital gathering," and brings insights from leading experts and brands, including Amazon, Adobe, MGM Resorts, and more. Network with seasoned marketers, designers, strategies, and more.
Past Conferences:
Jan. 27-Jan. 29, 2020 | Las Vegas, NV
Tickets start at $280

Over 6,000 digital marketers are expected to gather in Las Vegas for the marketing industry's premier global event. The conference will feature media owners, advertisers, global brands, tech firms, agencies, and various other solution providers and marketing influencers from over 80 countries. "If you want to scale your marketing, you can't just rely on your own efforts. You need affiliates and Affiliate Summit is a great place to meet them," says Neil Patel, co-founder, and CEO of Neil Patel Digital.
Jan. 28-29 | New York, New York
Tickets starting at $2,995 and up

Spend two days learning about the exciting future of marketing technology. Hear from industry leaders in advertising and marketing, and connect with top brands, agencies, publishers, media companies, technology providers and more. With over 31 inspiring sessions and 50 visionary speakers, you won't want to miss out on this impactful exchange with industry leaders and peers.
Feb. 9-11, 2020 | Palm Desert, CA
Tickets starting at $3995 and up

The IAB conference explores the next wave of disruptive technologies and the ways in which they are transforming modern consumer experiences and rewriting the language of marketing and media. Discussion topics include data and automation and how they work to drive the marketing economy; understanding the video revolution as well as what the consumer experience means in light of emerging technologies such as AR, VR, and more.
Feb. 12-13, 2020 | San Francisco, CA
Tickets starting at $495 and up

Recognized as "the world's largest mobile growth conference," MGS20 is a two-day marketer-focused conference where over 1,200 expected attendees can connect and learn from leading mobile app and online marketing professionals. Companies that are participating include high-growth and at-scale brands such as Facebook, Google, Amazon, Flipboard, and AccuWeather.
February 24-26, 2020 | Scottsdale, AZ
Tickets starting at $895 and up

Exchange great ideas and gain industry insight in this innovative conferences geared toward B2B sales or marketing practitioners. There are 6 general track sessions that focus and provide key takeaways on content marketing, demand generation, digital strategy, ABM, channel marketing, and sales enablement. For more hands and interactive sessions, consider enrolling in the B2b Labs experience. You'll get guidance from industry leaders on the latest tech applications and more.
Feb. 25-26, 2020 | Los Angeles, CA
Tickets start at $399.99

The Influencer Marketing Conference & Expo provides networking and educational events geared specifically toward influencer marketing. This conference is heavily attended by senior-level marketing executives, influencer marketing influences, influencer marketing platforms, and more. Topics discussed in the previous conference included influencer fraud, the state of the influencer economy, B2B influencer marketing, and the future of influencer marketing. Stay influenced, inspired and register now.
March 1-3, 2020 | San Diego, CA
Tickets starting at $497 and up.

This conference is designed especially for savvy marketers that want to enhance their skills and learn more about evolving digital trends. You'll discover the best social media marketing strategies from the world's top experts who specialize in marketing with Facebook, Instagram, YouTube, and other major platforms.
Other takeaways will include ways to utilize and enhance content marketing, analytics, video marketing, and more. You'll also be able to access professional development workshops on storytelling, the future of tech, conversion optimization, and more.
March 2-3, 2020 | San Francisco, CA
Tickets starting at $799 and up

RampUp is a premier conference for leaders in marketing technology. Past participants have included Lyft, Airbnb, Google, Gap and more. Meet and network and start or seal new business deals and stay current on digital marketing trends.
March 11-13, 2020 | Dolphin Resort, FL
Tickets starting at $299 and up.


Recognized as the much-anticipated "social media conference of the year," Ragan's Social Media Conference helps you learn how to better connect with audiences across all online and digital platforms. You'll gain industry insight from top experts who have tips on how to effectively craft and distribute impactful content that makes a difference to win consumer's hearts. Other tools you'll gain from this conference: Adapting social media strategies for audiences, driving organizational brand storytelling, embracing video and podcasting, working with content creators and influencers, and more.
March 12-13, 2020 | Portland, OR
Tickets starting at $329 and up

Engage and embrace emerging new technologies and trends in a two-day immersive digital marketing conference. This conference is also a great way to learn new digital marketing strategies and network with other industry professionals. The various sessions and learning tracks provide insight into strategies and advancements in digital marketing, advertising, SEO, and more.
Stay Informed and Up-To-Date with the Latest Digital Marketing Conferences
The world of digital marketing is always evolving. This is why it is more important than ever to attend digital marketing conferences and stay up to date on what is changing and developing in the industry. Stay informed and be sure to check back as we continue to update this 2020 conference list.
This list was last updated 4/1/2020. Check back for more updates.