July 22, 2015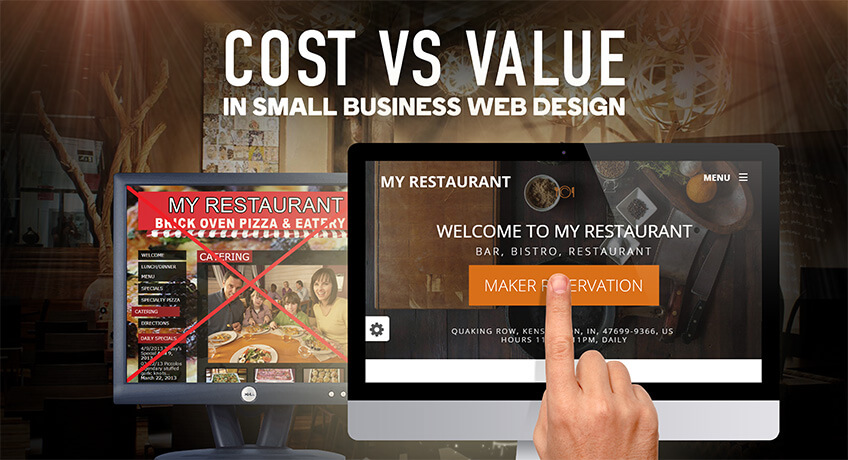 Cost vs Value in Small Business Web Design
Many business owners are reluctant to seek a professional web design service  because they feel they don't have the time or think it will cost too much. By investing a little time in understanding the pricing of web design and weighing the many benefits of the investment, can make a big difference in the growth rate of your business.
Let's look at some very important website benefits that prove the real cost of business web design is not an invoice total, but rather how much of a long-term investment it is to your business.
Web design is a trust building tool
If the goal of your business website is to increase your client base, then your visitors must do what you want them to do. For that to happen, they must trust you. In the digital age of scams, schemes, and unsavory characters everywhere we look, trust doesn't come easily.
With the general attitudes of our visitors in mind, you must use web design psychology techniques to make your website more trust-worthy to the average visitor. Using a design and content language that puts visitors at ease means they are more likely to conduct business with you.
An article on Harvard Business Review explains how creating value in a product or service is not necessarily about the product quality, but about the reputation and quality of the business. So, the cost of professional web design doesn't even come close to the expense of hiring a public relations firm to do the same thing.
To emphasize this, the Stanford Web Credibility Project found the following:
"nearly half of all consumers (or 46.1%) in the study assessed the credibility of sites based in part on the appeal of the overall visual design of a site, including layout, typography, font size and color schemes."

Example 1: Uglytub.com

More like Uglywebsite.com, Websites like this still unfortunately exist. Instead of persuading customers to buy a tub, it does the opposite. A combination of poor images, mismatched fonts, and garish colours makes it seem this website was done on the paint program. Let's not get us started on how the site is on a small window in the center of the screen. Would you ever trust this?

VS

 Example 2: Klingg.com

A clean and modern ecommerce webdesign that has a unity in color scheme and has typography and responsive images which are two elements that should apply to all modern web design style trends. It gives the customer the site is trustworthy
Your website is a 24/7 employee
Effective business web design will offer your company your hardest working employee, never getting sick, or taking a vacation. Your customers will always be able to obtain up-to-date information 24 hours a day, 7 days a week, 365 days a year. Instead of having to rely on randomly aired commercials, your potential customers can browse your website whenever they like. Even though you have an additional employee, there is no salary or benefits expense.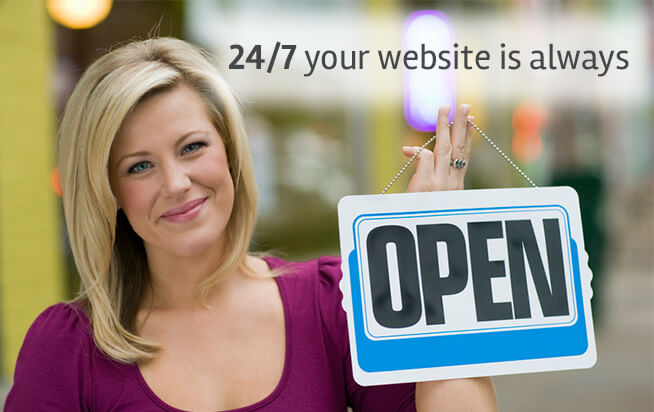 Traditional advertising vs the power of evergreen content in blogs and websites
No business can afford not to advertise. The problem is that most businesses can't afford to spend thousands of dollars on a single ad. Traditional advertising campaigns are expensive and limited in how they can target your specific audience. You can spend a lot of money in getting your message to people who really don't want to hear it.
Many small and large business are replacing traditional marketing with inbound marketing and studies show that Search Engine Optimization (SEO) is one of the most affordable forms of advertising and produces an exceptionally high return on investment (ROI).
The best way to lower the cost of maintaining your business blog or website is by building in evergreen content. Evergreen content, like the tree, stays relevant and current over long periods of time and is a valuable part of a good content marketing strategy for the web. The real value of evergreen content is its potential to bring traffic to your website for many months, or even years into the future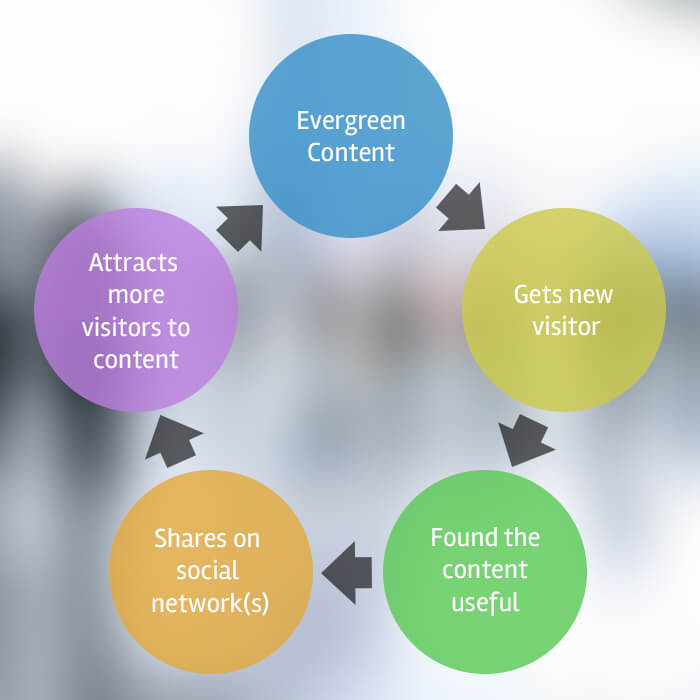 Read Moz's Case Study on Producing Evergreen Content
A good first impression is one of the most important things in business and all businesses need a web presence in today's digital age. The requirements for quality business web design should never be an afterthought, but a priority. Professional web design pricing is surprisingly affordable.
At Absolute Web Services, we understand that effective business web design is critical to conducting business online and we never sacrifice functionality for fashion. Contact us today and let us show you how we can create a design that meets your objectives, looks amazing, and blows away your competition.