November 25, 2020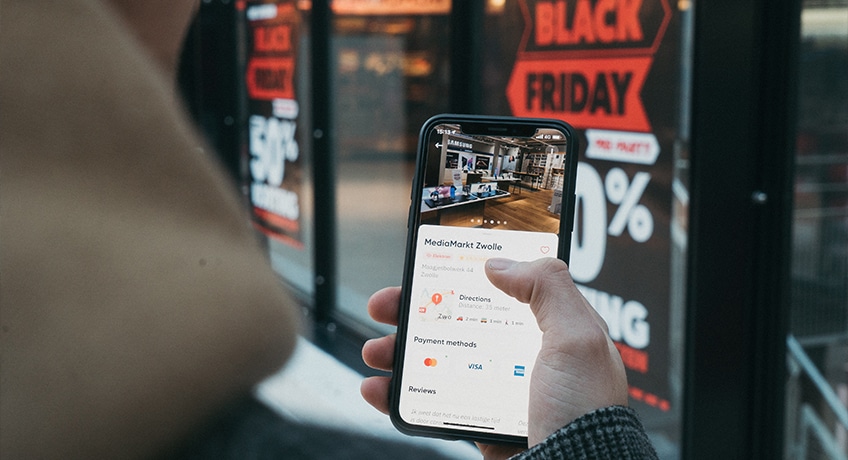 Black Friday Is Now a Season, Not a Weekend
This Black Friday, the ritual of standing in long lines to shop in-store deals amongst a crowd of equally ambitious shoppers is no longer the norm, and neither is waiting until Cyber Monday to score the best online deals. With concerns surrounding the spread of COVID-19, retailers have instead opted to expand their deals online to prevent shoppers from gathering in large crowds, in hopes of reducing the spread of the virus.
In preparation to reduce in-store spending, shopping for the best deals this holiday isn't simply a long-weekend anymore, but a season – and with 34% of U.S. shoppers planning to make purchases prior to Thanksgiving, retailers are making online deals equally as good, if not better, than those in-store, laying the blueprint for ecommerce, and the online trends we'll see in the future.
As retailers begin to see success in Black Friday Cyber Monday (BFCM) sales, the sooner-the-better strategy for deals seems to be a smart, if not essential, one.
Growth in Sales this Holiday Season
With the acceleration of ecommerce this year directly tied to COVID-19, online stores have already seen a major uptick in recent sales. This BFCM season, online shopping and delivery is vital for business, along with curbside pickup, or "buy online, pickup in-store" shopping, which offers shoppers a contact-free, safe experience – and for good reason.
According to Adobe Analytics, this BFCM alone, U.S. customers have already spent a total of $50.1 billion online this November, 15.8% more than what was spent last year. Black Friday sales alone are forecasted to rise 19.7% for an overall spend of $7.5 billion, while Cyber Monday sales are forecasted to rise 19.1%, for an overall spend of $9.4 billion. 61% of shoppers also say they'll opt into buying online and picking up in-store, causing another 27% increase in sales.
This increase can also be attributed to less money spent on travel and dining, and more on things around the house or personal self-care.
2020 Trends for Ecommerce
With BFCM shopping beginning much earlier this year, 2020 is laying the blueprint for the future, and more specifically for the BFCM ecommerce season. In an annual survey conducted by Shopify, three trends have begun to emerge for this year: the majority of BFCM shopping will take place online, clothes, electronics, and gift cards will be hot commodities, and people plan to spend more than they did the year prior (by a lot!).
From Brick-and-Mortar to Online
Since brands will place less emphasis on preparing brick-and-mortar stores for a BFCM experience in-store, it will now be critical for them to pivot, offering customers a well thought out online experience to take its place.
Here are a few ways for brands to do just that:
Offer a personalized email experience – when it comes to email, promotions can flood inboxes, meaning a personalized experience can go a long way
Provide faster shipping options or same day curbside pickup for those looking to get their order quickly
Simplify the checkout process to reduce cart abandonment, making it easy for a speedy checkout
What's In
With an almost year long stint at home spent in comfortable clothing, it looks like we're finally craving some change. Clothing, shoes, electronics, toys, games, and health and beauty are seeming to be what customers are shopping for online this BFMC season. In addition, gift card searches have increased exponentially, leaving room for customers to introduce others to your brand.
Here are some ways to stay on top of the trend:
Include a clear and easy way for customers to purchase gift cards on your website, along with an easy way to locate trending products (if you sell any of the above, that is!)
Set up a Google Channel to help customers more easily find your products
Customer Spend
This holiday season, customers plan to spend $686 on average, which is 23% more than what they planned to last year. With an increase in spending, running targeted promotions that appeal to certain demographics is a great way to get your product in front of the right customer. Better yet, testing advertisements can prepare you, and help with just that.
As retailers pivot during an anticipated second wave of COVID-19, BFCM has pivoted as well, evolving from a long awaited weekend to a full blown season, paving the way for ecommerce as brands adapt to change.
Sources:
https://www.cnet.com/how-to/when-is-black-friday-plus-4-other-things-you-should-know/
https://www.shopify.com/blog/bfcm-checklist
https://www.businessinsider.com/what-does-black-friday-look-like-in-the-us-2020-7
https://techcrunch.com/2019/11/27/u-s-online-shoppers-already-spent-50b-in-november-holiday-season-on-track-for-143-7b/
https://www.forbes.com/sites/pamdanziger/2020/09/27/e-commerce-will-explode-this-holiday-and-put-retailers-online-strategies-to-the-test/?sh=6fd62e7a62f1