August 14, 2015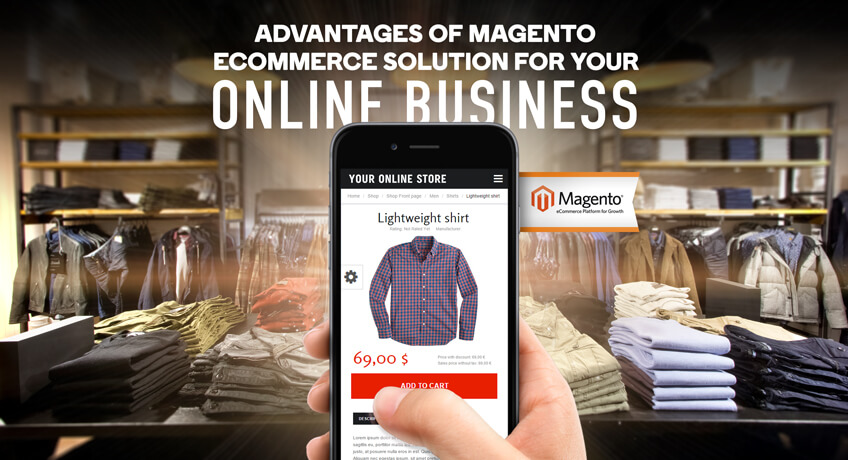 Advantages of Magento eCommerce for Your Online Business
Launched in 2008, Magento is now recognized as one of the most powerful eCommerce systems available today. This content management system focuses on eCommerce websites and provides everything required to create a total online storefront. Let's take a look at some distinct advantages of using Magento in your online business.
Magento offers flexibility to match the needs of any business
The Magento platform is available in two versions:
Magento Community – The Community Edition is open source software and is a free downloadable package. This is the most popular edition chosen by Magento users. It has lots of great customizable features and is suitable for most retailers. Developers can modify the source code and add features to meet individual business requirements.
Magento Enterprise – Many large businesses feel that the Community Edition is not enough and need additional features and more customization options than the free version provides. This edition creates more functionality and adds value to enterprise-level retailers. This edition is the highest performance, best scalable eCommerce solution for fast-growing and large businesses.
Magento offers an unparalleled degree of flexibility. This translates into outstanding customization capabilities, allowing you to design an eCommerce website exactly suited to your needs.

Magento has everything to run a standard eCommerce shop
When people go online to shop, they want two things: (1) websites that are effective and (2) online stores that are secure and safe. Magento delivers electronic commerce that is not only robust and reliable, but also provides payment gateways that are completely secure.
Magento provides the obvious things you would expect and many other features, including:
Advanced stock management
Multiple image per product
Advanced shipping method / supplier control
Magento is not only flexible, but also adaptable. This means that you can adapt or modify your website to integrate perfectly with your future web development.
Many eCommerce platforms limit the number of products, product lines and SKUs uploaded and displayed on a platform. This results in higher provider fees as your store grows. You can grow as much as you like with Magento, it will just grow with you at no additional expense.
Magento is responsive to mobile devices
Since many consumers make online purchases via mobile devices, it is important that your online store be responsive to the individual website viewing device. This was an important consideration in the design of the Magento platform. The mobile-optimized version of your website allows easy account management on the go and delivers your products tailored to your mobile customers.

Magento offers built-in Search Engine Optimization (SEO) features
Magento provides basic SEO tools, including the ability to generate HTML and XML sitemaps. It also supports URL rewriting options, which gives you full control over optimizing each web address. You can also manage meta data for products and categories, which improves search engine ranking and directly helps in sales and revenue generation.
Every eCommerce solution has its definite advantages and disadvantages. In order to choose the right platform for your business, you must have a clear understanding of your business priorities. You should not take the least feature-rich version of the platform and make it fit your needs, but pick the correct solution for the phase in which your business is currently in and go from there.
Absolute Web Services Miami web design team is extremely experienced with creating custom solutions on the Magento eCommerce platform. We are constantly creating innovative Magento-based websites, integrate Magento into already established websites, and even improve current Magento-based storefronts. Contact us today and let us put the Magento eCommerce platform to work for you.
Like what you read? Learn more about Magento: