June 11, 2019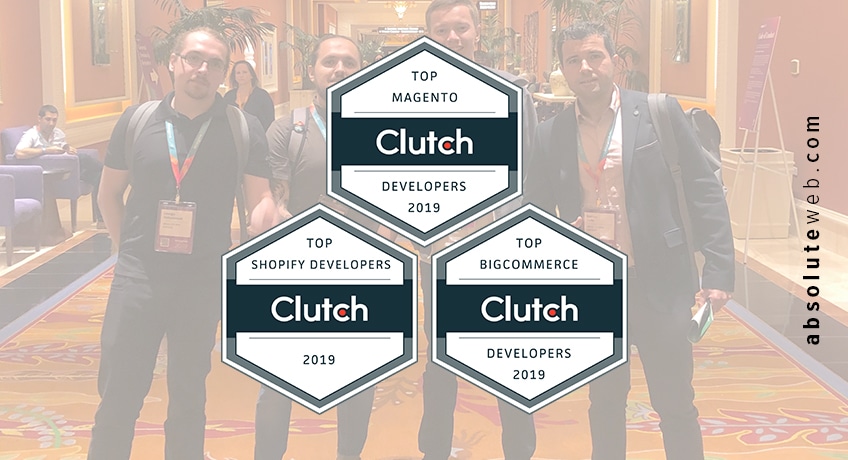 Absolute Web ranked Top Developer in Clutch's 2019 B2B Report
At Absolute Web, we are ready to transform your online presence and help you achieve your desired results. Since 1999, our seasoned team of digital strategists, project managers, certified developers, and designers have been delivering clients the look and feel they desire.
Through digitally led strategic and tactical solutions, we harmonize marketing programs with sales processes to drive awareness and increase interest in a company's products and or services. We implement a unique concept that evolves current processes into accelerated results. We understand that digital impressions matter now more than ever, and our goal is to create an engaging web presence and increase lead generation with memorable user & device friendly experiences.
We are thrilled to announce that we have been recognized by Clutch as one of the top Magento, Shopify, and Bigcommerce developers in their 2019 rankings report.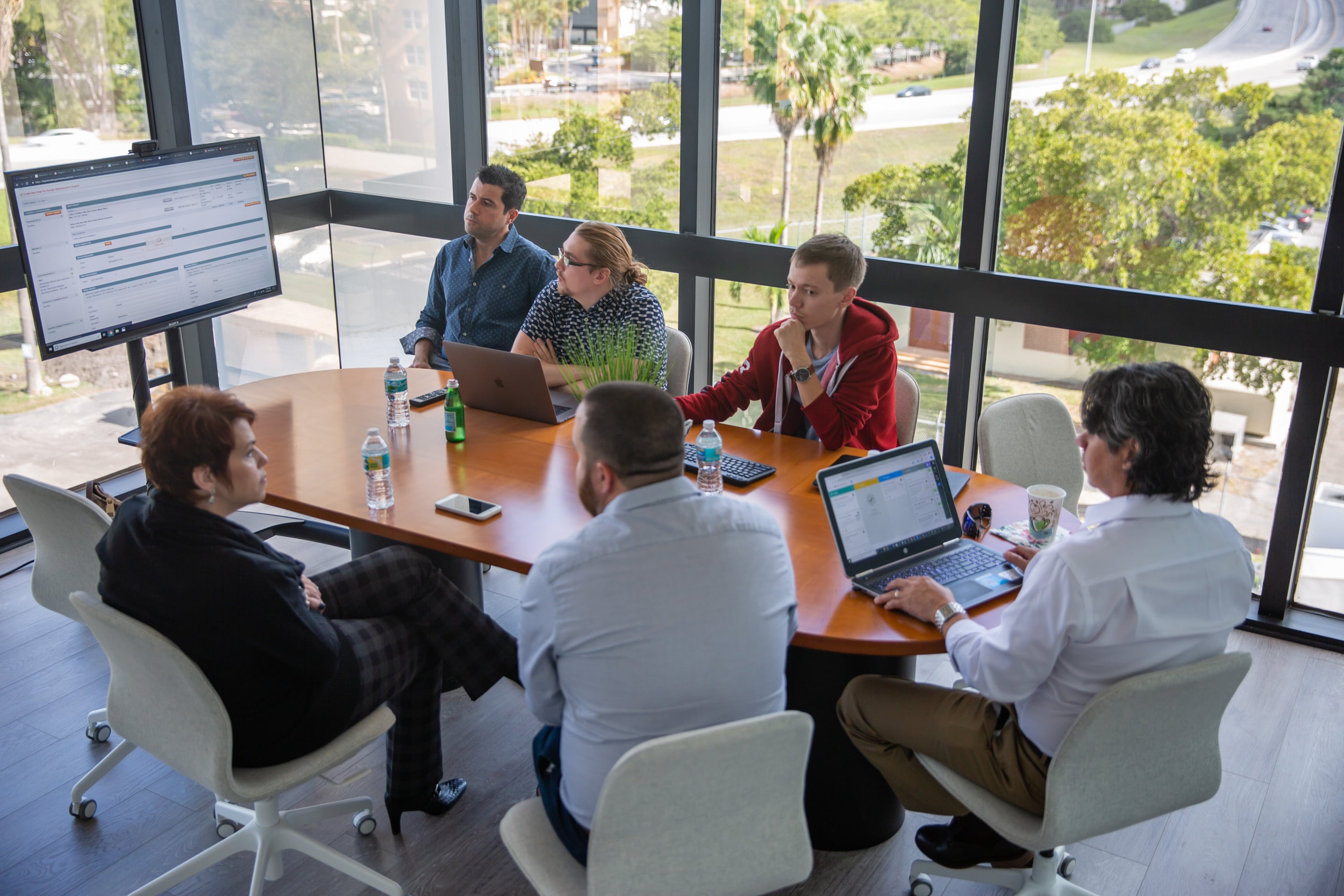 Clutch is an independent platform based out of Washington D.C. that collects objective feedback from clients about each company registered on the site. They perform in-depth interviews with clients and customers about the quality of their interaction with each Clutch-registered company. Based on the data gathered, the service formulates a fair rating of all the firms.
We know that there are many digital companies that provide rankings of B2B service providers; however, this acknowledgment means carries more weight to our team as we personally know the merit of Clutch's rankings. Their team of analysts interview clients post project completion to collect client feedback, analyze industry data, and compare competitors in a specific market. Ultimately, Clutch's goal is to arm businesses with the information they need to connect with the right service providers.
To ensure trustworthy reviews, Clutch analysts often speak with a company's clients directly, gathering feedback that is insightful and offers a true window into a partnership with that firm. Our profile on Clutch has just passed 30 reviews with an impressive overall score of 4.9 stars! Check out one of our most recent reviews below.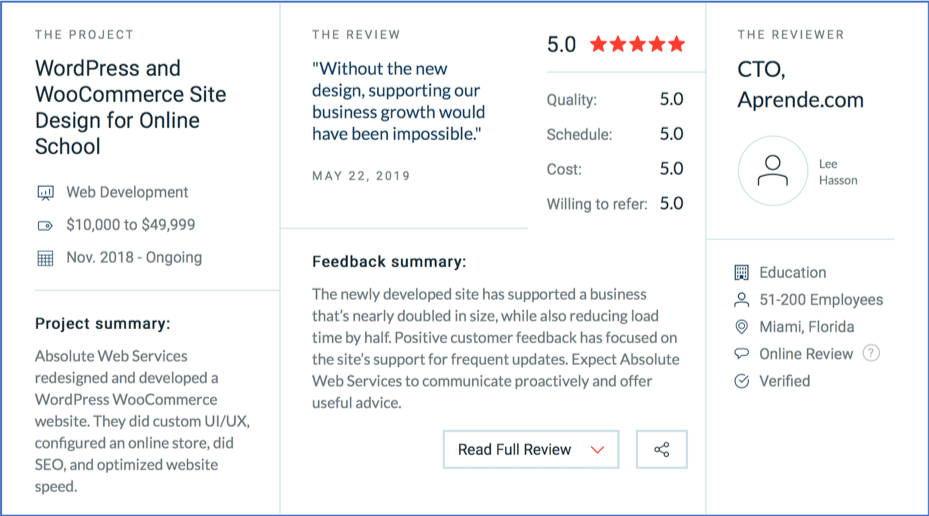 Our recognition on Clutch is not the only thing that our team is celebrating today. We have also recently been mentioned on Clutch's sister-sites, "The Manifest" and "Visual Objects."
To provide some context, Visual Objects showcases the work of digital and creative agencies in the form of a portfolio page in order to reveal the quality of the final product. The Manifest provides users with insight into the state of technology, how-to guides, and shortlists of top performing agencies around the world. The information on the manifest is backed by hard data and is reliable when searching for intel on topics such as consumer/business priorities, business growth, and marketing techniques.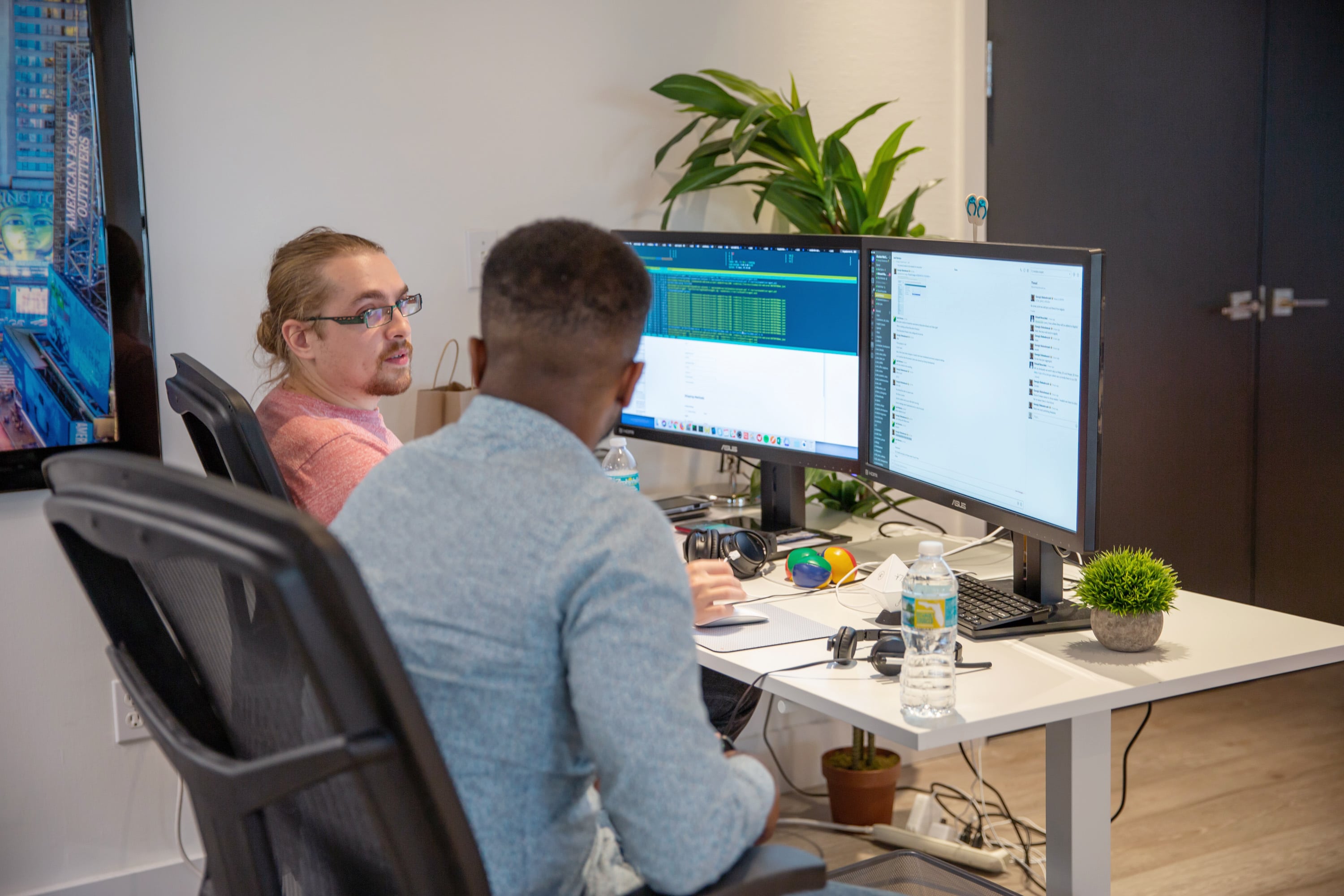 Absolute Web Services is excited to share that The Manifest has ranked us number three out of the top Magento developers on their platform, and number three out of the top Shopify developers, also! This news is highly encouraging to our team and the positive feedback such as the comment featured below drives our developers to continue providing the best service they can.

In addition, due to our tendency to embrace creative ideas and push towards an ideal product, Visual Objects has our company listed among the top developers. Make sure to check out our portfolio work on visual objects!
We would like to thank our amazing clients for their incredible support, and Clutch for putting us in a valuable position to increase visibility and iron out any flaws in our process or communication. We look forward to watching the reviews pile up and to continuing our success in the years to come! Check out our extensive portfolio of e-commerce projects we have completed over the years and don't hesitate to contact us today to see how we can help you with your next project.