July 5, 2019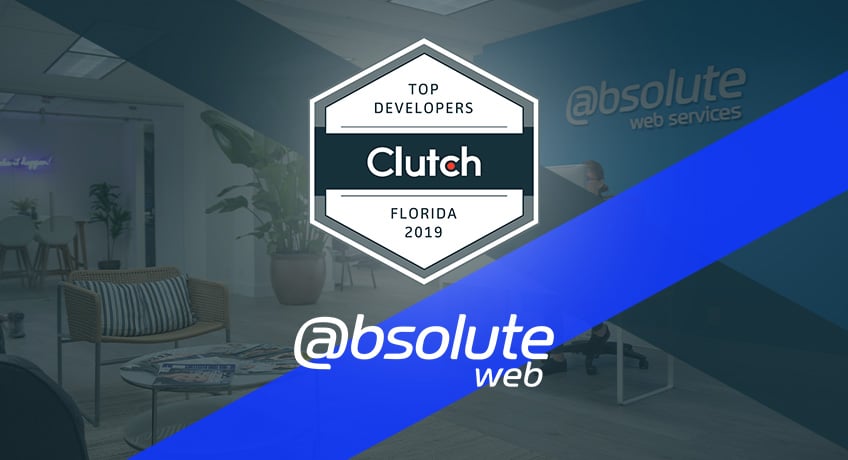 Absolute Web Awarded "Top Developer in Florida" by Clutch
Since our founding in 1999, our goal has consistently been to create memorable experiences for our clients and their customers. We primarily accomplish this by creating an engaging web presence and increasing our client's lead generation. With 20 years of experience, we have seen the impact of the Internet on the global economy and understand the our team's work will be of the utmost importance in the coming years. We've been named by Clutch as one of the leading B2B companies in Florida. With hundreds of Ecommerce developers in Miami alone, we are proud to see that our clients have been resoundingly happy with the work we have produced.
Clutch is an established B2B ratings and reviews firm headquartered in the nation's capital of Washington D.C. Clutch has an in-depth review and rating process that truly separates Clutch from the competition. The process starts with market research and analysis by Clutch analysts and most importantly, concludes with Clutch analysts performing interviews with verified clients from the company. Clutch's holistic approach for reviewing companies is unlike any other firm out there, and is a major reason why we are so glad that Clutch has reviewed us so highly. The results from this process are bountiful, including a leaders matrix of the top companies in a category and many client comments left on a company's profile. We are proud to share that our company profile has 4.9 stars out of a possible 5.0 stars and has over 31 client reviews! Absolute Web is also proud to announce that we are in 1st place on the Leaders Matrix for the top ecommerce developers in Miami, which is pictured below: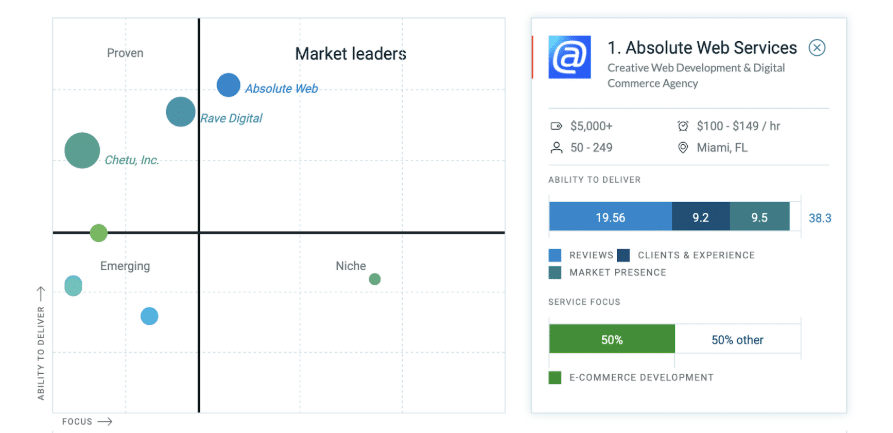 However, our success does not stop there. We have also been recognized by both of Clutch's associated sites, The Manifest and Visual Objects.
The Manifest is similar to Clutch but provides the company's size, location, and average hourly wage, all at a quick glance. We are featured on The Manifest as one of the top digital design agencies and we invite you to check out our Manifest profile! As one of the top creative agencies on Visual Objects, a platform to showcase the more creative side of our work, we couldn't be happier to be ranked on all three of Clutch's sites!
Absolute Web is honored and humbled by our Clutch rankings. However, we understand that we certainly would not be here without our clients and we thank them for taking the time to be interviewed thoroughly by Clutch. We look forward to working with Clutch in the near future and can't wait to see more reviews on our profile!