October 4, 2019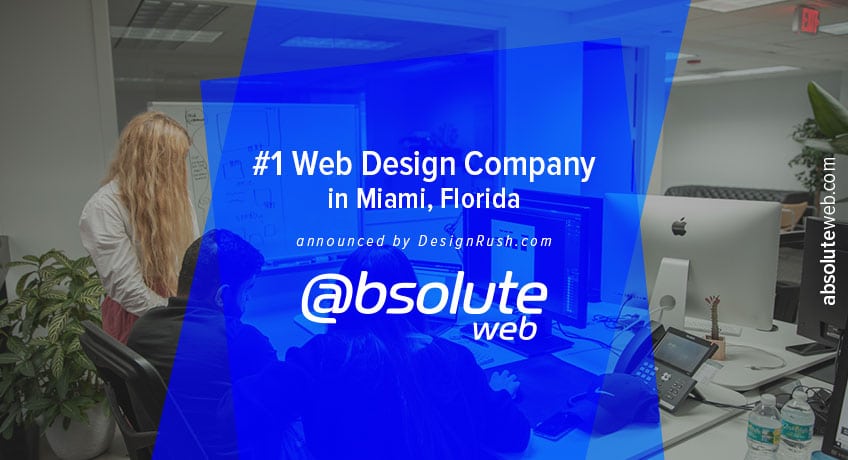 Absolute Web announced as the 'Top Web Design Company' in Florida by DesignRush
We are humbled and excited to learn that Absolute Web has been announced as the "Top Web Design Company" in Miami, Florida, by DesignRush.
The honorary title was announced alongside 14 other companies by DesignRush. We were credited as the top web design company "that builds affordable, successful sites."
According to DesignRush, 75 percent of web users judge whether a business is reliable by its website design. Additionally, it takes about 0.05 seconds for visitors to form an opinion about a website. These statistics help our team rise to the challenge and create engaging, innovative web designs that deliver impactful results.
Since 1999, Absolute Web has been an expert in providing ecommerce solutions, custom web development, and web design—among other areas of expertise. We understand the need to create web designs that lead to conversions, web traffic, sales, and most importantly—user engagement that results in repeat customer site visits.
As a full-service agency based in Miami, Florida, we pride ourselves on the ability to effectively communicate and listen to the needs of our clients even well after a project has been successfully completed.
We also aim to build websites at an affordable rate while providing constant communication with clients to ensure all of their needs are met. Some of our clients include the University of Miami, Capezio, Oribe, Basco, and many more.
Our web design team focuses on strategic and intuitive design campaigns to help amplify brand awareness while increasing digital traffic by analyzing your site and finding ways to maximize and encourage users to click and engage.
With help from our team of skilled web designers, digital directors, marketers and content strategists, we are able to provide a unique approach that will transform your website and effectively convey your ideas.
Web Design: 'First Impression is the Most Important Impression'
Even after we've provided our services, we continue to maintain relationships with our clients.
With web design, we truly believe the "first impression is the most important impression."
We know that web design isn't always about the appearance of the brand on the web—it's also about exceptional experiences. Our web design ideas help customers navigate your site in a way that results in more traffic and engagement.
We succeed when our clients succeed, and that's why we know what it means to provide a superb design that is both user-friendly and aesthetically pleasing on all platforms.
From Start to Finish: Brand Research and Open Communication with Clients
Our team of experts attend conferences and build relationships with various partners and clients to keep up with the latest industry trends.
Over the years, our UX/UI web design team has served a multitude of industries ranging from fashion and apparel, luxury goods, real estate, small businesses, and more. Our goal is to help convey your needs and translate them into a web design that generates traffic and makes visitors come back for more.
Our goal, ultimately, is to create an innovative and engaging web design that helps your customers navigate your site with ease. We want to make sure users engage with your website, whether through buying a product or service.
Internal Steps to Guaranteeing Great Web Design Results
There are several internal steps we take that guarantee success and best solution practices for our clients.
First, we start with brand discovery and wireframing to learn more about the brand audience; then, we follow up with mobile, tablet, and desktop designs that put our ideas into action. Lastly, once the design has gone through the brainstorming phase and is approved by our clients, we then begin development and work with our quality assurance team to launch the new website.
The process starts and ends with detailed conversations over the phone or conferencing with our clients while doing our own independent research on the company's business.
There are three main focuses when starting the UX/UI projects:
User Experience Analysis
User Interface Design
Responsive Design
These three main elements allow us to better understand what works for your target audience and to deliver results that make an impact on a variety of multimedia platforms. Our portfolio exemplifies our dedication to providing clients with the best results, whether through ecommerce websites, corporate websites, real estate websites, or a more responsive mobile app design.
On behalf of our team at Absolute Web, we are grateful for this honor and will continue to push ourselves in helping clients reach their full potential.
Learn More About DesignRush
DesignRush is a B2B marketplace that works to connect brands with the best agencies that specialize in a variety of expert approaches. They analyze and rank hundreds of agencies to connect brands with the best and top full-service agencies and companies that specialize in digital marketing and technology.