October 9, 2017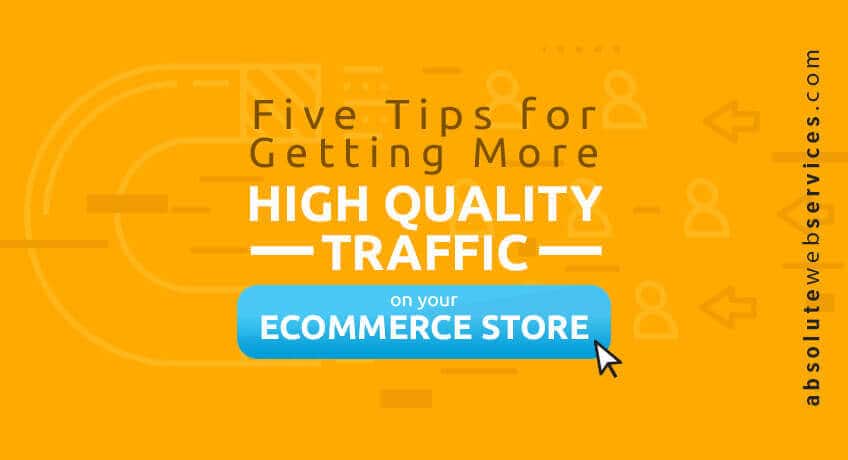 5 Tips for Getting More High Quality Traffic to Your Ecommerce Store
Congratulations on launching your ecommerce store! What kind of traffic have you seen so far? Any? Good but not great? Lots of visitors to your site but not the right kind? If your answers to these questions are yes, that's great, because we are going to address five ways you can turn that OK traffic into high quality traffic! Keep reading to discover our tips that can help your ecommerce store.
1. Give Influencer marketing a go.
This method has seen great growth over recent years. But what is influencer marketing? It is where brands partner with top Instagrammers, bloggers, YouTubers, etc. to increase conversions for their ecommerce stores. This is great not only for driving traffic to your site, but creating awareness as well.
Where do you start?
(example: Instagram)
Research. Scroll through Instagram to find popular accounts in your niche that would consider featuring your product on their page. Influencers can have hundreds of followers to hundreds of thousands of followers to millions of followers. It is up to you if you want to start with small-scale influencers or large-scale influencers. Use the search bar to find popular users and hashtags or use a site like Webstagram, which features the most popular users and hashtags based on your search. Make a list of accounts that you think would be a good fit to work with.
Familiarize. It is important to familiarize yourself with the influencer and the material they post. Take time to look through their account, read the captions to get to know their personality, tone, and writing style, and make note of a few specific posts you really like. Another great way to show interest in their account is get involved by liking posts, commenting, and sharing.
Contact. Reach out to those influencers on your list from step one. Send an email saying how much you love their account (refer to step two) and tell them that you recently launched an online store selling X products. Express your interest in sending samples and ask if they would consider sharing it with their followers if they like it. Don't forget to ask for an address to send the sample to! And of course, include your contact information and website in case they have any questions.
Share. You secured a partnership and now it's time to share your vision for the campaign with your influencer. Create an action plan, go through it with them to receive their feedback, and make the necessary adjustments that you both agree on. Nail out the final details and get started!
Remember, influencers can be found in many places. In addition to Instagram, consider doing a Google search to find bloggers, search YouTube for vloggers, and search other social platforms, too.

via SomethingNavy
When promoting a product, influencers will specify that it is an ad/sponsored post and tag you or provide your website.
2. Pitch it to the press.
Just because your store is digital doesn't mean all of your advertising has to be. Write a short, concise pitch to your local paper asking for the opportunity to get your site featured.
Where do you start?
Research. Determine if you want to be featured in a larger paper or a smaller one. Once you decide on this, you can begin searching for journalists at those papers to reach out to. Twitter is a great place to start with this research as it is easy to track down and connect with journalists. Create a list of journalists to contact.
Familiarize. Again, it is important to read articles written by the reporters you plan to contact. Get to know their writing style and where they excel so you can be sure they are a good match to write about your product.
Contact. Email the journalists on your list from step one. Tell your story, explain what makes you and your product unique, and talk about your product in interesting ways.
In addition, consider the following: If you are targeting a larger paper, you might want to offer the opportunity for an exclusive that guarantees that paper first dibs on publishing. Or, think about hosting an event (closed to the public) for journalists so they can see product samples, familiarize themselves with them, and experience them in person.
Keep in mind that you don't need a full page feature; even a short article about your ecommerce store can help drive the traffic you are looking for!

via The New York Times
Emily Weiss, founder of Glossier, a popular ecommerce beauty brand, featured in the New York Times.
3. Promote your product through tools and apps.
Spend some time going through the app store to see what apps are out there that could help drive traffic to your site. Apps are helpful tools that can be used to your advantage if you use use them properly.
Example: LiketoKnow.it app
LiketoKnow.it is a fashion app that lets users shop their screenshots. All the user has to do is screenshot an influencer photo on social media or the mobile web and then they can shop the products in their screenshot, thus allowing users to turn Instagram photos into ecommerce by tagging links where people can make purchases.

via Liketoknow.it and Carrie Bradshaw Lied
Users can shop influencers' styles from the LiketoKnow.it account or influencer accounts.
4. Ask customers to leave reviews.
Because Google crawls your product page for new content, this is a great way to get new content added to your page to keep it fresh, without you having to do too much work. Most sites don't update product pages on a regular basis, so customer reviews keep your page active while adding content. Not only will customer reviews drive more traffic to your site, but it will increase conversions and improve your SEO!
Where do you start?
Email. Email customers after they purchase an item to ask for a review. Send the email when the purchase is still on the customer's mind, but give them enough time to actually get the product and use it so they will have an opinion to provide.
Ask. Leave a section on product pages asking for reviews as well as a place for customers to submit their review on that specific product.
Use a review site. Third party review sites like Yelp and Reevoo leave it up to your current customers to persuade future customers to purchase from you. Worried about fake reviews? Don't be – these sites authenticate reviews so you and your customers (current and future) know that the author of the review actually bought the product.

via Reevoo
"Customers convincing customers."
5. Take advantage of friends and family.
You launched your online store! That's a big accomplishment, so why not brag about it a little? Use Facebook in a targeted way to reach out to family and friends. Post updates, photos, and whatever else is necessary to talk about your store. Have your friends and family spread the word to their friends and family, and so on.
Where do you start?
(example: Facebook)
Your personal profile. Use your personal profile to to promote your store and products so friends and family will be able to see what you've been up to. But be careful not to overdo it on the sharing from your personal profile, or people might skip past and start to ignore posts.
Site launch. Use Facebook as an outlet to reach people when you launch your site. Start by having friends and family like your business page. Prior to the actual launch date, create buildup on Facebook to get your friends, family, and other followers excited about what is coming.
Tagging. Tag people and have friends and family tag others who they think may be interested in your products to reach even more people.
Share press mentions. If your ecommerce store gets featured in a local press outlet as discussed above, share the article on Facebook (on your personal profile and business page!). Facebook is a great place to inform people about your ecommerce store.
Announce influencer partnerships. When you work with influencers, announce your partnerships on Facebook and tag them in the announcement. This way, not only will your friends, family, and followers see the partnership announcement, but the influencer's following will as well.
Keep up on trends. Engage your audience with posts about your industry. This will show your followers that you stay up to date with popular trends and news, and it will provide them with extra information they might not get elsewhere.

Glossier announces its new product on their Facebook page.
Think about using these methods when launching your ecommerce store. Quality is very important and you want to make sure you are engaging in methods that will drive high quality traffic to your site. You can then use more advanced methods such as SEO, content strategy, and paid ads to further improve your site traffic.