February 1, 2017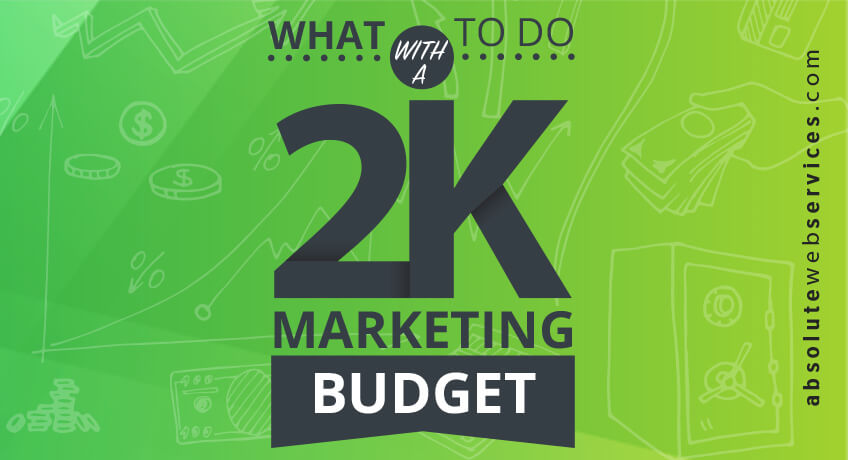 What to do with a 2K Marketing Budget
What to do with a 2K monthly marketing budget and really increase your sales.
2,000 dollars a month, 24,000 dollars a year, all for marketing and you have no idea where to spend a single dollar.
You have even thought, why waste money on digital marketing, after all, it's not even a lot. I am here to tell you, you're wrong. Your budget can go a long way to help drive traffic and increase sales.
The driving force behind impactful cost-effective marketing is to dedicate your dollar on result-yielding activities.
The number one factor is – you know your business, get to know the channel, and spend where it makes sense.
Should you invest in digital marketing? Yes. Do you have to dedicate resources to every digital channel? Absolutely not. To increase your sales, you must commit your resources on digital channels that have a high number of your ideal prospects.
So how do we spend your budget?
Research — $0
Research is incredibly important but does not have to cost you a single dollar. You know your business, do not let agencies, marketers, strategists, confuse you with acronyms and KPI's.
This is the basis of your digital marketing plan:
1. Competitors
2. Products/Services they offer.
a. Pricing (how do you compete in pricing for similar products)
b. Service Level Agreement (What is their return policy, RMA, etc)
c. Unique Selling Propositions (Do they offer free shipping? Free consulting prior to purchase? What makes your competitor stand out)
3. Digital Tactics
a. Where do they spend their dollars? Do you see the industry active on LinkedIn but not Facebook?
b. Promotions
4. The Gains
a. How will you communicate? Email? Social Media? Both? Just like you have coordinated promotions, specials, etc for your business – the same level of discipline and scheduling will be required to regularly communicate with your prospect/clients
Digital Marketing Partner — $1,000/month
This may seem crazy! 50% of my budget! To someone!? Yes. It will be important.
Your research plan could yield the following:
1. A weekly LinkedIn Blog Post
2. Daily Facebook Post
3. Weekly email promotion
4. You don't know HOW they do it, but if you google a new car – for the rest of the day cars are digitally following you.
5. You want to be found on Google. Ads and organically.
This is called retargeting. You know you need this.
Your digital marketing partner will create the following:
1. Your monthly content
2. Your graphical needs
3. Manage your social media
4. Manage your email communication
5. Manage your PPC
Your digital marketing partner will become an extension of your company. For $12,000.00 a year, you will a Digital Marketing Manager, the average salary of a DMM is over 50,000.00. Real numbers. Real bargain.
Media Dollars — $1,000
Impactful spending. Impactful spending. Impactful spending. This must be your motto. You must ask your digital marketing partner for a PPC plan that puts your brand in front of a saturated pool of your ideal prospect.
You also need an estimated result report.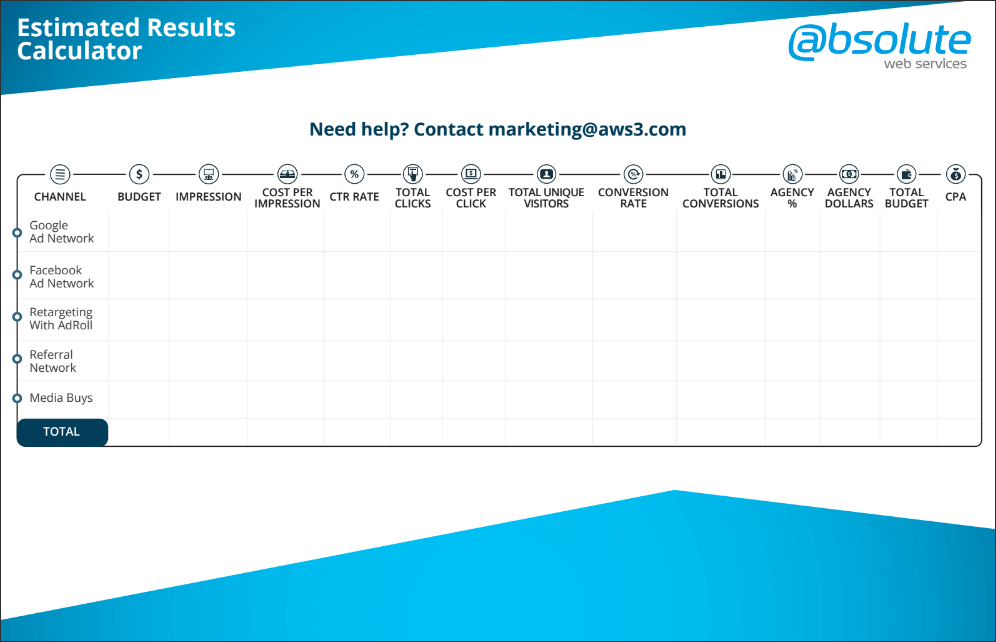 Want to download our estimated-result template card? Click here.
Ultimately, what you decide to spend your budget in may be different, but they NEED to be impactful dollars.
$2,000 a month can go a long way, and with the correct research, digital marketing partner, and investing your media dollars strategically, you will see a tremendous return on investment!
Have a similar monthly marketing budget? What do you spend your marketing budget on?
Share your thoughts and suggestions by leaving a comment below.