October 4, 2019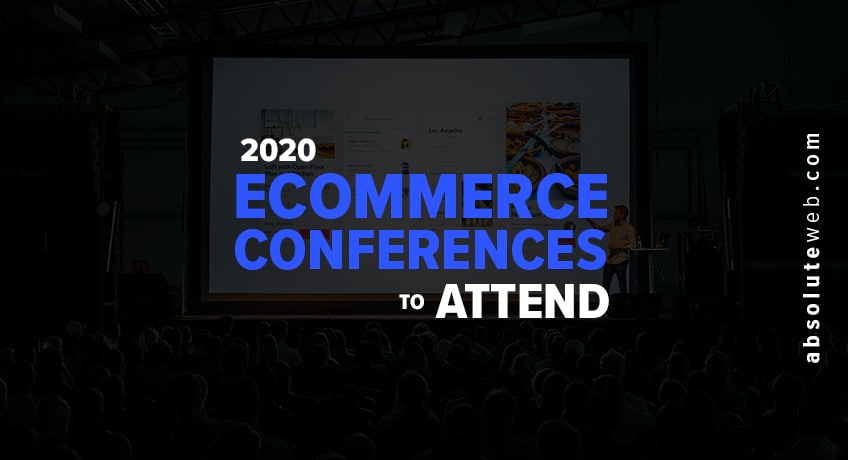 2020 eCommerce Conferences to Attend
2020 was supposed to be the year of eCommerce conferences. These conferences, summits, conventions, or expositions were built for you to walk away with informative and valuable information that you can incorporate into your business, or utilize for your professional career development. Sadly, due to unforeseen circumstances, you won't be able to physically "walk away" from these summits.
Below, you'll find a comprehensive list of some of the much-anticipated eCommerce conferences you can attend either virtually or in-person at their rescheduled dates. During these conferences, you'll learn about the latest eCommerce trends and sharpen your skills with the latest developments in the online retail world. You'll even have the chance to share ideas, participate in comprehensive workshops and track sessions, and network with experts and professionals across various industries.
*Please note that due to ongoing health concerns about COVID-19, several eCommerce conferences have been either canceled or postponed. We have updated this post to reflect these updates. 
CANCELED LIVE EVENT | Las Vegas, NV
For refunded ticket information, click here.


*Note from organizers: "Each year, we look forward to hosting our customers, partners and employees from around the world at Adobe Summit and Magento Imagine to talk about the future of customer experience, unveil the latest product and platform innovations, and get inspired together as a community.
Over the past few weeks, we have been closely monitoring and evaluating the situation around COVID-19 to ensure we are taking the necessary measures to protect the health and wellbeing of Adobe Summit attendees. As a result, we have made the difficult but important decision to make Summit/Imagine 2020 an online event this year and cancel the live event in Las Vegas.
While we are disappointed that we will not be together in-person with our community this year, we are excited to host Adobe Summit as an online experience."
CANCELED LIVE EVENT | Las Vegas, NV

*Note from organizers: "It is with heavy hearts that we must postpone MRC Vegas 2020 due to the spread of the COVID-19 Virus. The health and safety of our attendees is of the utmost importance and necessitates this decision. Thank you for your understanding and continued support of the MRC. Please find more information and further announcements on our website here."
RESCHEDULED to Aug. 5-7, 2020 | San Diego, CA

*Note from organizers: "In its 20 years of history, MivaCon has become the premier gathering place for ecommerce sellers, experts, leaders, and influencers. The MivaCon community has grown to be an incredible source of inspiration, innovation, and fearlessness in modern ecommerce. With increasing public concerns surrounding the novel coronavirus and after consulting with key stakeholders—including our principal sponsors and venue representatives—we have decided to reschedule this year's event to August 5-7, 2020. While this was a difficult decision, protecting the health, safety, and wellbeing of our global community will always be our top priority. We have begun reaching out to all MivaCon sponsors, attendees, and speakers with next steps."
Mivacon is a 3-day ecommerce conference and gathering of merchants, influencers, and ecommerce industry professionals. The annual conference was designed to help online merchants, grow, compete, and profit, while forging new connections and sharing new ideas.
RESCHEDULED to July 21–23, 2020 | Online
*Note from organizers: "Join us for this global event, dedicated to helping Experience Makers like you rise to the occasion and adapt to today's evolving status quo. Engage in conversations with leaders and peers and get tangible takeaways on how to raise the bar and prepare for the future.
Hear inspirational stories, get access to the latest tech in commerce and B2B marketing, and learn real-world applications — so you can tackle today's challenges and tomorrow's opportunities. Learn best practices and create a vision for your company as part of a vibrant community that understands business resilience and customer care. So when change happens, you can lead the way."
To sign up, click here.
RESCHEDULED to September 21–24, 2020 | Location change: Las Vegas, NV
Live Keynote webcast March 24 | 8-9:30 a.m. PT

*Note from organizers: "Due to increasing concerns about the ongoing COVID-19 outbreak, and to help protect the health and safety of our customers, employees, partners, and everyone who helps host the event, Oracle is postponing the in-person component of Oracle Modern Business Experience Chicago until September 21–24, 2020 and moving to Las Vegas. Registration for Modern Business Experience Las Vegas will open on March 24."
If you can't make it to Modern Business Experience in Las Vegas, you can request a refund here.
POSTPONED | Miami, FL
Early access tickets starting at $499

*Note from organizers: "Out of an abundance of concern and caution for our attendees, speakers, staff, and community, we are saddened to announce the postponement of Pubcon Florida. As recently as Tuesday we felt positive about hosting Pubcon. The situation deteriorated rapidly with the virus turning up in numerous parts of Florida. Florida, and other places declared states of disaster or emergency. Then about midweek many tech firms began limiting employee travel. Google, Microsoft, and several others canceled all unnecessary travel. Losing that many keynote and spotlight speakers, would severely limit the quality of the conference we could have produced. We know the gravity of this action as it affects all of our community. We are exploring dates and options with incredible events team at Kovens Conference Center. We are committed to producing a world class event, but we don't know yet when that will happen. We love South Florida and the last couple conferences down there have been some of the highest rated we have ever produced. During this process, we will be transparent as possible. When we know something – you'll know it too. The best way to stay informed, is via the blog on Pubcon.com and our Facebook group. Anything important will be communicated directly to attendees via the email address on file when you registered for the conference. We thank you for your support."
RESCHEDULED to Dec. 15-17, 2020 | San Diego, CA
Early Access tickets starting at $895


*Note from organizers: "T&C 2020 was scheduled to take place on March 31 – April 2 but will now be taking place on December 15 – 17, 2020 in San Diego. All tickets for the March dates will be honored for the rescheduled December dates. If that doesn't suit you please reach out to our awesome Customer Success team on [email protected] so that they can work with you to find the best option for you."
This event is designed for agency owners and digital retailers. Meet thousands of the world's smartest marketers and learn what is new, and what is actually working right now. Hear the latest ideas, strategies, and insights from keynote speakers like Richard Branson, Jasmine Star, and Gary Vaynerchuck.
RESCHEDULED to September 9–10, 2020 | Location change: Nashville, TN

*Note from organizers: "Ecommerce Operations Summit was scheduled to take place on April 14-16 but will now be taking place on September 9-10 in Nashville. All the tickets for the April dates will be honored for the rescheduled September dates. If that doesn't suit you, please reach out to our rockstar customer service team on [email protected] so that they can work with you to find the best option for you."
If you're looking for the only conference covering the entire scope of the world of ecommerce, this innovative summit is right up your alley. Join over 800 ecommerce professionals and take away essential key points for tackling today's evolving ecommerce environment. Dozens of panels and workshops will focus on boosting productivity, cutting costs, and providing quality customer service.
This conference hails itself as one of the only events devoted exclusively to every area of omnichannel and DTC operations. Focus on your DTC operations and find more efficient ways to successfully streamline business processes and improve customer satisfaction. Exclusive keynotes will include Willis Weirich, the SVP Supply Chain & Operations, for Neiman Marcus and Rick Bingle, EVP of Global Supply Chain, and REI.
CANCELED

*Note from organizers: "With the ongoing coverage of the seriousness of the global outbreak of the COVID-19 virus and the potential effects, we want you to know that our priority is to keep our Summit attendees safe and informed. While our AC User Summit is just more than a month away, we are sensitive to our clients' travel and safety. Out of an abundance of caution and concern, we have decided to cancel the 2020 User Summit in the best interest of all involved. While we hope that we all can and will participate in normal activities as much as possible at this time, this is a unique situation that requires extra consideration for our clients and our employees. Registration fees will be credited back to all clients who have registered for the Summit. Thank you for your patience and understanding as we work through unprecedented times together."
---

---
POSTPONED LIVE SUMMIT. ONLINE SUMMIT WILL COMMENCE May 6-8 | Ft. Lauderdale, FL

*Note from organizers: "The LIVE Sellers Summit has been postponed, but there will be a Virtual Summit with our speakers from May 6-8. The dates for the live in-person event are TBD."
This intense 2-day ecommerce summit will equip you provide the ultimate "ecommerce learning experience" to help inspire and help you gain industry knowledge to help your successful ecommerce business continue to thrive. The 2020 Sellers Summit provides practical and relevant ecommerce strategies that actually work. Learn how to run effective advertising campaigns, develop a high conversion website, and find profitable products to sell alone, and much more. This conference is geared to all types of sellers and focuses on two main tracks: Amazon and running your own branded store.
RESCHEDULED to May 6-7, 20201 | New York City, NY


*Note from organizers: "After careful consideration in light of the ongoing Coronavirus (COVID-19) developments and concerns worldwide, it is with deep regret that, for the first time in its history, DigiMarCon management must announce this year's 5th annual DigiMarCon East has been postponed. The new date for the rescheduled event is May 6th to 7th, 2021 at the New York Marriott Marquis in Times Square, New York. In lieu of physical events for 2020, DigiMarCon is creating a 2020 Virtual Series, adding to its existing online conference."
DigiMarCon holds several conferences around the world, each taking place in a world-class city. This DIgital Marketing Conference will showcase emerging strategies, best practices, the latest innovative technologies, and insights from some of the most successful digital marketing leaders. Learn the latest brand amplification strategies, the latest industry trends, and gain valuable insight into what your customers will be looking for in the upcoming year.
RESCHEDULED to September 16–18, 2020 | Location change: Boston, MA


*Note from organizers: "The Social Shake-Up Team has been working diligently to secure new dates for The Social Shake-Up Show. Our hotel partner is in daily contact with us, our event team is working their magic to secure new dates and our Social Shake-Up content team is working overtime to make sure that when The Shake-Up Show does happen later this year, it'll be the best one yet!
It's our sincere intention to postpone The Shake-Up Show to the fall and we hope to have a final plan in place in the next week. We'll update the site as soon as the new dates are confirmed!"
The Social Shake-Up 2020 is an event for marketers who are serious about social media. Walk away from this show with breakthrough strategies and real connections with other marketers from corporations, agencies, and nonprofits who speak the "social language". Engage with speakers from some of the top social companies in the world. The Social Shake-Up 2020 will feature speakers such as Brand Strategist from Twitter, Senior Communications Manager at Airbnb, Manager of outreach at Yelp and many more.
CANCELED | San Francisco, CA

*Note from organizers: "At Marketplace Risk, our mission is to offer education, networking, and information sharing for marketplace startups and the sharing economy. Now, more than ever, our community is in need of tools and resources to help navigate these unprecedented times. We have launched the COVID-19 Resource Center for businesses to access much-needed resources. Many industry-leading vendors, service providers, and partners are offering discounted and free support to assist you. We want to thank these partners for stepping up – and for their generosity and innovation!
We're still putting together our 2020 agenda – so stay tuned for a line-up of content designed for your entire organization, including cross-functional teams and departments. And if you're interested in becoming one of our speakers, we'd love to hear from you – get in touch here."
Learn how to address some of the challenges associated with running a marketplace, tech-driven startups, and how to mitigate possible risks. This is the first conference focused exclusively on risk management and legal strategy for marketplace startups. This conference will provide networking opportunities, as well as information from subject matter experts and industry-leading peers.
Topics will cover everything from digital identity and screening, payments and fraud, crisis management, product and technology innovation, and building and growing your marketplace startup and much more.
RESCHEDULED to Dec. 14–15, 2020 | Location change: Palm Springs, CA
Starting at $999 and up.

*Note from organizers: "This event is proceeding as scheduled, and we take your safety very seriously, particularly during this emerging and rapidly evolving Covid-19 situation. At this time, we are not permitting any attendance by individuals from countries for which the Centers for Disease Control and Prevention (CDC) has assigned a travel health notice. Please go here for the most up to date list of those countries. At present time, these countries account for less than 1% of our total attendance, so do not expect the event experience to be negatively impacted by these exclusions."
Digital Travel is the premier interactive conference geared toward travel executives who are looking to reimagine and transform their customer journey. This conference will focus on enhanced personalization to deliver better cross-channel experiences while helping attendees stay-up-to-date on the latest online travel trends.
May 19-21, 2020 | San Francisco, CA
Tickets $475 and up.

*Note from organizers: "At this time of global concern, Reed Exhibitions and CNP Summit™, along with our partners at the San Francisco Marriott Marquis, are closely monitoring developments related to the COVID-19 virus and working diligently to ensure the well-being of our sponsors, attendees and staff at the upcoming CNP Summit™. We are closely following the latest guidance from local, state and national authorities as it relates to travel and participation in our events and are committed to implementing up to date best practices in accordance with public health guidance, including those issued by the CDC, the California Department of Public Health and the San Francisco Department of Public Health.
CNP Summit™ is scheduled to take place May 19-21, 2020 at the San Francisco Marriott Marquis, in San
Francisco, CA. Please continue to monitor www.cnpsummit.com for any updates."
The Card Not Present (CNP) Summit offers a wealth of information about digital payments and fraud prevention for CNP professionals in the world of ecommerce. This summit provides 50+ hours of education featuring CNP experts, merchant case studies, and keynotes that provide attendees with the knowledge needed to make smarter business decisions, while offering a better, rich digital commerce experience to customers.
RESCHEDULED to Nov. 4-6, 2020 | Dallas, Texas
For tickets and pricing, click here

*Note from organizers: "When we launched SubSummit over four years ago, our goal was to bring the subscription community closer together and give us a safe and fun forum to learn, share, and grow.  That is still our number one focus today.  As the news has continued to develop around COVID-19, we've been keeping a close eye on it with our community in mind.  To keep everyone safe, we decided to post-pone SubSummit to November 4-6, 2020 from our original May 27-29, 2020 dates.
We are looking at virtual options for our original May dates as well and will continue to keep the SubSummit site updated with more information as we begin to plan that.
The health and safety of our community is, and always will be, our number one priority.  We will continue to keep you updated through this page and welcome any questions you may have.  We love our community – thank you for being an awesome part of it!"
Attend the "largest event dedicated to the subscription industry." Nearly every company offers a subscription-type service, which is why it's important to stay updated on the latest trends while clarifying some of the methods to scale.
The 5th annual Subscription Summit is the first and only conference devoted exclusively to those who work in or alongside the subscription commerce industry.
Connect with industry leaders and learn what's driving the rapid changes and evolution of how consumers discover, buy, and experience new and innovative products. You'll hear from over 100 innovators of the subscription commerce economy about best practices, scalable business models, as well as methods and marketing practices that work best in this economy.
RESCHEDULED to Oct. 15, 2020 | Marriott Magnificent Mile, Chicago
Tickets starting at $645 and up.

This sixth annual ecommerce conference has been designed exclusively for retailers and CPG brands. The Online & Digital Grocery Summit 2020 will bring together leading retailers and CPG brands to help attendees learn techniques to optimize ecommerce strategies and increase online conversion and sales. According to the Online & Digital Grocery Summit, the online grocery industry in the USA was valued at $7 billion in 2015 and is expected to double by 2020. Learn from industry professionals, key retailers, and industry experts.
RESCHEDULED to Oct. 28-30, 2020 | Chicago
Tickets starting at $895 and up.

This innovative conference has been "designed for retailers by retailers." Learn how to tap into the blueprints for success in the world of ecommerce at what's been hailed as the "number one networking event for retail marketers."
CRMC 2020 brings retail marketers from nearly 200 innovative brands together in one setting to help exchange ideas and learn how to apply and add ecommerce solutions and strategies to the mix. The upcoming conference will provide 18 retail case studies including plenty of meetups, networking sessions, and more. Receive hands-on and in-person retail brand sessions and join over 750 peers representing 200 leading retail brands including the industry's top service providers. This conference provides one-on-one meetups, plenty of refreshment breaks, including mentor luncheons and much more.
ONLINE VIRTUAL EXPERIENCE

*Note from organizers: "COVID-19 has placed an unprecedented strain on the retail community. In response, we're launching a curated virtual content experience to help you navigate these uncharted waters. The RetailX Virtual Experience offers three series of virtual strategy sessions. Each session will be facilitated by leading experts and offered at no cost to brands and retailers.'
Watch these quick 20-minute sessions on timely and relevant topics from leading retail and ecommerce industry solution providers. This will encompass a variety of timely and relevant topics from expert practitioners who are leading the proprietary technologies moving retail forward.
With consumers leaning heavily into ecommerce for their daily necessities, there has never been a better time for retailers to focus on upping their ecommerce impact. These insightful sessions will brush up on the tactical side of winning at e-retail in today's turbulent climate.
What does the future of omnichannel & omnicommerce look like in the post-COVID-19 era? These expert-led insights on the future of retail will encompass retail's digital transformation, the changed consumer, the new age of shipping & fulfillment, supply chain strategies, and more.
June 25, 2020 | Queens, NY
Apply here to attend.

*Note from organizers regarding COVID-19: "We are going ahead as planned."
Grow NY 2020 is the "fastest growing retail event in North America" featuring risk takers who are driving change and pushing retail forward. Connect and collaborate with over 1,000 online brands and receive insight from influential founders, tech providers, and trailblazers leading and changing the world of digital commerce.
POSTPONED to April 2021 | New York, NY
Ticket information here.

Savant Ecommerce is a cross-industry event for all sectors and aims to share the expertise from leading B2B and B2C retailers, brands, and ecommerce and digital marketing experts. Over 170+ senior ecommerce professionals are expected to attend this first annual two-day conference. This conference is intended for all sectors, including fashion, consumer electronics, homeware, beauty, travel, entertainment, and more.
RESCHEDULED to Sept. 24-25, 2020 | Austin, Texas
Tickets here.

Digital Food & Beverage 2020 is the leading conference for ecommerce and digital marketing innovators in the food and beverage industries. This three-day conference provides actionable strategies to help better serve your customers and grow your business faster. Connect with 450+ digital marketing and ecommerce leaders from the most disruptive companies in the food and beverage industries. Past attendees included digital marketing and ecommerce executives from Campbell's, Chobani, Grubhub, Kellogg's, and more.
RESCHEDULED to Jan. 20-21, 2021 | New York City
Tickets starting at $795 and up.

Known as the "digital customer acquisition conference of the year,"  CommerceNext 2020 will feature over 100 speakers from leading retailers, DTC brands and innovative tech companies, along with meaningful peer-to-peer networking conversations and key sessions on "how-to" marketing tactics and much more.
RESCHEDULED to August 4-6, 2020 | Equarius Hotel, Sentosa, Singapore
Tickets starting at $1,099 and up.

The eTail Asia conference is "transforming Asian ecommerce and digital marketing together." eTail Asia will help you increase profits from your online business. Gain industry insight from engaging and informative discussion groups and strategic takeaway sessions from industry professionals. Network with over 600+ retail leaders to help you shape the future of your business and learn from over 80+ speakers that represent some of the fastest-growing and largest retailers.
Note from organizers: "Due to the disruption caused by the coronavirus across the region we have taken the tough but pragmatic decision to postpone eTail Asia 2020 to 4 – 6 August 2020, Equarius Hotel, Sentosa, Singapore. The decision has been taken in the interests of public safety, to help prevent the spread of the virus and to ensure we deliver the same level of quality that you would expect at an eTail Asia summit. This difficult decision has been reached after extensive consultation with the industry considering the challenging climate caused by the restrictions on travel across Asia-Pacific. The new dates of the 4 – 6 August 2020 will allow enough time for the coronavirus situation to be resolved and for everyone at WBR Singapore to once again deliver Asia's leading and most senior-level summit for retail."
RESCHEDULED to Sept. 14-17, 2020 | Las Vegas, NV
Tickets starting at $1,950


ShopTalk is one of the largest ecommerce conferences. Each year, over 8,000 retail changemakers come together to create a future for the digital community. This conference features industry-leading speakers and innovators from companies like Pinterest, Tradesy, Wallgreens, Amazon and many more.
RESCHEDULED to Sept. 29-Oct. 1, 2020 | Chicago, Illinois
Registration is open.

What's "next" on the agenda? B2B Next 2020 is the premier conference for B2B executives that are embracing the next ecommerce opportunity in a digital-first B2B economy. This conference is designed to help B2B executives navigate the next ecommerce evolution and continue to prosper and win through actionable plans. It has quickly become one of the largest B2B ecommerce conferences in the U.S.
ONLINE SUMMIT WILL COMMENCE Oct. 6-8 | Austin, TX
Tickets start at $49.

*Note from organizers: "Like many events this year, we're transitioning into a virtual event available to anyone in the world! We're still focusing on community and networking, and we have invested in some incredible software to make your experience truly one of a kind!
During the month of May, our Super Early Bird tickets are available for 95% off a full-price $999 ticket! That's right, you can get a ticket to eCommBash 2020, streamed right here on this site for 3 glorious days in October with over 40 incredible speakers, for only $49! This also includes pre-event content available ONLY to Super Early Bird attendees, so don't wait and don't miss what we have in store for you this year!!!"
Ecomm Bash 2020 is an ecommerce and digital marketing event that's geared toward sharing industry insight and helping professionals make key connections. Learn from ecommerce experts and gain actionable strategies and tips that can help you scale your business.
You'll also gain specific pointers about ecommerce and digital marketing methods while attending important panels and workshops that teach you how to run a successful digital business.
---
Past Conferences:
NRF Retailer's Big Show
January 12-14, 2020 | New York City, NY
Workshop tickets starting at $350


NRF 2020 Vision has the world's largest retail expo with over 38,000 attendees and 16,000 retailers. Start the new year by uniting with the entire retail industry and gaining a whole new perspective. Meet visionary tech talent and learn from over 400 speakers. NRF will feature speakers from the world's top brands' including executives from Walmart, Sephora, Lowe's and Crate and Barrel.
January 26, 2020 | Las Vegas, NV
Early bird tickets priced at $299

MailCon is a unique one-day experience, uniting email and affiliate marketers with industry-leading brands, networks, and educational sessions. It is considered one of the "largest email marketing performance events." Expect to meet attendees from all over the world who are reimagining the future of email marketing, SMS, and lead generation. You will leave MailCon with proven strategies to take your email marketing to the next level.
Amazon Strategies
Jan. 28-29, 2020 | New York City
Tickets starting at $499 and up.

Navigating Amazon, specifically Amazon advertising, can be tough. This two-day conference, presented by Digiday, Glossy, and Modern Retail, will provide valuable insight into Amazon.com and help provide exceptional strategies. Gain knowledge and expert advice from everything related to navigating Amazon Advertising to Vendor Central to managing reviews and increasing presence on the platform.
West Coast eCommerce
Jan. 28-29, 2020 | Los Angeles, CA
Tickets starting at $1,000.

The West Coast eCommerce Conference, designed in collaboration with several regional, national, and international retailers, will tackle a variety of topics relating to ecommerce through cutting edge content and inspiring discussions. This conference is expected to bring over 400 ecommerce professionals together to share knowledge and learn ways to evolve customer acquisition strategies. Speakers include industry leaders and innovators that range from established retailers and brands.
Wiring the Rez
January 30-31, 2020 | Chandler, AZ
Ticket information here.

Wiring the Rez is the sixth annual Tribal Government E-Commerce CLE Conference presented by Rosette, LLP American Indian Economic Development Program, and Arizona State University.
According to stats presented by the conference, there has been an increase in the number of American Indians that have been pursuing business opportunities of every kind, including ecommerce and private sector economies.
Experts at the conference will delve into the following topics: "Evolution and Policy, the Shifting Landscape of Ecommerce in Indian Country," "Cybersecurity," and "Creating Private Sector Economies in Native America," and more.
This conference is open to all and geared toward tribal leaders, tribal council members, economic and development experts, entrepreneurs, online vendors, as well as lawyers practicing in Indian Country.
Wiring the Rez is intended to provide a wealth of information for industry experts and those interested in ecommerce and innovative strategies for business development. The goal is to ultimately share strategies and business models for current and future ecommerce and private sector enterprises to bridge the digital and economic divide.
Feb. 4, 2020 | Los Angeles, CA
Tickets starting at $75 and up.

This highly educational and motivational all-day conference is geared toward anyone who's interested in launching, buying, or growing an ecommerce business.
This conference will help expand your ecommerce horizons and give you the unique opportunity to choose from three learning tracks based on where you are in your ecommerce journey.
The track sessions will include various breakouts and presentations, and workshop topics will include sales and marketing, operations, and financial strategies. The featured speaker and event MC will be Samantha Murray, Education Strategy Manager, at Shopify, among many other experts.
Feb. 5-6, 2020 | Coral Gables, FL
Tickets starting at $749 and up.

Ecommerce is transforming the business of healthcare. Network and attend key panels with healthcare suppliers and trading partners to discuss ways you can grow your business through current and future ecommerce strategies. This event is great for those in marketing, product management, ecommerce, IT, or anyone else looking to break into the industry. Some of the topics that will be covered will be ways to grow your ecommerce or digital marketing presence, growing B2B and B2C sales, and implementing successful strategies for digital marketing, among other topics.
Feb. 5, 2020 | Boston, MA
Starting at $125 and up.

Invest in ecommerce and digital marketing strategies with a dedication to focus and prioritization. At this summit, you'll join leading industry experts and learn from various topics in ecommerce and marketing.
Some of the hot topics that will be discussed during this year's agenda will include the following: "Cultivating Brand Loyalty," "How Mobile will Affect the Customer Journey in 2020 and Beyond," and "CCPA: America's First Privacy Law – What it Means For You And Your Business."
February 13, 2020 | Los Angeles, CA
Starting at $395 and up

Join insightful industry conversations about cross-border and international ecommerce with the Global Ecommerce Leaders Forum for GELF LA 2020. This forum will explore the state of global cross-border ecommerce and how marketplace platforms in China and other ecommerce markets continue to disrupt retail distribution practices.
This event will also bring together retail leaders and brands selling direct-to-consumer; as well as digital commerce innovators, cross-border ecommerce experts, and global ecommerce thought leaders and more. GELF will provide several breakout sessions and workshops that take a deeper dive into strategic planning and key takeaways about how ecommerce leaders are tackling their top cross-border challenges and how they are making the case for investing in global retail growth.
February 20-21, 2020 | Los Angeles, CA
Starting at $549 and up


This conference is all about empowering women in the ecommerce space. This is the first annual conference created for all women in the retail industry and is expected to be the biggest women's ecommerce conference. Get excited, empower one another, and learn from leaders who are thriving in the world of ecommerce.
Empowery writes, "There are many ecommerce events, but as a woman in this space, have you ever found yourself wishing you could see more women on the stage? Have you wondered how many other women out there make it all work?" This year's featured event speakers will include Michelle Barnum Smith, a marketing veteran who teaches Amazon sellers how to use Messenger to build their own lists and improve rankings on Amazon; as well as Ritu Java, cofounder of PPC Ninja and Izabella Hamilton, CEO of Rankbell.
February 24, 2020 | Naples, FL
Tickets priced at $620 ($320 for Non-Profit organization in SW Florida)

Imagine Solutions Conference is a single-day conference that will host approximately 20 exceptional speakers and presenters. With topics such as disruptive innovation, social impact, and entrepreneurship, this conference will enable attendees to learn from various industry leaders and visionaries.
February 24-27, 2020 | Palm Springs, CA
Tickets starting at $999

The 2020 eTail conference is full of meaningful insights and retail strategies from some of the most successful retailers in America. This four-day retreat is great for those who are looking to transform their eCommerce business, start innovation, and learn from some of the most successful retailers.
March 4-5, 2020 | New York City
Tickets starting at $995 and up.

Adweek is hosting the second annual Challenger Brands Summit to help attendees gain valuable insight from the world's most disruptive and legendary brands that are succeeding in an ever-evolving world and competitive landscape.
Learn from challenger brands and learn about the brand marketing ecosystem — everything from ecommerce to UX to live marketing and beyond.
Some of the key panels and topics that will be covered at this conference include, "This Brand is Gucci: How to Slay a Gen Z Campaign," "Experience Economy," "Emerging Technology: The Impact on Marketing Today and Tomorrow."
March 26-27, 2020 | Las Vegas, NV
Tickets starting at $797 and up.

Ecommerce is always changing. Grow your online retail store and make important connections in the industry with help from the Online Retail Summit, an ecommerce conference that serves as an extension of Beau Crabill's popular Amazon FBA Course.
This particular summit features entrepreneur and ecommerce expert Beau Crabill and other high-profile mentors who are willing to share their selling strategies in the innovative online retail industry. Discover new suppliers for your business' needs and network with peers.
Crabill has over 10 years of experience, and he continues to grow his business on Amazon while teaching others and serving as a consultant for various brick-and-mortar businesses.
Stay Up To Date
The latest trends, technologies, and strategies are always evolving and to be successful you must stay up to date. Therefore, conferences are essential and it's important to attend as many as you can.
Continue to check in with us as we update our 2020 conference list as new dates roll out. Current list updated on 4/1/2020.