September 1, 2018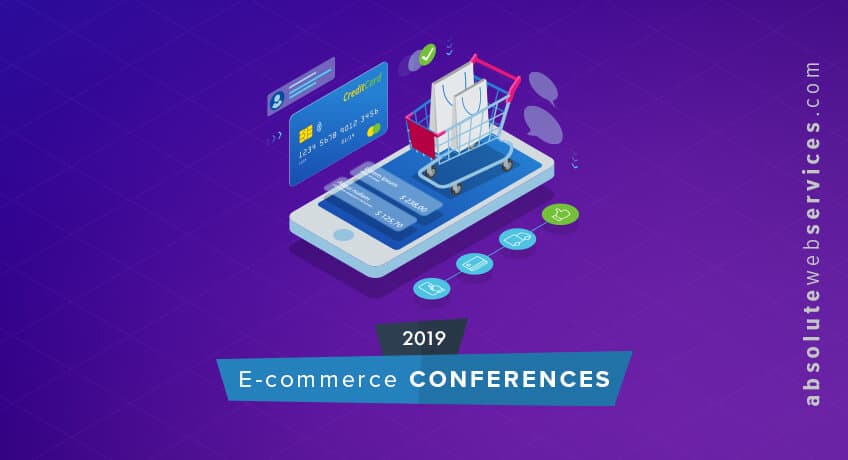 2019 eCommerce Conferences to Attend
2019 is filled with eCommerce events that you won't want to miss. Whether you decide to attend a conference, convention, exposition, or summit, they'll provide valuable information that you can incorporate into your business. You'll learn about the latest e-commerce trends and find out about the latest news in the online retail world. Another benefit is being able to network with other professionals in the industry.
Here's a list of some of the conferences you should check out this year:
DigiMarCon West
June 12 – 13 | Los Angeles, CA

If you're interested in customer loyalty, increasing sales, or driving stronger customer engagement, DigiMarCon is where you'll want to be next June. The ultimate goal is for companies to enhance their marketing efforts. The sessions focus on building traffic, growing brand awareness, improving customer service and learning about the latest digital tools.
Shopify Unite
June 18 – 20 | Toronto

Shopify Unite is an organized conference that, in addition to offering keynotes and workshops, gives attendees the opportunity for one-on-one meetings with Shopify strategists to develop a personalized experience for their business. As a leader in e-commerce, Shopify has the knowledge to keep attendees updated on market and technology changes as they happen during this educational conference.
IRCE Retail X Conference
June 25 – 28 | Chicago 

A combination of education and exposition, IRCE brings together all aspects of the ecommerce industry to provide attendees with a complete experience. Its speakers are industry leaders and educational sessions are geared at helping you make the most out of your business. Established and successful vendors in the exhibition center will have the solutions you're seeking to help your business succeed.
NRF NXT
July 22 – 24 | Las Vegas

With a focus on digital retail, NXT offers attendees a unique and tight-knit educational experience. Its three-tiered approach to keynotes allows a deeper understanding of specific case studies and how the lessons learned can be applied to individual businesses. The conference offers inclusive studies into different aspects of digital selling, including data analysis, content creation, social influencer and many more.
Commerce Next
July 31 & Aug 1 | New York

Retail newbies, established brands and industry innovators all converge at Commerce Next to share knowledge and gain understanding as they grow their businesses. If a brand has a digital presence, it will be represented at Commerce Next. Speakers cover a range of industries from marketing to data science and beyond, expert speakers share their knowledge with attendees.
eTail East
Aug 19 – 22 | Boston

One of the largest e-commerce conferences in the US, eTail East joins together thousands of retailers and hundreds of speakers to give e-commerce businesses big and small an inclusive experience. Attendees have the opportunity to connect with others at their level as well as those with proven success to gather different perspectives and form a strategy that will help their individual business succeed.
Retail Global
October 2019 | Las Vegas

One of the commerce conference kings, Retail Global represents a huge market and is a retail event not to be missed. 2019 dates and speakers are still being finalized, but as one of the largest exhibitions in the country it promises to provide e-commerce solutions for budding and established businesses. With a variety of vendors and speakers, this conference offers something for all retail companies.
NY KnowGO
October 3 | New York City, NY

Looking to be in the "know," about Sponsored Product Ads (SPAs), Co-op Marketing and the evolving tech-driven terrain of Retail Media? Ready to find new ways to compete against Amazon and Google in shaping the shopping experience? Then make sure to attend NY KnowGO – a one-day event dedicated to helping brands and retailers collaborate better. Take the unique opportunity to find ways to scale up co-op partnerships, improve site monetization programs and meet the most progressive retail marketing, data analytics and tech minds. Join us this Oct.3 at Union Square, NYC. Get an early bird discount of 20% by using the code absolutewebNYKG20 – valid until June 15.
---

---
Past Events (Updated 4/6/19):
---
MailCon
January 5, 2019 | Las Vegas, NV

MailCon was created to help businesses master their email marketing skills, but don't expect to go to this conference and just sit in a session and listen to the speaker. There will be time to interact with the speakers and get all your questions answered by industry experts. They've created four different tracks so that every individual role on the marketing team can take something away from the seminar. Depending on job title every employee can attend the seminars that fit within their niche.
NRF (Retail's Big Show)
January 13 – 15 | New York, NY

NRF is one of the largest retail conferences around and it's filled with a global audience and exhibitor base. This conference offers a chance to network, form new partnerships and get tips from some of the biggest players in the retail game.
eTail West
February 19 – 22 | Palm Springs, CA

eTail West is a conference that brings together more than 3,000 e-commerce executives and stakeholders for roundtable discussions, presentations, and Q&A sessions. At eTail you'll learn about what's going on in the industry now and what'll change in the future.
Traffic & Conversion Summit
February 25 – 27 | San Diego, CA

At the Traffic & Conversion Summit you can expect to learn about what's most effective in digital marketing right now. That includes new traffic channels, conversion breakthroughs and selling models.
Digital Marketing Innovation Summit
February 27 – 28 | New York, NY

Commercial leaders attend the Digital Marketing Innovation Summit to discuss their challenges and come up with real strategic solutions. Attendees learn how to effectively use new technologies and implement a meaningful digital marketing strategy. Some of the topics covered include content marketing, social media, SEO and search marketing strategy, audience engagement and more.
Mobile Innovation Summit
February 27 – 28 | New York, NY

The Mobile Innovation Summit brings together people from around the world in the tech, retail, and the advertising industry. At this conference, you'll have the chance to network and converse with some of the most innovative mobile marketers from across the nation. The main focus will be the developing landscape of mobile technology and the best ways to apply them within business. It will examine new strategies and analyze how the leaders of the mobile industry are using these tactics to create greater results.
ShopTalk
March 3 – 6 | Las Vegas, NV

Shoptalk is one of the largest retail and e-commerce conferences, bringing together more than 8,000 attendees. Over the course of four days retailers, tech companies, investors and real estate operators come together for relevant content, meetings, exhibits, and networking. It has created the industry's leading community of digital innovators with discussions about what's currently happening in the industry and what innovations are to come in the future. It also covers the constant evolution of retail and how consumers discover, shop and purchase today. From the new technologies and business models, to the latest trends in consumer behaviors it's covered at ShopTalk.
eCommerce Innovation Summit
March 20 – 21 | San Francisco, CA

This summit is where senior level leaders from ecommerce, marketing, retail, and digital all join forces. It includes developing new strategies, tools, and solutions to grow and drive their ecommerce business. Professionals in the field will have the opportunity to learn about the latest trends, building brands, enhancing their customer experience, and they'll also be able to make connections within the industry. The eCommerce Innovation Summit is an intimate conference including speakers from Facebook, eBay, and Walmart. They'll be speaking about new digital trends, the mobile experience, cross channel marketing, AI, and so much more.
Pubcon Florida
March 5 – 7 | Fort Lauderdale, FL

At Pubcon Florida consultants, marketing agencies, and companies come together for this conference and take away valuable information that helps them revamp and improve their online marketing strategies. Attendees will learn about the most effective strategies in SEO, PPC, social media, content development, Google Analytics, and much more. They'll also have the chance to interact with expert speakers and get marketing tips.
Social Media Marketing World
March 20 – 22 | San Diego, CA

Social Media Marketing World is a conference centered around digital marketing, social media and entrepreneurship. It brings together more than 7,000 marketers and influencers to share business ideas. The attendees are what makes this conference unique. Majority of them own their own businesses or work for one with less than 100 employees. They're regular people who are success driven and want to connect with likeminded professionals. However, the conference also brings in plenty of big names like Best Buy, Bose, Dell, Facebook, LinkedIn, Microsoft, Nissan, South West Airlines, Sprint, U.S. Bank and more. It's the perfect opportunity to connect, share ideas, brainstorm and converse with your peers and experts about social marketing.
Adobe Summit
March 24 – 28 | Las Vegas, NV

About 13,500 Adobe customers, partners, and prospects attended the Adobe Summit this year and it's expected to be more next year. The 2019 Adobe Summit will include success stories and best practices that will keep you up to date with the rapidly changing digital marketing world. Attendees will also gain valuable insights, tools, and techniques to keep customers engaged and driving loyalty and growth.
The Social Shake-Up
May 6 – 8 | Atlanta, GA

The Social Shake-Up is a conference that covers all of the most critical social media topics. The three-day event includes interactive sessions, case studies, panel discussions and fireside chats focusing on social strategy, integrated comms, customer experience, video, monitoring data, content marketing mobile, crisis management, podcasts, blogging, paid social, organic social, SEO, social commerce and more. They also discuss social media platforms like Facebook, Instagram, Snapchat, Twitter and LinkedIn. Whether you're with a B2B, nonprofit or a small, medium, or large company, The Social Shake-Up has something to offer you.
Imagine 2019
May 13-15 | Wynn Las Vegas

More than 3,000 e-commerce experts from over 50 countries unite to educate, advance, collaborate, and enjoy Imagine. You'll be able to attend best practice presentations, merchant case studies, training sessions, one-on-one consulting and networking events. It's also the perfect place to learn about Magento's new platform developments before everyone else. Attendees include senior executives, marketers, merchandisers, developers, and e-commerce experts. This is where you'll get your expert advice and discuss the latest ideas, technologies, and strategies in the field.
B2B Online
May 14 – 16 | Chicago, IL

B2B Online is an interactive conference specifically for e-commerce, digital and marketing executives from America's leading manufacturers and distributors. Over 900 executives will be in attendance next year to develop the tools needed to create innovative experiences for consumers.
---
Stay Up To Date
The latest trends, technologies, and strategies are always evolving and to be successful you must stay up to date. Therefore, conferences are essential and it's important to attend as many as you can.
Continue to check in with us as we update our 2019 and 2020 eCommerce conference list as new dates roll out. Current 2019 list updated on 4/6/2019.